John WorldPeace


Attorney at Law
2620 Fountain View, Suite 106
Houston, Texas 77057
Tel. 713-784-7618 Fax. 713-784-9063
Email johnworldpeace@aol.com

July 18, 2003

To: The concerned members of Heights Presbyterian Church

Re: Satanism at Heights Presbyterian Church?

RESIDENT EVIL AT HEIGHTS PRESBYTERIAN CHURCH

The following may sound like fiction but as you read just look back over the facts and come up with another credible explanation.

Regardless of the experiences that you have had in life, there are in fact very confused and evil people who prey upon others as a way of life. As you believe in Jesus, there are a significant number of people who actually worship Satan.

If you go to my web page at www.johnworldpeace.com, you will see that I have spent a lifetime studying spirituality and religion.

I have tried everything possible to stop the cancerous evil at Heights Presbyterian Church with only limited success. Now I have to publish a lot of information that I hoped would not be necessary in order to stop the evil.

I believe in Jesus and I am therefore an enemy to all who worship Satan. The Bible that you have studied all your life is true. The stories of good and evil are true. And for those of you who have watched the events at Heights Presbyterian Church over the last five years since Delgatto came to Heights Presbyterian Church you can decide for yourself whether what I am saying has any truth.

Every day in grocery stores, in the movies, at church, at school and so on you work with and interact with people who are robbers, thieves, sexual deviants and murders. They look just like everyone else but in their hearts and minds they are different. They are dark souls who may or may not one day come into the light.

As you read along remember the words of Jesus: "Beware of the false prophets, who come to you in sheep's clothing, but inwardly are ravenous wolves. You will know them by their fruits. Grapes are not gathered from thorn bushes nor figs from thistles, are they? So every good tree bears good fruit, but the bad tree bears bad fruit. A good tree cannot produce bad fruit, nor can a bad tree produce good fruit. Every tree that does not bear good fruit is cut down and thrown into the fire. So then, you will know them by their fruits."

FACTS

1997 Joe Delgatto becomes the minister of Heights Presbyterian Church. The first thing he does is to inquire about the assets of the church. Secondly, he began to visit the bureaucrats at Presbytery of New Covenant on a frequent basis.

(Opinion: What he tells them is that he has a church with almost a million dollars of assets and a congregation of senior citizens who can be manipulated.)

2000 Walter and Patty Ellis come to Heights Presbyterian Church from St. Phillip Presbyterian Church.

May 18, 21, 2001 Joe Delgatto and Charlie Windham attempt to illegally commit Heights to the Independence Heights Project. This is done in secret. Neither the session nor the congregation are told. Joe Delgatto, Walter and Patty Ellis, Charlie Windham and James McClain begin to conspire with Tom Lord and Art Greer and Lynn Johnson at Presbytery of New Covenant to force the corrupt Independence Heights Project on the congregation of Heights Presbyterian Church.

December 31, 2001 Joe Delgatto signed an extension of the real estate contract to buy the Independence Heights Property without the knowledge of the congregation.

February 8, 2002 Joe Delgatto signed a letter to Jim Gwin, the project architect, saying that Independence Heights, Inc is being set up to contract with him on the Independence Heights Project without the congregation's knowledge.

March 13, 2002 Without the knowledge of the session or the congregation, Delgatto, Walter Ellis and McClain incorporated the Independence Heights, Inc as a vehicle to promote the Independent Heights Project.

April 2002, The Special session is casually told about the project and a vote is put off due to the suggestion of Bill Alford.

April 2002, Joyce Wolter, session member and trustee, believed the congregation was being lied to and contacts WorldPeace to look into the project.

April 19, 2002, WorldPeace meets with Delgatto, Windham and Lord to discuss the project. WorldPeace is told the project deadline is at the end of May 2002. WorldPeace says that he will look at the documents the following week. WorldPeace was not told that Delgatto was going to have a session meeting on the project two days later.

April 22, 2002, WorldPeace files the Wolter (as trustee) v. Delgatto lawsuit to stop the corruption and get an audit of the missing $600,000.

June 28, 2002, Joe Delgatto signs an extension of the real estate contract to December 31, 2002 for $5,000 without the congregation's knowledge.

October 8, 2002, Diane Springer gives money to fund project and obligate the church without the congregation's knowledge.

November 12, 2002, Rev. Belinda Windham tries to stop WorldPeace from attending a session meeting. The meeting is closed by Delgatto after police refuse to remove WorldPeace.

November 25, 2002, the session meeting is moved to Barbara Puckett's home and Diane Feiler Mcgehee, another member of St Phillip Presbyterian Church, is hired to defend the lawsuit. The contract with Fieler has never been produced but Delgatto testified in court that Madeline Delgatto and Patty Ellis signed it after lying and saying he did not know who signed it.

December 3, 2002, Satanic Pentagram (see below) is put on the outside wall of the old session room and Walter Ellis says it will not be removed. Joe Delgatto refuses to make any effort to remove it.

December 5, 2002, WorldPeace officially applies for his membership to be reinstated as a member of Heights Presbyterian Church. Patty Ellis tells Joe, no way.

.

December 5, 2002 Irma Jenke and Joyce Wolter request a special session meeting to allow WorldPeace to become a member of Heights Presbyterian Church. Delgatto refuses to call the meeting.

November 2002, the congregational meeting regarding the Independence Heights Project is cancelled because WorldPeace will be present.

November 2002, a session meeting is held in the home of Amy Grabel to keep WorldPeace from attending.

December 6, 2002, the court signs an order stopping any discussions of the project without WorldPeace present.

December 31, 2002, Joe Delgatto signs an extension of the Real Estate Contract to January 31, 2003 without the congregation's knowledge and against the court's order.

December 13, 2002, Mary McClelland resigns after 27 years as Financial Secretary.

December 2002, Beverly Meaden resigns after 4 years as Administration Assistant.

January 9, 2003, Delgatto and McClain sign the commitment on the Independence Heights Project without knowledge of the congregation.

January 13, 2003, session meeting is held in the home of Patty Ellis.

January 15, 2003, Joe Delgatto resigns as officer of the Independence Heights Inc. after signing the Independence Heights Project documents without the congregation's knowledge.

February 8, 2003, Delgatto, Ellis and eight members of the session go to Presbytery to ask that an Administrative Commission be assigned to Heights Presbyterian Church. Four members of the session were not informed that the other eight were going to Presbytery. The Administrative Commission was illegally formed.

February 10, 2003, In court, Delgatto testifies that over the last two years he has tried to obligate Heights to the Independence Heights Project without approval of the session, the congregation or the Presbytery per the Book of Order.

February 10, 2002, Reagan Brown, attorney for Presbytery, tells the court that the Administrative Commission needs time to work and the court abates everything until June 8, 2003.

March 24, 2003, Interim Report from the Administrative Commission only discusses the Independent Heights Project against the court's December 6, 2002 Order.

April 2003, Four members of the Administrative Commission visit Joyce Wolter at her home and threaten her if she does not drop the lawsuit.

May 5, 2003, Delgatto writes a letter to Joyce Wolter removing her as trustee and making good on the Commission's threat.

May 2003, Lynn Johnson appoints a commission of four to investigate the thirty-five complaints of the church members against Delgatto.

May 2003, Lynn Johnson appoints a commission to investigate the Request for Vindication of Joyce Wolter regarding Madeline Delgatto. One of the two members is from St. Phillip.

July 13, 2003, Patty Ellis returns to church after a eight weeks absence.

July 14, 2003, Remodeling is begun on the Fellowship Hall. WorldPeace comes to inspect and the police are called. WorldPeace returns in the evening and the locks are being changed and the police are again called.

July 16, 2003, Presently, all but the Patty Ellis elite are locked out of the church.

SUMMARY OF FACTS
A century of memorials are systematically being removed from the church and destroyed.

The Woodland memorials above the Northex have all been removed and moved to the old session room and elsewhere. It is on the outside wall of this room that the pentagram was painted.

Joe Delgatto supported by Mike Cole refuses to open the membership of the church. Per the Book of Order this is a rejection of Christ and a scandal on the gospel.

Joe Delgatto locked up the church per Patty's edict and has begun to deny access to the members for any purposes. I guess the quilts for abused children in now terminated.

Everything is done in secret, Delgatto signs documents in secret, Session meetings in secret, Congregational meetings are cancelled, Administrative Meetings are secret.

The Administrative Commission supports Delgatto and refuses to communicate with the congregation as a whole.
ON GOING PLAN OF THE PATTY ELITE
Lie about everything

Keep everything secret

Close the membership

Destroy the memorials

Deny access to the church to the members

Spend more than the church takes in

Refuse to conduct an audit

Get rid of everyone who refuses to bow to Patty.

WHAT ELSE WOULD SATAN DO TO

DESTROY HEIGHTS PRESBYTERIAN CHURCH?
---
SATAN'S IMPS
THE HEIGHTS PRESBYTERIAN CHURCH ELITE
Joe and Madeline Delgatto
Walter and Patty Ellis
Bennie and Alice Grabel
Anita Grabel
Amy Grabel
John and Chris Blanco
Charlie Windham
Barbara Puckett
James McClain
SUPPORTERS OF THE ELITE
Presbytery of New Covenant
Mike Cole, General Presbyter
Lynn Johnson, Stated Clerk
Art Greer, Gopher
Administrative Commission Members
Rev. Doug Harper, Chairman
Rev. Jerry Hurst – South Minister Presbyterian
Rev. Louise Row
Rev. John Hirling – Oaks Presbyterian
Roy Keezel – Grace Presbyterian
Leona Nickerson – University Presbyterian
Jeanie Flowers – St Phillip Presbyterian
Jodie Harrington – South Minister Presbyterian
Investigatory Commission Members
Rev. Lynn Hargrove – moderator
Rev. Lacy Sellars
Bob Scott
Eugene McKelvey
Joyce Wolter Request for Vindication Commission Members
Rev. Chamberlain
Sarah James
---
CHURCH OF SATAN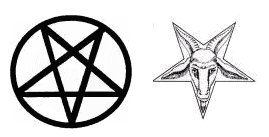 The pentagram on the left was painted on the outside wall of the church and Delgatto and the elite refused to remove it.
Commonly today the inverted pentagram is depicted with a goat's head, a symbol adopted by the Church of Satan, which was founded on April 30, 1966, by Anton Szandor LaVey. "We are the first above-ground organization in history openly dedicated to the acceptance of man's true nature – that of a carnal beast, living in a cosmos which is permeated and motivated by the Dark Force which we call Satan. Over the course of time, Man has called this Force by many names, and it has been reviled by those who very nature causes them to be separate from this fountainhead of existence. They live in obsessive envy of we who exist by flowing naturally with the dread Prince of Darkness. It is for this reason that individuals who resonate with Satan have always been an alien elite, often outsiders in cultures whose masses pursue in an external deity. We Satanist are our own Gods, and we are the explorers of the Left-Hand Path (Satan) . We do not bow down before the myths and fictions of the desiccated spiritual followers of the Right Hand Path (Jesus)."
The Nine Satanic Statements
from The Satanic Bible, ©1969
by Anton Szandor LaVey
Satan represents indulgence instead of abstinence! 2. Satan represents vital existence instead of spiritual pipe dreams! 3. Satan represents undefiled wisdom instead of hypocritical self-deceit! 4. Satan represents kindness to those who deserve it instead of love wasted on ingrates! 5. Satan represents vengeance instead of turning the other cheek! 6. Satan represents responsibility to the responsible instead of concern for psychic vampires! 7. Satan represents man as just another animal, sometimes better, more often worse than those that walk on all-fours, who, because of his "divine spiritual and intellectual development," has become the most vicious animal of all! 8. Satan represents all of the so-called sins, as they all lead to physical, mental, or emotional gratification! 9. Satan has been the best friend the Church has ever had, as He has kept it in business all these years!

WorldPeace

http://www.presbyterians-r-us.com


---
How can we manifest peace on earth if we do not include everyone (all races, all nations, all religions, both sexes) in our vision of Peace?
---
To the WorldPeace Peace Page