John,
I hope you feel the same way as I do at this point...........our church is healing!!!!! I think it is wonderful.
> Yes and it is because I went after Patty Ellis and Joe Delgatto. Patty is gone and Joe is leaving. Your welcome.
For several years it has been almost unbearable and now for the first time it is a pleasure to attend church service again. What a nice time for this to all happen; right at the holiday season.
> Your welcome.
I think that the decorating committee has done an outstanding job and the Hanging of the Greens ceremony was wonderful. That was the first time that I can remember that the congregation was asked to participate in the decorating of the tree. I am sorry to see that Joyce, Vernon and the Jenkes along with a few others chose not to participate in the festivities.

> I am sorry that you hid out and did not help get rid of Patty and Joe. And by the way, Kay and I are not members because of the Administrative Commission dictate. So we were afraid to hang any ornaments. We were afraid we would be attacked by you and the other ghosts.
John at this point I don't know how you can find anything to complain about or wrong with the way things are being done.
> The lawsuit lives on. We will have an audit and we will disengage from the Independence Heights Project and if we are lucky, Joe Delgatto and Tom Lord will go to jail.
I have to tell you that it has been peaceful for the past month or so and I can not express how pleased I am with that.
> Your welcome.
I only pray that is continues to heal and that the give and take attitude lives on for many more years to come.
> It will. Your welcome.
http://www.presbyterians-r-us.com


---
How can we manifest peace on earth if we do not include everyone (all races, all nations, all religions, both sexes) in our vision of Peace?
---
The WorldPeace Banner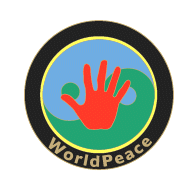 The WorldPeace Insignia : Explanation
To order a WorldPeace Insignia lapel pin, go to: Order
To the John WorldPeace Galleries Page

To the WorldPeace Peace Page