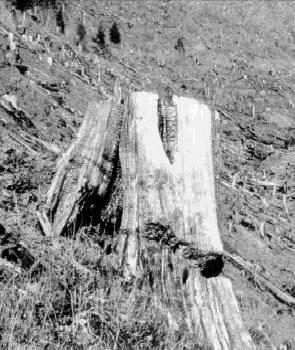 ---
Save a tree, cut a Bush
There is little question that little George undeniably caters to big business to the detriment of the general public.
The "Bush Pioneers" (his $100,000 campaign donators) like Ken Lay of Enron and Tony Sanchez, the Tesoro S & L drug money launderer and presently International Bank of Commerce owner, are sociopaths who care little about the public good.
There are ways to clear the underbrush in an area without removing the trees. But the question is whether we need to concern ourselves with sanitizing the great outdoors at all.
The point of our national parks is to preserve nature for future generations. In the process, sometimes there are forest fires as there have been for millions of years. The fires are a natural cleansing and purging and renewal process of the ecology.
To prevent all forest fires would be to create an artificial environment which seem to me to destroy the purpose of preserving our national parks and forests in the first place.
The primary objective of any business is to make a profit. To remove trees and at the same time preserve the local ecology is generally unprofitable. Consequently, clear cutting is the typical result and the forest and the ecology of the local area are both destroyed; and eventually the forest based economy as well.
How do we preserve our forests by clear cutting them? It is better for trees to burn naturally than for our forests to be turned into gigantic urban lawns.
The point is to preserve nature and in that process business profits are not a factor. Yes, lumber will be wasted as it burns but what is accomplished where no trees are lost because there are no trees to burn.
John WorldPeace
August 22, 2002
---
Bush outlines logging program

By JENNIFER LOVEN
.c The Associated Press

CRAWFORD, Texas (Aug. 22) - Embarking on a three-day Western swing expected to haul in at least $5 million for Republican politicians, President Bush is taking a stand on one of the region's thorniest issues by proposing that more logging in national forests would help prevent devastating wildfires.

Bush was traveling Thursday from his Texas ranch to southwestern Oregon, near the California state line, for a briefing on local fires that have ravaged the area and an aerial view of the damage. The president was then being ferried to the still-smoldering Squires fire, where some forest areas have been entirely stripped of vegetation and crews are working to install erosion-prevention equipment.

Afterward at a nearby fairgrounds, Bush was formally announcing a plan to make it easier for timber companies to get approval to cut wood in fire-prone national forests - surrounded by several Western governors who have been pushing for just such changes.

Though his proposals, first outlined Wednesday, prompted howls from environmentalists, the Bush administration said changes are necessary to clear forests of a decades-long buildup of highly flammable materials.

''For the good of our economy, we need commonsense forest policy,'' Bush said during a stop at Mount Rushmore last week. ''We can and we must manage our forests. We must keep them disease-free. We must have reasonable forest policies so as to prevent fires, not encourage them.''

Bush was rounding out his appearances in Oregon - a state he barely lost to Democrat Al Gore in the 2000 election - with a fund-raising roundtable and dinner in Portland. The $600,000-to-$900,000 take was to be evenly split between the state GOP and Republican Sen. Gordon Smith, one of the Democrats' top targets, who was spending much of the day at Bush's side.

On Friday, Bush heads to California to headline three events expected to give Republican gubernatorial candidate Bill Simon's campaign a much-needed $3 million boost. An additional $1 million would go to the California Republican party.

While in California, Bush was to speak before a group of Hispanic community advocates and announce new proposals for narrowing the achievement gap in education between minorities and whites, White House spokesman Ari Fleischer said.

The president was returning to his ranch Saturday night, after more dollar-gathering events in New Mexico for GOP candidates for governor and Congress.

This year's wildfires across the West have renewed the perennial debate between conservationists who oppose cutting in the nation's woods and logging interests who argue that underbrush and deadwood increase the risk of fire. Wildfires have burned nearly 6 million acres this summer from Alaska to New Mexico - twice as much as in an average summer. Federal spending to combat wildfires could reach $1.5 billion this year.

Bush's plan would streamline the government's process for reviewing the environmental effects of proposed logging projects; change the standards by which those proposals are approved; and allow government agencies to negotiate contracts giving timber companies and other entities the right to sell the wood products they harvest in exchange for removing them from the forest.

Another key aspect of the proposal would make it harder for environmental groups and others to appeal logging plans.

The administration said some of the proposed changes could be made within the executive branch, while others would require congressional approval. Several Western lawmakers already are drawing up legislation to speed cutting of overgrown forests.

''Needless red tape and lawsuits delay effective implementation of forest health projects,'' said a White House fact sheet on the initiative. ''This year's crisis compels more timely decisions, greater efficiency, and better results to reduce catastrophic wildfire threats to communities and the environment.''

A senior administration official allowed that large, commercially desirable trees with high fire risks - either in dense stands or already dead - could be felled as part of what the official called Bush's ''more active management'' of forest growth.

But environmentalists said the plan could gut safeguards that have protected forests for decades and allow timber companies to not only thin forests of brush, but cut trees - including some more than a century old.

''We're very concerned they will use the fires to further an agenda they've had for a long time - and that is to change key environmental laws'' that serve to protect the forests from logging, said Linda Lance, a Wilderness Society vice president.
---
How can we manifest peace on earth if we do not include everyone (all races, all nations, all religions, both sexes) in our vision of Peace?
---
The WorldPeace Banner
To the John WorldPeace Galleries Page

To the WorldPeace Peace Page