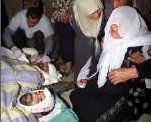 Relatives of Palestinians killed by Israeli soldiers in the Palestinian village of Bani Naim cry next to the bodies in a hospital in the West Bank village of Shioukh, near Hebron, September 1, 2002. Israeli troops shot and killed five Palestinians in two separate West Bank incidents early on Sept. 1, Israeli military and Palestinian security sources said. Photo by Nayef Hashlamoun/Reuters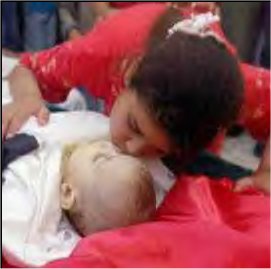 What you don't see on CNN
---
Ariel Sharon: "How many ears must one man have before he can hear people cry?"

It does seem that there is beginning to be enough innocent blood spilled for the leaders of Israel to finally challenge the policies of Ariel Sharon. No amount of killing is ever going to solve the Palestinian problem. Only justice will do that.
Only when the Jews remember their plight in Europe under Hitler and determine that they will not repeat it under any circumstances will the Palestinian problem have a chance to be solved. But as long as the Israelis continue to demonized the Palestinians as they were demonized by Hitler's evil there will be no hope for peace.
Just because the Israelis do not operate death camps to exterminate Palestinians by the thousands but instead systematically kill Palestinians by the handfuls does not mean they have not employed every other Nazi tactic to try to rid themselves of the Palestinians.
"At least 1,528 Palestinians and 589 Israelis have been killed since a Palestinian uprising erupted in September 2000 after peace talks froze." (See below) Actually since Ariel Sharon made his infamous visit to the Wailing Wall on September 28, 2000. ( March 13, 2002 Ariel Sharon: Hitler's Progeny)
The Palestinian body count is not six million yet but 1,528 represents at least ten thousand family members in mourning.
How many times can a man turn his head and pretend that he just doesn't see?
How many deaths will it take before he knows that too many people have died?
John WorldPeace
September 1, 2002
---
Sharon government criticized by Jewish leaders

The Israeli Deputy Foreign Minister, Michale Melchior, former rabbi of the Oslo Jewish community, supports the criticism of the Sharon government, expresed by the British Chief Rabbi Jonathan Sacks.

The row was sparked by an interview in the Guardian on Tuesday, in which Dr Sacks argued that the conflict risked corrupting Israeli culture.

Melchior criticised those, especially from the Israeli right, who ingnored the moral dilemmas posed for Israel each day by the conflict, and who pretended that everything Israel did was right.

"If the Palestine situation continues, then this is something that will be tragic for all the peoples here," Rabbi Melchior said, according to the British newspaper the Guardian.

Rabbi Melchior, who is from a small, dovish, religious party, lined up wholeheartedly behind Dr Sacks.

He told the Guardian: "If I did not believe that Israel, in this situation, was basically right, I would not be sitting in the government. But those who say it is black-and-white and there is no dilemma and everything is clear, I do not think they are serving the cause of Israel." He admitted Israel had made mistakes.

Rabbi Melchior, whose party shared the same platform as Labour at the last election, is quoted by the Guardian as saying that the Israeli occupation of the West Bank and Gaza "could go on for some years, but after a certain amount of years this becomes a deep Jewish ethical crisis".

(NRK/The Guardian)
---
Israel Leader Wants Probe Into Palestinian Deaths
— By Wael Shyoukhi
HEBRON, West Bank (Reuters) - Israeli forces killed 11 Palestinians over the weekend, including two children in a helicopter raid, which led Israel's president on Sunday to call for an investigation into whether the army was "trigger-happy."
The violence also appeared to cloud prospects for the renewal of Israeli-Palestinian security talks on initial steps toward a truce in nearly two years of bloodshed.
In what Palestinians described as the killing of innocent quarry workers, Israeli soldiers outside the West Bank city of Hebron shot dead four Palestinians. A military source said they were carrying wire cutters and a saw near a Jewish settlement.
Elsewhere in the West Bank, Israeli soldiers entered Jenin refugee camp and killed Abdel-Kareem al-Saadeh, aged 16, after gunmen fired at them, Palestinian sources said.
Late on Saturday, a gunman from the Popular Front for the Liberation of Palestine raided the Jewish settlement of Har Bracha near the West Bank city of Nablus, wounding a married couple before being shot dead by a soldier.
A helicopter assault in the West Bank village of Tubas on Saturday rekindled debate within Israel on tactics the military uses to enforce what Israeli leaders call a policy of self-defense against militants behind attacks on Israelis.
A missile fired by one of the helicopters destroyed a car carrying a militant, killing him and two 15-year-old youths traveling with him. A second missile hit a nearby house, killing a boy, nine, and a girl, 10, and wounding seven others.
Israeli officials expressed regret at the death of the two children and Israel Radio said Defense Minister Binyamin Ben-Eliezer had ordered the army to investigate.
Israeli President Moshe Katzav, a former right-wing Likud party lawmaker who now holds a largely ceremonial position, said during a visit to an Israeli Arab school that it was imperative the army address the issue.
"The claim as to whether the (army) was trigger-happy must be examined," he said. "If the army reaches the conclusion that this was the case, it will decide what to do -- but it would be hasty to draw conclusions now."
Earlier in the week, an Israeli tank shell killed four members of a Palestinian family in the Gaza Strip. On July 23, nine children were among the dead in an air raid that killed a top Hamas militant, his deputy and 14 other Palestinians in Gaza City. Israeli officials called the civilian deaths a mistake.
"The defense minister must examine whether the series of mishaps and apologies really stems from mistakes and not from a change in policy...which makes it easier to press the trigger," Haim Ramon, a senior legislator in Ben-Eliezer's Labour Party, told Israel Radio.
At least 1,528 Palestinians and 589 Israelis have been killed since a Palestinian uprising erupted in September 2000 after peace talks froze.
SHARON SAYS PREVENTION PARAMOUNT
Opening the Israeli school year on Sunday, Prime Minister Ariel Sharon made clear that preventing Palestinian attacks remained his top priority.
"We want peace. We are committed to peace. But you have to know one thing: to have peace you have to know how to defend peace, to keep the peace, to prevent attacks," he said in broadcast remarks.
Palestinians expressed anger at the latest deaths.
"All talks with the Israeli side should be suspended after all these massacres," Palestinian Information Minister Yasser Abed Rabbo told Reuters.
The violence coincided with a visit by U.S. Deputy of State David Satterfield, who held talks on Saturday with Palestinian officials on Palestinian security reforms seen as crucial by Washington for reviving talks on a Palestinian state.
Satterfield left for Damascus and Beirut on Sunday.
Earlier, Palestinian Interior Minister Abdel Razzak al-Yahya reported "positive feedback" from the U.S. envoy on sending experts and equipment to restructure security services -- aid first broached by Palestinian leader Yasser Arafat in August.
Yahya has held security talks with Ben-Eliezer on preliminary steps toward a cease-fire, but the contacts were suspended twice last week after violence flared.
---
How can we manifest peace on earth if we do not include everyone (all races, all nations, all religions, both sexes) in our vision of Peace?
---
The WorldPeace Banner
To the John WorldPeace Galleries Page

To the WorldPeace Peace Page