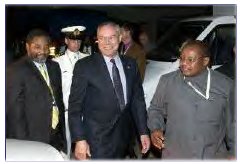 According to a new poll which questioned more than 9,000 Europeans and Americans about how they look at the world one year after the attacks, 55 percent of Europeans think U.S. foreign policy contributed to the tragic events of last September 11.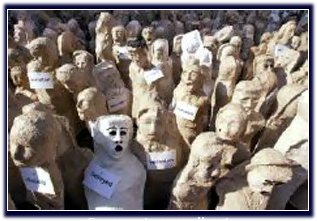 Environmentalists, who left the morning session of the World Summit on Sustainable Development to protest against an action plan for the future of the planet, pinned placards reading ´Betrayed´ in several languages 04 September 2002 on an art action called ´Hear Our Voice´, an installation of sculpture and sound, a few meters away from the convention center in Sandton, hosting the World Summit on Sustainable Development in Johannesburg.
---
Earth Summit: Colin Powell arrives, says nothing

Little George send Colin Powell to Africa to speak to the Earth Summit. But Colin said nothing and made no real commitments.
The United States' lack of involvement is doing nothing more than creating future problems for itself. As the above caption says, the Europeans believe that it was the policies of the US that brought on the 911 attack.
This is not to say that the attack could have been prevented. What it does say is that if the US continues to ignore the the problems that concern the rest of the world, there is going to be more repercussions.
The 911 incident impacted on tens of thousands of friends and family of those who were killed. But as tragic as this was, it does not begin to compare to the tragedy that Global Warming can produce. It is nothing compared to the hunger that kills millions of people in the world every year.
I find it interesting that the US continues to focus on Iraq during the Earth Summit. The world is taking a look at what is happening to the planet as a whole and the US is concerned about Saddam building weapons of mass destruction. And after he gets these weapons, what is he going to do with them?
Is he going to wipe out the US? What a joke.
Is he going to wipe out Israel? Another joke. How can he nuke Israel and not kill people from all over the world and destroy the Dome of the Rock.
And if he does fire off a couple of nukes, what will be the price he will have to pay? I think the total destruction of Baghdad and no place to hide anywhere in the world would be his fate. Saddam may be crazy but not that crazy.
The world needs leadership and it does not come with a Secretary of State. It comes with a President. I think little George spent too much time playing cowboys and Indians when he was a little boy.
John WorldPeace
September 4, 2002
---
Powell: US There for Global Problems

The Associated Press, Wed 4 Sep 2002
JOHANNESBURG, South Africa (AP) — In a direct rebuke to America's critics, Secretary of State Colin Powell says the United States has not shirked its responsibility to take a leading role in solving global problems.

Arriving in Johannesburg, where he was to address the World Summit on Sustainable Development on Wednesday, Powell spelled out areas where he said the Bush administration has stepped up. President Bush, he said, has advocated expanding trade to Africa, tying U.S. foreign aid to progressive political reform and creating a worldwide health fund for fighting HIV/AIDS, malaria and tuberculosis.

He also proposed funding for drugs to prevent mother-to-child HIV transmission, Powell said. And Powell revealed his own plans to soon announce ``a number of educational programs'' for the Middle East.

``It is always the case, though, that people will comment on the United States and occasionally criticize us for not doing even more,'' Powell said. ``I think we've got a good record, and I think it's a record we can all be proud of defending.''

Powell said he will stress that the private sector, not government, holds the vast majority of resources available to help poorer nations. He said he would encourage developing countries to assure potential investors that in their countries, ``the money will be used properly, it will be protected by the rule of law, and it will go to the benefit of the people.''

Several nations represented at the summit had expressed frustration with the U.S. approach to some issues. Particularly, they are annoyed that the administration refuses to pursue Senate ratification of the Kyoto treaty on climate change, an accord many of them say is vital to the survival of smaller countries.

``I guess it's our place in the world, as the largest economy in the world and the wealthiest country in the world, to be looked at for leadership in helping developing nations,'' Powell said. ``I think the United States has provided that leadership.''

Powell arrived in Johannesburg late Tuesday night, several days after the conference began and after some leaders had left. Powell said he has gotten regular updates from the U.S. officials who have been at the summit from the beginning, and was pleased to see the progress made on a plan of action.

He also noted that some countries have warmed to U.S. proposals on creating public-private partnerships for water, energy, housing and environmental preservation, but did not mention those countries by name.

``Sustainable development is not just aid,'' Powell said. ``It's education, it's the environment, it's trading, it's opening up economies, it is good governance. ... All of these things have to be taken into account, and I think that the strategy the United States brought to this summit reflects all of that.''

On the sidelines of the gathering on Wednesday, Powell will meet with U.N. Secretary-General Kofi Annan, Japanese Foreign Minister Yoriko Kawaguchi, Russian Prime Minister Mikhail Kasyanov, South African President Thabo Mbeki and President Nursultan Nazarbayev of Kazakhstan.

With Kasyanov, Powell said, he will review the status of various U.S.-Russian issues since their presidents met back in June.

``We will shake hands and congratulate ourselves on having solved the great chicken war of 2002,'' Powell said, referring to a trade dispute over poultry exports.

After the summit closes, Powell will travel on to Angola and Gabon, before returning to Washington later in the week.
---
Powell heckled at Earth Summit
11.14AM BST, 4 Sep 2002 ITV.com London
US Secretary of State Colin Powell was heckled and booed during his speech at the Earth Summit in Johannesburg.
Environmentalists whistled, jeered and shouted throughout the address, forcing Mr Powell to pause several times to wait for the noise to die down.
Security guards hustled a number of demonstrators out of the conference hall. Two protesters held a banner reading: "Betrayed by governments".
South African Foreign Minister Nkosazana Dlamini-Zuma, who was chairing the session, called for the hecklers to stop and described the outbursts as "totally unacceptable."
Delegates were initially angered when Mr Powell criticised President Robert Mugabe for exacerbating the food crisis in Zimbabwe and pushing "millions of people to the brink of starvation."
Heckling continued when he went on to condemn Zambia, which is also facing a hunger crisis, for rejecting genetically engineered corn that Americans "eat every day".
Campaigners also registered their dissent when Mr Powell defended his administration's environmental record and its efforts to help the poor in the developing world.
A wave of noise erupted when he said: "The United States is taking action to meet environmental challenges, including global climate change."
The US has been hammered for refusing to ratify the Kyoto Protocol on climate change, which many countries view as crucial for reversing a global warming.
The Earth Summit is set to draw to a close later, after ten days of wrangling over environmental safeguards and strategies to minimise poverty
Delegates have reached a compromise deal and UN officials are preparing the agreed proposals for final adoption by the full summit.
---
How can we manifest peace on earth if we do not include everyone (all races, all nations, all religions, both sexes) in our vision of Peace?
---
The WorldPeace Banner
To the John WorldPeace Galleries Page

To the WorldPeace Peace Page