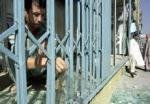 Kabul shop owners pick up debris near the blast site, after two blasts tore through downtown Kabul. The latest bid to assassinate Afghan President Hamid Karzai underscores the potential dangers of U.S. plans to extend the "war on terror" to Iraq while Afghanistan is still not at peace
---
little George: Destabilize Afghanistan, then Iraq, then North Korea, then retire

Little George's presidency was going south fast when the terrorist struck on 911. Then Americans united behind the president to retaliate.
But war gets old, especially when it drags out and more especially when the enemy is difficult if not impossible to clearly identify. And then there is the problem of the most powerful nation in the world being unable to get bin-Laden.
Little George's war on bin-Laden is winding down and so he needs to drum up a war against Iraq to prop up his declining approval ratings. Iraq barely has the capacity to launch a missile attack against Israel much less a nuclear strike against the United States. In a word, Iraq is no threat to the United States.
And after Iraq, the next logical Bush target would have to be North Korea. I think little George will need another term in office to get Korea.
The political situation in Afghanistan is already deteriorating and if there is a strike against Iraq then the clean up problems will last at least until the next presidential election when the electorate can give the next President a clear mandate on foreign affairs.
What is not being discussed is the growing personal danger to the President in the form of assassination. Even the President of the United States cannot openly target individuals like Saddam and bin-Laden and think that they are not going to make plans to kill him before he kills them. This is the law of the jungle and when you target a man for assassination then things get personal and you had better watch out. Unfortunately no one can be fully protected from a determined assassin especially if that assassin has the secret backing of several world governments. Has anyone wondered why bin-Laden is still on the loose?
The President does not have the backing of Congress nor the backing of the majority of the world leaders in his campaign against Saddam. Only Bush, Cheney the fascist and apparently Tony Blair are intent on destabilizing Iraq.
John WorldPeace
September 8, 2002
---
Afghan Instability Raises More Doubts On Iraq War
teherantimes.com September 8, 2002

LONDON -- The latest bid to assassinate Afghan President Hamid Karzai underscores the potential dangers of U.S. plans to extend the "war on terror" to Iraq while Afghanistan is still not at peace.
Karzai's narrow escape from his assailants on Thursday jangled nerves in Kabul, which suffered a deadly car bombing the same day, and reminded the world of the fragility of the U.S.-backed Afghan leader's grip on his turbulent country.
The timing of the attacks seemed no accident, occurring almost one year after the assassination of Ahmad Shah Masood, then the main foe of Afghanistan's ousted Taleban rulers, and the September 11 suicide-hijacks which the United States blamed on Osama bin Laden's Taleban-allied Al-Qaeda network.
Afghan Foreign Minister Abdullah Abdullah accused Al-Qaeda and its Taleban allies of launching the attacks to destabilise the Kabul government. "It is further evidence that the war against terror in Afghanistan is far from over," he said.
Analysts said this had worrying implications for any attempt by U.S. President George W. Bush to open a new front in his "war on terror" by invading Iraq to topple President Saddam Hussein.
Magnus Ranstorp, a terrorism expert at St. Andrews University in Scotland, said it was not yet known who tried to kill Karzai, but the attack fitted Al-Qaeda's methods and motives.
"Al-Qaeda is like a scorpion lying in wait," he said. "Its strategy is to destabilize Afghanistan and Pakistan and it is going for low-scale operations with a potentially high impact.
"It is well-versed in assassinations, ambushes and kidnaps, and that's the phase we are in now," he said, adding that such operations were easier for Al-Qaeda or its local sympathizers to carry out than a September 11-type spectacular which required long preparation, planning and logistical support.
--- Al-Qaeda Flexing Muscles --- Ahmed Rashid, a Pakistani expert on Afghanistan, said Bin Laden's network appeared to be stepping up its activities. "In Pakistan, Al-Qaeda seem to have penetrated Islamic groups," he said. "There is a similar process going on in Afghanistan. An element of Al-Qaeda could be masterminding local Afghans to carry out these attacks."
The assassination of vice-president Haji Abdul Qadir, a Karzai ally, in July had already prompted the Afghan leader to replace his local bodyguards with U.S. special forces.
The removal of Karzai, whose Pashtun identity is the main balancing factor in a government heavily weighted towards Tajiks and other ethnic minorities, would deal a terrible blow to the new order installed after last year's defeat of the Taleban.
Karzai has long complained that the outside world is failing to deliver promised aid or provide the security muscle he needs to extend his writ beyond Kabul and prevent his impoverished, drug-riddled country from sinking back into factional conflict.
The unraveling of the shaky central government would cause ripples far beyond the landlocked Asian nation.
"The United States does not need any major crisis in the buildup to confronting the Iraq situation," Ranstorp noted.
UN Secretary-General Kofi Annan, in a possible hint to Washington, said he was confident that "these senseless attacks" would strengthen world resolve to stabilize Afghanistan.
But the United States has until recently opposed expanding the size and role of the international security assistance force that now operates only around Kabul. It is now reconsidering, but it is unclear whether troops can be found to do the job. ---
---
German, French leaders reject unilateral action against Iraq
Xinhua News Agency 2002-09-08 07:13:57
BERLIN, Sept. 7 (Xinhuanet) -- German Chancellor Gerhard Schroederand French President Jacques Chirac expressed on Saturday evening their opposition to Washington's intended unilateral military action against Iraq.
After an informal meeting with Chirac in Hanover, Schroeder reiterated that Germany under his government would not participation any military strike on Iraq, a position which is not shared by France.
Schroeder said that both Berlin and Paris insist on no unilateral action on the issue of Iraq, an unconditional return of UN inspectors to Iraq and a significant role by UN in resolving the Iraqi issue.
The goal of the international efforts should be the return of UN inspectors to Iraq, which should not be hindered by military means, he said.
Both leaders also agreed that steps should not be taken which would destroy the international coalition against terrorism, Schroeder said.
At the joint press conference after their meeting, Chirac said that France would wait for the consultation of the UN Security Council before considering whether it would join the military action.
"Only the security council is empowered to make such decision, "Chirac said, adding that he understood Germany's position.
"There is more or less a coherent European attitude," the French leader said.
---
How can we manifest peace on earth if we do not include everyone (all races, all nations, all religions, both sexes) in our vision of Peace?
---
The WorldPeace Banner
To the John WorldPeace Galleries Page

To the WorldPeace Peace Page