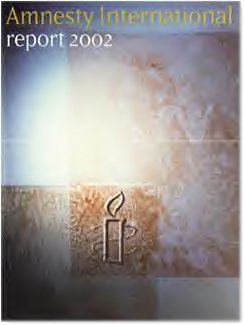 ---
Amnesty International Report 2002

The year 2001 will be remembered by many for the events of 11 September, which dominated the international political agenda and posed new challenges to the human rights community. Yet, as this Amnesty International Report shows, there were countless other human tragedies during the year.
Amnesty International responded to the 11 September attacks in the USA by condemning them unreservedly and by calling for those responsible to be brought to justice in accordance with international law. Its members worked steadfastly to counter a racist backlash against people identified as Muslim or Middle Eastern. When governments introduced draconian security and immigration legislation, Amnesty International campaigned to ensure respect for fundamental human rights. The movement also called for strict adherence to the rules of war during the US-led military campaign in Afghanistan. Amnesty International's message throughout was "Justice not revenge".
Human rights abuses in 152 countries and territories around the world are documented in this report, which describes the repression and violence which blighted the lives of millions of people throughout 2001. Some faced new threats from those seeking to gain military advantage or maintain political power. Others were still suffering the effects of genocide and other atrocities committed in the past. Many were denied protection from abuses based on discrimination on grounds of race, gender or sexual orientation. Millions were forced to seek safety in other countries, but faced growing obstacles and hostility.
This report shows not only the failures of human rights protection but also the indomitable courage and determination of human rights activists whatever the challenges they face – and the vital role they play in a world beset by poverty, war and repression.
---
How can we manifest peace on earth if we do not include everyone (all races, all nations, all religions, both sexes) in our vision of Peace?
---
The WorldPeace Banner
To the John WorldPeace Galleries Page

To the WorldPeace Peace Page