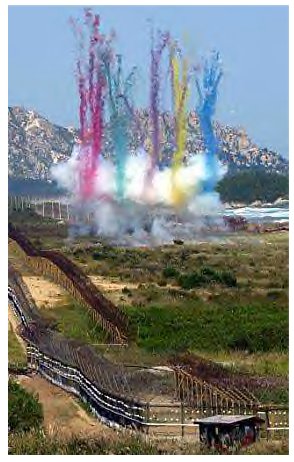 Colored smoke rises from a groundbreaking ceremony for railway lines and roads in Kosung, on the border between North and South Korea, on September 18, 2002, on the far side of a high security fence. The move is another symbolic step in fast-moving diplomacy on the divided peninsula. Photo by Kim Kyung-Hoon/Reuters

---
North and South Vietnam, East and West Germany; now North and South Korea
Slowly but surely the world is creeping toward sanity and peace as nations reunite. The wall has come down in Korea and it will not be long before the two countries reconcile and integrate after fifty years of separation.
Everywhere peace and WorldPeace is trying to break out; everywhere but in the minds of the Bush administration who want to continue the wars of the last two centuries. The world is moving toward peace even as little George refuses to put all his influence in resolving the Israel/Palestinian problem.
The nations of Africa are emerging, Europe is uniting, China is growing economically, and Russia is stabilizing after the ravages of communism. All over the world the hope of peace begins to brighten its lights.
Overall there is more progress being made in the world in the area of peace than in the area of war. Everywhere peace is breaking out except in the mind of little George Bush.
John WorldPeace
September 18, 2002
---
Korean DMZ 'opened'
September 18, 2002 News.com.au

THE buffer zone dividing the two Koreas for five decades has been opened in ground-breaking ceremonies for road and rail links.

Soldiers unbolted a metal gate in the three-metre-high barbed-wire-topped fence that runs the length of the buffer zone as South Korean politicians, officials and foreign diplomats looked on.
Fireworks exploded as a South Korean girl dressed in pure white and symbolising the North emerged from behind the fence holding a single red rose and linked hands with a boy, representing the South, dressed in a black suit and also carrying a single rose.
Television footage showed ceremonies also under way on the eastern tip of the buffer zone.
North Korean had also launched simultaneous ceremonies, MBC televisions said.
The ground-breaking ceremonies were for the establishment of rail and road links between the two Koreas that have been cut for more than 50 years.
The boy and girl joined a chorus singing a song called 'Our wish is Unification', as a train bedecked with a unification flag and flowers rolled slowly toward the edge of the border fence.
On the east coast, North Korean Prime Minister Hong Song-Nam led a ceremony attended by some 3,000 people, Yonhap news agency said.
In a message to North Korea's supreme leader Kim Jong-Il and South Korean President Kim Dae-Jung, Russian President Vladimir Putin said the project would strengthen peace and security in Korea and in the Asia-Pacific region.
"Russia is deeply satisfied with this significant and symbolic step - reconstruction of vital routes, connecting two Korean states," Putin said.

Agence France-Presse

---
How can we manifest peace on earth if we do not include everyone (all races, all nations, all religions, both sexes) in our vision of Peace?
---
The WorldPeace Banner
To the John WorldPeace Galleries Page

To the WorldPeace Peace Page