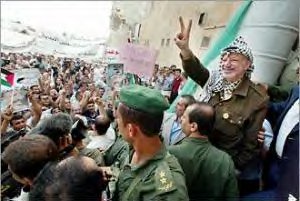 Palestinian leader Yasser Arafat greets the crowd outside his headquarters in Ramallah. Meanwhile, UK Prime Minister Tony Blair yesterday used a keynote speech to his Labour Party to say that UN resolutions should apply equally to Israel as to Iraq. Mr Blair called for renewed peace talks to ensure the establishment of a Palestinian state and Arab recognition of Israel. (AFP photo)
---
Tony Blair backs Bush on Iraq and Arafat on a Palestinian State
As little George focuses all his energies on killing Saddam, he has had to back off from his commitment to Israel. The world is moving toward peace regardless of little George and his obsession with Saddam.
Tony Blair, in exchange for his support of Bush on Iraq, took the initiative and condemned Israel without reprimand from the United States. All this effort by little George to rally the world against Saddam has come at a price. To get what he wants with Iraq, little George had to make some sacrifices in the world community. He had to tell Israel to get out of Arafat's compound and allow Arafat to once again emerge from the Israeli siege triumphant.
The injustice imposed on the Palestinians in general and the continued murder of Palestinian children in specific has finally focused the world on the abuses by Israel in the Middle East. The world is sending a message to Israel that it is tired of it murderous behavior. The world is also telling Arafat that it is time for the suicide bombing to end.
The hawks like Sharon and little George are about to exit the world stage and make way for a whole new generation of leaders who are more concerned about global integration and justice and a sustainable environment than the bad boy cowboy arrogance that little George exhibits.
The world is poised to throttle back Saddam, Sharon, and eventually little George. The United States cannot continue to ignore global warming, human rights, economic growth while maintaining a sustainable environment, a functional world court and more importantly a shift from world war to WorldPeace.
The sooner that little George moves back to the ranch permanently, the sooner the world can get on with building a lasting peace with equality and justice for all mankind.
John WorldPeace
October 2 2002
---
Blair backs Palestinian state

03oct02 The Mercury Australia

BRITISH Prime Minister Tony Blair yesterday used a keynote speech to his Labour Party to say that UN resolutions should apply equally to Israel as to Iraq.

Mr Blair called for renewed peace talks to ensure the establishment of a Palestinian state and Arab recognition of Israel. His comments applied more pressure to Israeli Prime Minister Ariel Sharon, already struggling to save face two days after US pressure forced the army to withdraw from the battered compound, letting Palestinian leader Yasser Arafat emerge triumphant from yet another siege.

Defence Minister Binyamin Ben Eliezer admitted that the tanks had only withdrawn to please the US and remove an obstacle in Washington's preparations for war against Iraq.

"We left the Muqataa [Mr Arafat's compound] because the US, our most important ally, thought our continued presence was becoming the main obstacle to its goal [of disarming Iraq] which is also in our interest," he said.

Into the deadlock of suspicion and violence Mr Blair called for renewed negotiations before the end of the year to discuss the establishment of a Palestinian state based on the boundaries in place before the 1967 war and Israel's occupation of the Palestinian territories.

Mr Blair, in his speech, said UN resolutions on Israel "should apply as much as to Iraq".

"By the end of the year we must have revived final-status negotiations, and they must have explicitly as their aims: an Israeli state free from terror, recognised by the Arab world, and a viable Palestinian state based on the boundaries of 1967," he said.

"What is happening in the Middle East now is ugly and wrong . . . the Palestinians living in abject conditions, humiliated and hopeless; Israeli civilians brutally murdered."

The Palestinian leadership welcomed Mr Blair's call and urged him to continue to apply pressure to the Israels leadership.

"This is a very important statement from Blair. We ask him to push Israel," Nabil Abu Rudeina, a senior Arafat aide, said.

The Israeli press described the siege and its abrupt end as a farce.

They said Israel had taken its usual hard line and then buckled without achieving its stated goals.

Some commentators saw this as a dangerous sign of weakness.

Mr Sharon, returning from a visit to Moscow which has given him a slight breathing space after the Ramallah debacle, telephoned Mr Ben Eliezer to express his fury that some of the wanted Palestinians who had been trapped inside Mr Arafat's compound had escaped.

His hawkish coalition also faced increasing strains after his main government partner, Mr Ben Eliezer's centre-left Labour party, held a rowdy congress late yesterday in which the defence minister's leadership rivals called for Labour to leave the Government.

Meanwhile in Ramallah, Mr Arafat's celebrations at braving out the siege gave way to marathon talks with elements of the Palestinian leadership and renewed pressure for democratic reforms.

Mr Arafat asked Parliament for an extra two weeks to name a new Cabinet, after the siege of his base delayed a pledged reshuffle.

The assembly, dominated by Mr Arafat's own Fatah faction, has previously threatened to vote down the Cabinet because members believe the reshuffle does not go far enough.

Both Israel and Palestine were likely to face more international criticism after continuing violence claimed the lives of two Palestinian boys yesterday, the same day as Amnesty International released a report saying children were bearing the brunt of the conflict.

---
How can we manifest peace on earth if we do not include everyone (all races, all nations, all religions, both sexes) in our vision of Peace?
---
The WorldPeace Banner
To the John WorldPeace Galleries Page

To the WorldPeace Peace Page