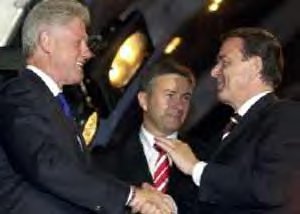 Former US President Bill Clinton is congratulated by German Chancellor Gerhard Schroeder and Berlin Mayor Klaus Wowereit following Clinton's speech at the unveiling ceremony of the newly renovated Brandenburg Gate. FORMER US president Bill Clinton yesterday publicly, and electrifyingly, broke away from his successor, George W. Bush, over Iraq, urging Mr Bush to stick with the UN as the safest way to solve the crisis. AFP photo.
---
Bill Clinton challenges little George on Iraq
Both ex-presidents Bill Clinton and Jimmy Carter are having a lot of trouble sitting back while little George does everything he can to plunge the Middle East into chaos.
I am thankful that there is someone with a world presence to stand up and challenge little George. I am thankful for Bill's remarks which if nothing else will slow down little George's bullying the whole world into a confrontation with Saddam.
John WorldPeace
October 4, 2002
---
Clinton attacks American hawks
By BRUCE WILSON in London October 04, 2002

FORMER US president Bill Clinton yesterday publicly, and electrifyingly, broke away from his successor, George W. Bush, over Iraq, urging Mr Bush to stick with the UN as the safest way to solve the crisis.

In a speech described by one commentator as "mesmerising," Mr Clinton was in direct opposition to a tough new line announced in Washington by Mr Bush, and spoke out against a pre-emptive strike on the oil-rich state.
The Bush announcement came after the President and US congressional leaders reached agreement on a draft resolution that allows Mr Bush to confront Iraq with military force.
"We will not leave the future of peace and the security of America in the hands of this cruel and dangerous man," Mr Bush said after the agreement.
"If he persists in his defiance, the use of force may be unavoidable."
In his speech, Mr Clinton pointedly praised the British Prime Minister, Tony Blair, for being a restraining influence on Mr Bush.
"As an American, and as a citizen of the world, I am glad Tony Blair will be central to weighing the risks and making the calls," Mr Clinton said.
Mr Blair basked in the praise and his wife Cherie hugged Mr Clinton and kissed his cheek when he left the conference hall in Blackpool to a standing ovation, flanked by his friend and travelling companion, the Oscar-winning actor Kevin Spacey.
But the speech – which overshadowed all others at the conference – created immediate difficulties for Mr Blair because Mr Clinton broke the protocol often observed by former US presidents and openly attacked Mr Bush's domestic and foreign policies.
Mr Blair will now have to go back to Mr Bush and somehow show that his obvious friendship with Mr Clinton has not damaged the bilateral relationship in which Britain has been America's loyal ally in the campaign against Saddam Hussein.
In a speech on Tuesday, Mr Blair committed himself to the alliance with America, but British policy is to link any action against Iraq to UN resolutions.
Mr Clinton has no official power as an ex-president but his anti-hawk stance is certain to influence British opinion, already running strongly against any action against Iraq without UN approval.
He said America was not blameless – it had armed Saddam with biological weapons in the 1980s when the US backed Iraq in its war against Iran.
This is a theme that will not play well in the White House, and Mr Clinton salted the wound by saying weapons inspectors had destroyed many more of Saddam's weapons of mass destruction than were destroyed in the Gulf War, initiated by President Bush's father.
"Saddam is bobbing and weaving," he said, but added he believed al-Qaeda remained a far greater threat than Iraq and that, if he were in charge, there would be many more US troops in Afghanistan tracking down al-Qaeda.
"Military action in Iraq should be a last resort . . . I don't care how precise your bombs and weapons are, when you set them off, innocent people will die," Mr Clinton said.
---
How can we manifest peace on earth if we do not include everyone (all races, all nations, all religions, both sexes) in our vision of Peace?
---
The WorldPeace Banner
To the John WorldPeace Galleries Page

To the WorldPeace Peace Page