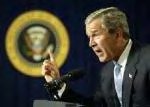 PRESIDENT George Bush last night won the backing of the US House to try to oust Saddam Hussein. The Democratic- controlled Senate also came on board after pledges that Bush would certify to Congress that diplomatic means alone were not enough to protect Americans from Saddam's weapons of mass destruction. AFP photo
---
Only the U N can stop little George now
Well folks, little George got the Senate to buckle under the pressure of coming elections. Everyone knows that little George is about to plunge the Middle East into chaos and yet the leaders of the United States and the leaders of the world refuse to challenge him.
Ariel Sharon has learned that he will never be able to end the Palestinian problem with killing. The more he attacks them, the more suicide bombers kill Israelis.
Little George is about to learn the same lesson. Little George is about to unleash hell on the United States.
When the biological bombs and dirty nuclear bombs begin to explode in American cities, where is little George going to be then? Who is going to clean up the mess then? And what are you going to tell your children you did to stop the insanity?
We attacked Iraq because Iraq invaded Kuwait. Iraq has not invaded anyone lately as far as I know. And more importantly, there are a lot of more threatening people and in the world than Saddam. Take bin-Laden for instance. Anyone asked little George about bin-Laden lately?
When things don't make sense, follow the money. In this case follow the oil.

The world sat back and watched Hitler throw the world into chaos. Now the world is watching little George.
God help us.
John WorldPeace
October 4, 2002
---
DEMOCRAT BACKING FOR BUSH
PRESIDENT George Bush last night won the backing of the US House to try to oust Saddam Hussein.
The Democratic- controlled Senate also came on board after pledges that Bush would certify to Congress that diplomatic means alone were not enough to protect Americans from Saddam's weapons of mass destruction.
Republican John Warner recalled that Congress gave Bush's father authority to attack Saddam in the Gulf War.
He said: "Mr President, we delivered for your father. We will deliver for you."
America and Britain will force a showdown with Iraq today by demanding unrestricted access to Saddam's palaces through the UN.
Diplomats said it was a "blueprint for war" because Iraq could never agree to inspections of sensitive sites.
---
How can we manifest peace on earth if we do not include everyone (all races, all nations, all religions, both sexes) in our vision of Peace?
---
The WorldPeace Banner
To the John WorldPeace Galleries Page

To the WorldPeace Peace Page