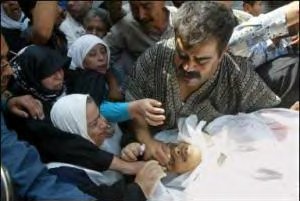 Fourteen people were killed yesterday when an Israeli helicopter fired a rocket into a crowd of Palestinians, including women and children. As the wounded were arriving in hospital, Israeli guns opened up on the hospital, killing one man and wounding three others. (AFP photo)...
---
Israelis just keep on murdering Palestinians
Am I the only one who sees the insanity of this? Am I the only one that understanding that the Israelis are out of control?
There is no justification for this kind of behavior toward human beings.
John WorldPeace
October 7, 2002
---
Fourteen die after Israelis launch missile into crowd
By Justin Huggler in Khan Younis, Gaza Strip 08 October 2002

Fourteen Palestinians were killed yesterday on a day when an Israeli helicopter fired a rocket into a crowd in Khan Younis that included women and children. As the wounded were arriving in hospital, Israeli guns opened up on the hospital, killing one man and wounding three others.

And within hours, four more Palestinians were dead after fighting between Hamas militants and Palestinian security forces loyal to Yasser Arafat flared. Palestinian police last night held 60 Hamas gunmen under siege in Nusseirat refugee camp in the Gaza Strip. Onlookers were attacking the police with stones.

The violence between Hamas and Palestinian Authority security forces began after a senior Palestinian police commander was kidnapped and killed by 13 Hamas gunmen yesterday. Hamas leaders said the killing was part of a private blood feud and had nothing to do with the organisation. The Palestinian Authority accused Hamas of being behind it.

In the helicopter attack, Palestinians said troops fired a rocket unprovoked at a crowd that had come out of their houses in Khan Younis, thinking one Israeli raid was over. The Israelis said Palestinian gunmen shot at them as they retreated, and they were returning fire. The Palestinians said the dead were civilians; the Israeli army said all but one were militants.

It was the heaviest death toll in an Israeli raid for months, just as Javier Solana, the EU's foreign policy chief, flew in to talk peace. The US state department stepped up its criti cism of Israel, saying Washington was "deeply troubled" by the raids.

The trouble began with the sort of incursion that happens regularly in the Gaza Strip. Tanks swept into the town of Khan Younis, and Israeli soldiers searched houses, apparently looking for militants. Then, it seems, they left, and 15 minutes late,r the helicopter rocket ploughed into the unsuspecting crowd.

There were women and children there, who were taken to Nasser hospital, which itself came under Israeli fire early yesterday, as it was thronged with emergency cases. The Israeli army said the gunshots were not aimed at the hospital but at mortar fire from nearby.

But the Israeli soldiers must have known they were firing in the direction of a hospital. Mohammed abu Shaluli, who worked there, died from a bullet in the head.

In an upstairs ward,10-year-old Fawzi Aqqa was lying in shock, a metal brace newly wired into his shattered leg. His mother, Sheida al-Fara, described what had happened.

"After midnight, the Israelis came to our house. I went and opened the door. They were looking for something, I don't know what. Then they left the house, around 2am.

"They took my husband's ID, they took them from all the men in the house. After the Israelis left, all the men went to look for their IDs. My son followed his father. I was standing on the balcony with my daughter. I saw a light in the sky, and suddenly, there was a big explosion. I heard my son saying, 'I don't want to die'. I went to help. When I saw my son, his leg was covered with blood."

Mrs al-Fara said there were many armed men in the crowd, some of them militants, some legitimately armed members of the Palestinian police, which still operates in Gaza. "No one was shooting at the Israelis." She added that they were shooting in the air to celebrate the Israeli soldiers leaving.

Nine-year-old Yusra Astal was also in the crowd. She was hit in the hip. Her 17-year-old brother Ahmad was killed, and a second brother, Mohammed, who is 24, was also wounded.

"I left my house because we believed the Israelis had left," Yusra told me. She said men in the crowd were firing guns but she did not know what they were shooting at.

Twelve-year-old Hassan Astal, a distant relative, was in the opposite bed. He, too, was hit in the leg by shrapnel. He said there were many children in the crowd. We found Khadiye Wafi, a 17-year-old girl, in another ward. She and her mother Bashira were in the crowd and both were wounded.

She said there were only a few women there, but many children. She said some of the men had thrown pipe bombs into the street to make sure the Israeli soldiers had left but
had not attacked the Israelis.

Of the dead, the youngest was 17. One woman, Rahima Salaami, was 50. The rest of the dead were men. More than 100 people were wounded. The Israeli army said yesterday it had film of the rocket attack, taken by a pilotless drone flying over Khan Younis, but it had not yet decided whether they should release it.
---
AT 9:53 AM EDT Tuesday, October 8, 2002

Sharon lauds army strike against Hamas

Jerusalem — Undeterred by U.S. criticism, Israeli Prime Minister Ariel Sharon said Tuesday that a deadly Israeli military strike in the Gaza Strip was a success and said there will be more operations like it.

Israel said Monday's raid in Gaza, which left 14 Palestinians dead and more than 100 wounded in the town of Khan Younis, was meant to put members of the Islamic extremist group Hamas on notice that they could no longer feel safe in the crowded neighbourhoods of Gaza.

The Palestinians said all the dead and nearly all the wounded were civilians; Mr. Sharon and the Israeli military said most of the dead were armed men killed in battle.

The U.S. State Department, while reaffirming Israel's right to self-defence, said it was "deeply troubled" by raids on Palestinian areas that killed civilians. The operation was also criticized by Russia, the United Nations and the European Union — which along with the United States, make up the quartet of Mideast mediators.

Mr. Sharon expressed sorrow at the civilian deaths but brushed off the international condemnation.

"There is a need to be certain that terrorist organizations will not have the freedom to carry out intentional murder," Mr. Sharon said after a meeting with Israeli President Moshe Katsav.

"The operation was a successful operation," Mr. Sharon added. "This operation was complicated, it was a difficult operation. ... There will be more operations in Gaza."

The Israeli commander of Monday's raid, Brigadier-General Israel Ziv, acknowledged that none of those killed were wanted by Israel. He said the main objective was to shake up the group, which has carried out dozens of terror bombings in Israel.

"Hamas is under a lot of stress lately because of our operations," Gen. Ziv said. "The main goal (of the Khan Younis operation) was to ... interfere with their self-confidence."

Palestinian cabinet minister Saeb Erekat said the raid on Khan Younis was a "massacre and war crime," and he said the Palestinian Authority has asked the UN Security Council to convene immediately.

Both Hamas and Palestinian leader Yasser Arafat's Fatah faction have threatened to avenge those killed Monday.

"Everyone should know that as our people were not safe in Khan Younis, so Israelis will not be safe in Tel Aviv," said Abdel Aziz Rantisi, a Hamas leader. "We will strike everywhere."

With Israel threatening more raids, Hamas was also embroiled in a blood feud with the Palestinian police that left five people dead Monday — a Palestinian police colonel and four Hamas supporters.

In the funeral for two of the Hamas supporters Tuesday, dozens among the 1,500 mourners hurled stones and bottles at a police station in Gaza City. Officers posted on the roof fired in the air.

The colonel, who headed the Palestinian riot police, was abducted and slain by about 20 Hamas gunmen. The main suspect is Emad Akel, a Hamas activist from the Nusseirat refugee camp, whose brother Raed, was killed a year ago, along with two other students, by Palestinian riot police dispersing protests at a Gaza City campus.

Hamas leaders portrayed the feud as a personal matter of several activists, but the clashes threatened to spiral into a full-blown confrontation between Hamas and the Palestinian security services.

Mr. Arafat in the past has resisted calls by Israel and the United States to crack down on Hamas in order to prevent attacks on Israelis, but security forces have taken tough measures in the past when they felt their authority was challenged.
---
How can we manifest peace on earth if we do not include everyone (all races, all nations, all religions, both sexes) in our vision of Peace?
---
The WorldPeace Banner
To the John WorldPeace Galleries Page

To the WorldPeace Peace Page