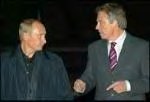 TONY Blair retreated from Moscow this weekend after suffering a humiliating rebuff in his move against Saddam Hussein. The British Prime Minister failed to get Russian president Vladimir Putin to back his drive to impose a tough new weapons ultimatum on Iraq. AFP photo
---
Putin tells Blair that Russia is not with the U S on Iraq
Russia which has veto power on the U N security council, which means that it can stop any resolutions regarding Iraq, refused to align itself with the little George wild west show.
China really does not have a dog in the Middle East fight and the anti-war activists in France are increasing their voice in the streets chanting, "No blood for oil". France, China and Russia all have veto power over any Iraq resolution.
It begins to appear more and more that little George is going to attack Iraq no matter what. The question that I have is whether or not the people of England are going to put enough pressure on Tony Blair to make the U S attack Iraq completely on its own.
Tony Blair knows that little George is an obsessive war monger hungry to steal Iraq's oil. The question is whether Blair would be siding with little George had he not established such close ties with Bill Clinton.
The question is whether the U S and England will deny any of the oil spoils to Russia and France if they do not join in the invasion of Iraq insanity.
John WorldPeace
October 13, 2002
---
Blair fails in Moscow

By Bruce Wilson in London The Sunday Tasmanian news.com.au

13oct02

TONY Blair retreated from Moscow this weekend after suffering a humiliating rebuff in his move against Saddam Hussein.

The British Prime Minister failed to get Russian president Vladimir Putin to back his drive to impose a tough new weapons ultimatum on Iraq.

The rebuff effectively put the USA and Russia on a diplomatic collision course.

Mr Blair came home with nothing to show for his bid to secure backing for a tough UN resolution on Iraq, and the jovial but unmoved Mr Putin dismissed Mr Blair's charges that Baghdad held weapons of mass destruction.

Mr Putin said he simply did not believe Saddam Hussein had the weapons. He made it clear he was unconvinced by the dossier against Saddam Mr Blair gave to a special sitting of the House of Commons.

Across the Atlantic, just hours after accepting the Nobel Peace Prize, former US president Jimmy Carter urged the US administration to seek every possible alternative to war with Iraq, saying: "People everywhere share the same dream of a caring community that prevents war and oppression."

His statement was issued from his Carter Centre, based in Atlanta, Georgia, which works to promote human rights and resolve social and political conflicts across the world.

Meanwhile, in Oslo, Nobel Committee chairman Gunnar Berge told reporters the judges' choice "can and must be interpreted as a criticism of the position of the administration currently sitting in the US towards Iraq".

Carter, a Democrat, steered clear of criticising the administration, but said he would have voted against a Congress resolution authorising President George W Bush to use force if the United Nations fails to disarm Iraq.

"I do think that in every way before we go into a war of any kind we should exhaust all other alternatives including negotiation, mediation or, if that's not possible in the case of Iraq, working through the United Nations," he said.

---
How can we manifest peace on earth if we do not include everyone (all races, all nations, all religions, both sexes) in our vision of Peace?
---
The WorldPeace Banner
To the John WorldPeace Galleries Page

To the WorldPeace Peace Page