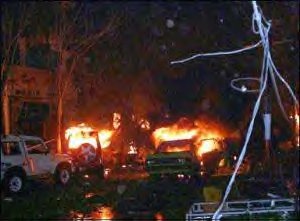 Officials say 150 people, mostly foreign tourists, have been killed in bomb attacks in the heart of Indonesia's resort island of Bali and more bodies are still being pulled out of the rubble. Two bombs exploded on Saturday night in the packed main Kuta Beach tourist area, lined with clubs and bars. (AFP photo)...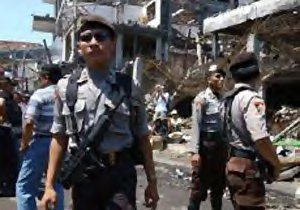 Armed Indonesian policemen guard in front of the damaged building that used to be home of the Padi club, following a hugh bomb explosion in the popular tourist area of Kuta in Denpasar, on the Indonesian island of Bali, 13 October 2002. Prime Minister John Howard said Sunday he will launch an urgent review of national security after a car bomb killed 182 people in Bali, an Indonesian island popular with Australian tourists. AFP photo...
---
200 die in terrorist bomb blast in Bali, Indonesia
There is little doubt that there is a terrorist network which has an Islamic undercurrent. There is no question but that the problem is a world wide problem. And there is no question but the corrupt regimes of the majority of these countries are the real cause of all the terrorism.
Therefore, the solution needs to be one upon which the world is united. It is a United Nations problem.
The solution needs to focus on the root causes of terrorism as opposed to simply reacting to the acts of the terrorist.
The problem with little George is that he has no concern about root causes. What he wants to do is take over as many countries as he can in a Third Millennium imperialism. He wants to use the power of the United States to impose his will on the rest of the world. He has no desire to discuss global warming, human rights or a sustainable environment compatible with economic growth. All the world conferences on these matters have been avoided and ignored and laughed at by little George.
Afghanistan and Pakistan, Indonesia and coming soon Iraq and the fallout in Turkey, Syria and Iran and Israel.
The world is going to be forced to address the underlying causes of terrorism or it is going to have to suffer the horrific consequences. A few hundred million capitalist imperialist cannot withstand the determination of billions of people around the world who exist in poverty and oppression.
John WorldPeace
October 13, 2002
---
October 13, 2002 4:45 AM
At least 150 dead in tourist island blasts
BALI, Indonesia (Reuters) - Health official say 150 people, mostly foreign tourists, have been killed in bomb attacks in the heart of Indonesia's resort island of Bali and more bodies are still being pulled out of the rubble.

The almost simultaneous blasts came at a time of growing security concern in the world's most populous Muslim nation following terror threats and Australian Foreign Minister Alexander Downer said terrorism was most likely to blame.

Two bombs exploded on Saturday night in the packed main Kuta Beach tourist area, lined with clubs and bars. The blast that did the most
damage was a car bomb in front of the popular Sari nightclub, a U.S. Embassy spokeswoman told Reuters in Jakarta.

Windows were blown out in buildings within a 500-metre radius of the club and wrecked up to 15 cars. The smell of burnt flesh hung in the
air.

One bomb exploded at Sanur, near a U.S. honorary consulate. No one was killed.

The dead included nationals from Australia, Britain, France, Germany, New Zealand and Sweden and Indonesia's police chief also said
terrorists may have been responsible.

"If you look at the number of victims, this was indiscriminate and there is indeed a possibility this was terrorism," police chief Dai Bachtiar
told reporters at Jakarta's airport before leaving for Bali.

"It does look as though a terrorist organisation was involved," Australia's Downer told ABC television. "And secondly it clearly looks as
though this attack has been co-ordinated, and it clearly looks like an attack against foreign interests."

Last week sources said the United States was considering withdrawing some embassy personnel from Indonesia after a grenade blast in
the capital raised questions about Jakarta's ability to provide security.

Bali police spokesman Yatim Suyatmo said police believed all the explosive devices were homemade bombs.

Richard Poore, a 37-year-old visitor from New Zealand who works as a television presentation director, told Reuters he had started to film
the scene.

"I saw limbs lying on the ground. I got to the stage where I couldn't film any more because it made me feel physically ill. I've never seen
anything like it in 12 years of reporting."

Downer said there were about 40 Australians in hospitals in Bali and of those about 15 were seriously injured.

Visitors included a number of Australians celebrating the end of various football season competitions.

Simon Quayle, coach of the Kingsley Football Club, an amateur team in suburban Perth, said eight players were missing after the team
members had gone to the Sari club.

"We have no idea where they are or what position they are in," he told ABC television.

An officer said the explosions had occurred virtually simultaneously at around 11:30 p.m. (4:30 p.m. British time).

"There are more than 100 dead but we can't give the exact number," Sanga Hospital communications chief Dr Puta Putra Wisade told
Reuters by telephone. He said bodies were still being brought into the hospital.

Early on Sunday flames licked into the air around the rubble of the Sari as tourists carried victims away from the carnage, many half-naked
and moaning in pain.

A local photographer said windows had been blown out up to 500 metres away from the Sari and the main blast had wrecked up to 15 cars
and been heard many miles away.

"The Sari club is gone. You can smell the bodies of those who died," he said.

A police officer said: "It's difficult to identify people because they have been completely charred."

A U.S. embassy spokeswoman said the third explosion occurred 50 metres from the honorary U.S. consulate in Sanur, another tourist area
about 30 minutes from Kuta.

Some critics say Indonesia is the weakest link in the U.S.-led war on terror in Southeast Asia, partly because the government has concerns
about cracking down on radical Muslim groups for fear of upsetting the vast moderate mainstream.

Indonesia as a whole is 85 percent Muslim, and U.S. officials have said that while most are moderates, the al Qaeda network Washington
blames for the September 11, 2001, attacks on the Pentagon and World Trade Centre has been trying to establish a foothold there.

While a number of regions in Indonesia, and the capital Jakarta, have been hit by violence in recent years, majority-Hindu Bali had long
been considered a safe haven and spared from any unrest.

It is Indonesia's most popular tourist destination, and a favourite for Australians and Japanese.

"This is a major incident, in terms of the loss of life and the fact that, unless the information changes, it looks like a premeditated attack," a
foreign risk consultant in Jakarta said.

The consultant, who declined to be identified, said the effect would be serious for Indonesia. "The impact on Bali will be major. Look at the
large number of foreigners in this."

SATURDAY NIGHT REVELLERS

The tourists hit by the blasts had been revelling on a typical Saturday night in Kuta Beach .

The main explosion at the Sari club left a hole 1.5 metres (5 feet) deep and four by five metres (12 by 15 feet) in area, police said.

One visitor to Bali said many terrified tourists had left their hotel rooms to sleep in open areas or on the beach after the attack. Many were
getting ready to leave on the first available flights.

The Foreign Office said there were nine Britons among the wounded, but none so far listed among those killed. The U.S. embassy
spokeswoman had no details on whether any Americans had died or been wounded.

Earlier on Saturday evening, a suspected homemade bomb had exploded in the front yard of the Philippine consulate in the Indonesian city
of Manado, causing some damage but no casualties in an attack officials blamed on terrorists.
---
How can we manifest peace on earth if we do not include everyone (all races, all nations, all religions, both sexes) in our vision of Peace?
---
The WorldPeace Banner
To the John WorldPeace Galleries Page

To the WorldPeace Peace Page