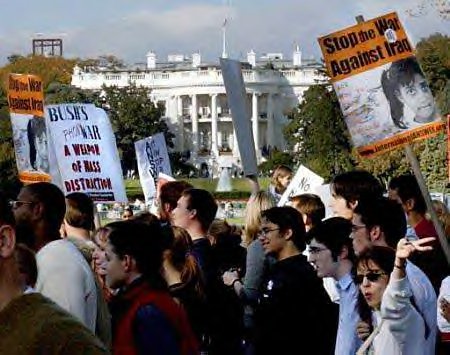 Demonstrators march past the White House protesting against possible U.S. military action against Iraq, October 26, 2002. Tens of thousands of protesters gathered at the Vietnam War memorial before setting off to march to the White House and back to the Mall. Photo by Brian Snyder/Reuters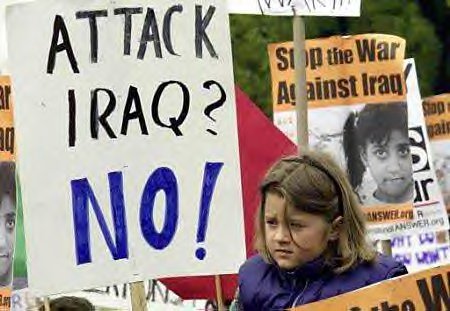 A young girl joins the mass demonstration in Washington D.C. against a possible U.S. attack on Iraq, October 26, 2002. Protesters hope as many as 100,000 people will converge on the U.S. capital for the anti-war message. Photo by Eliana Aponte/Reuters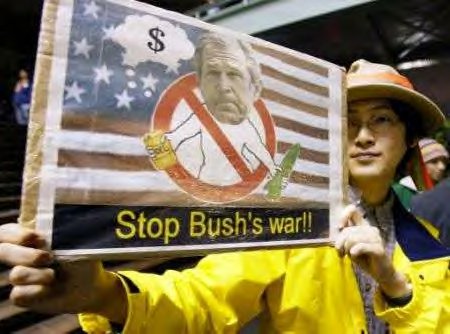 A demonstrator holds a poster during a street protest in Tokyo October 26, 2002. About 300 people demonstrated in protest of possible U.S. military action on Iraq. Photo by Kimimasa Mayama/Reuters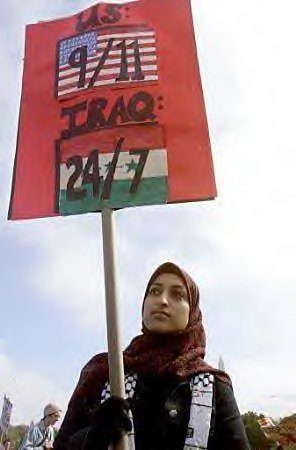 Anti-war protester Sana Malik stands with a sign during a demonstration in Washington D.C. against a possible U.S. attack on Iraq, October 26, 2002. Protesters hope as many as 100,000 people will converge on the U.S. capital for the anti-war message. Photo by Eliana Aponte/Reuters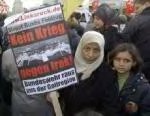 Several thousands of demonstraters gather in Berlin 26 October 2002, to protest a possible US-led war against Iraq. The placard reads ´Stop Bush´s warfare - No war against Iraq! Germany federal army leave the Gulf´. AFP Photo
---
Peace activist unite in global effort to stop little George
John WorldPeace
October 26, 2002
---
Global rallies protest possible U.S. war on Iraq
From Fran Lewine
CNN Saturday, October 26, 2002 Posted: 6:34 PM EDT (2234 GMT)

WASHINGTON (CNN) -- Demonstrators gathered in Washington on Saturday to protest a possible U.S.-led war on Iraq with anti-war chants, placards and speakers chastising politicians.
In addition, similar rallies were planned and held in San Francisco, California, Chicago, Illinois, and cities in Mexico, Japan, Spain, Germany, South Korea, Belgium and Australia.
The organizers say Congress' Iraq resolution is illegal and U.S. President George W. Bush's threats of a possible war against Iraq do not represent the views of the American people.
Bush has described Iraq as part of an "axis of evil," a growing global threat because -- Bush has said -- Baghdad is developing weapons of mass destruction, biological, nuclear and chemical. Bush has demanded Iraq disarm itself or suffer consequences.
Iraqi officials have repeatedly denied developing or possessing such weapons.
Speakers and participants in the Washington rally were to include former U.S. Attorney General Ramsey Clark; the Rev. Jesse Jackson; Rep. Cynthia McKinney, D-Georgia; Bishop Thomas Gumbleton of the Archdiocese of Detroit; the Rev. Al Sharpton, actor Ossie Davis and singer Patti Smith.
One spokesman said the rally is a rejection of what Bush pushed on Congress and Congress rubber-stamped.
Dozens of organizations and individuals have endorsed Saturday's march and rally.
Anti-war activists plan an anti-war referendum as well, with signed petitions and votes via computer on the Web site www.votenowar.org. An additional rally is scheduled in Washington in January followed by a "People's Peace Conference" to be attended by representatives of organizations that are backing the anti-war effort.
---
How can we manifest peace on earth if we do not include everyone (all races, all nations, all religions, both sexes) in our vision of Peace?
---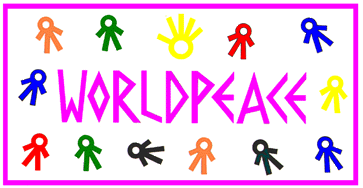 The WorldPeace Banner
To the John WorldPeace Galleries Page

To the WorldPeace Peace Page