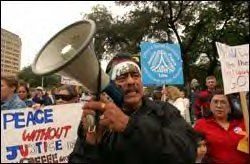 Henry Rodriguez chants against war with Iraq during a rally in Alamo Plaza. About 500 people turned out Saturday to march from Milam Park to Alamo Plaza to oppose war with Iraq.
Billy Calzada/Express-News
---
Worldwide Iraq war protests show that the Internet can rally people and create a permanent ongoing demand for WorldPeace
Fifteen years ago when I changed my name to John WorldPeace there were about 1000 peace organizations in the United States. This was before the Internet. Most of the groups came and went mostly due to in-fighting and egotism where each group loosely considered themselves to be "The Peace Group" and members of each group fought for control. It seems that peace advocate groups are seldom peaceful in their internal workings.
All that has changed with the Internet. Every single peace organization can maintain a presence on the Internet for less than $10 per month. This means that even groups of one like myself can maintain a 24/7 demand for a more just and equitable world.
As these local groups come and go, the few members that remain can still communicate with other peace groups in cyber space and thereby remain part of a bigger peace advocacy. The most important thing is that this vast group of people stay connected with each other and continue to come together in peace promoting causes.
The interconnections between peace advocacy groups are increasing every moment. There are still egocentric groups out there. I have been advocating peace a long time and I get negative mail from various "Peace" groups requesting that I not contact them in the future. The pursuit of peace should be an all inclusive endeavor. There were a lot of conservative people involved in the anti-war protests yesterday.
I have hope for the future of peace and WorldPeace (WorldPeace is one word and until we begin to write it as such world and peace will continue to be two separate things.) movements because of the Internet.
Once a critical mass of peace advocates is reached, then the entire world society will quickly move toward a more peaceful and just world. Not a perfect world because the ongoing and constant change in this reality will never allow perfect peace. Perfect peace is only possible with total stagnation which is not possible.
It is important that all groups which advocate peace continue to interact and continue to increase their links with each other. This way world pressure can be placed on war mongers like little George to stop his imperialist drive to kill for oil or anything else he desires.
There cannot be WorldPeace without communication. And the more the communication, the more that the level of peace and WorldPeace increases in the world society.
Yesterday will be remembered as the first worldwide peace movement since the Internet was established. It was a glimpse of what can be done. It was a beginning of an end to the insanity which believes that the only solution to world problems is war foisted on the many by the few.
How can we manifest peace on earth if we do not include everyone (all races, all religions, all nations, both sexes) in our vision of peace?
John WorldPeace
October 27, 2002
---
100,000 Rally, March Against War in Iraq

By Monte Reel and Manny Fernandez
Washington Post Staff Writers
Sunday, October 27, 2002; Page A01

Tens of thousands of people marched in peaceful protest of
any military strike against Iraq yesterday afternoon, in
an antiwar demonstration that organizers and police
suggested was likely Washington's largest since the
Vietnam era.

Organizers with International ANSWER, a coalition of
antiwar groups that coordinated the demonstration, had
hoped for a turnout rivaling that of its pro-Palestine
rally in April that officials estimated at about 75,000.
Organizers said they easily eclipsed that figure
yesterday, assessing attendance at well more than 100,000.
D.C. Police Chief Charles H. Ramsey also said he figured
yesterday's rally turnout exceeded that in April, but he
didn't provide a specific number.

"We think this was just extremely, extremely successful,"
said Mara Verheyden-Hilliard, a D.C. organizer with
International ANSWER, Act Now to Stop War and End Racism.
"It absolutely shows that when George Bush says America
speaks with one voice, and it's his voice, he's wrong."

After a rally that lasted more than three hours at
Constitution Gardens, near the Vietnam Veterans Memorial,
the march began at 21st Street and Constitution Avenue.
Using 17th, H, 15th and E streets NW, they circled the
White House and returned to their starting point.
Shoulder-to-shoulder crowds filled the streets for several
blocks. When marchers at the front of the procession
returned to Constitution Avenue on their way back, they
had to wait to allow demonstrators at the tail of the
march to pass.

Other demonstrations in cities including Rome, Berlin,
Copenhagen, Denmark, Tokyo and Mexico City were held to
coincide with the Washington march, and in San Francisco
at a sister march, thousands marched through downtown.

Protesters arrived by the busload, by car and by Metro
early yesterday morning, some carrying signs and later
joining in chants that echoed a common theme: A war
against Iraq would be unjustified, they said, and there is
no consensus for it.

"Nebraskans for Peace" and "Hoosiers for Non-Violence"
chanted alongside silver-coiffed retirees from Chicago and
a Muslim student association from Michigan. Parents could
be seen enjoying a sunny, picnic-perfect afternoon by
pushing a stroller with one hand and carrying a "No War
for Oil" sign with the other, and police on horseback
monitored nearby.

The tone of the rally was far different from D.C.'s last
major protest -- the September demonstrations against the
annual meetings of the International Monetary Fund and the
World Bank. During those events, anti-globalization
protesters had intended to paralyze the city with
disruptive throngs, but their numbers were much smaller
than expected, and they were dominated by a massive police
presence. More than 600 people were arrested during the
IMF and World Bank protests; yesterday, police reported
three arrests.

Several groups, including the Anti-Capitalist Convergence
that organized one of September's protests, mounted an
independent march that fed into yesterday's rally and said
everyone had agreed upon a non-confrontational goal from
the outset.

"I don't think police want problems, and I don't think we
want problems either," said Pat Elder, 47, a Bethesda
antiwar activist who participated in the unpermitted
feeder march.

The morning began under hazy skies on the wet grass at
Constitution Gardens, as thick mud sucked at the heels of
the arriving demonstrators and the nearby Washington
Monument appeared truncated by fog. But by noon the skies
cleared and most of the lawn was shoulder-to-shoulder with
people listening to Jesse Jackson, actress Susan Sarandon,
singer Patti Smith and former Attorney General Ramsey
Clark, among other speakers.

Several speakers referred to Vietnam era protests, and
organizers were eager to compare the current movement with
the one that peaked with a rally of between 250,000 and
500,000 people in Washington in 1969. The last large-scale
peace protest in Washington was in 1991, when about 75,000
demonstrated during the height of the Persian Gulf War.

Unlike those protests, yesterday's rally was different in
that it preceded war, and many interpreted that as an
indication of a potentially powerful movement.

"During the Vietnam War, no demonstration of comparable
size took place until 1967, three years after the Gulf of
Tonkin Resolution [that gave President Lyndon B. Johnson
congressional authority to expand the war in Vietnam],"
said Brian Becker, co-director of the International Action
Center, one of the groups that make up International
ANSWER.

But if the passions of the Vietnam era led to protests
that often trembled on the edge between control and chaos,
yesterday's event suggested that this movement is burning
at a lower flame.

"Here I'm not being spit on, people aren't throwing
tomatoes at me and Joan Baez isn't singing," said protest
veteran Dot Magargal, 77, from Media, Pa. "People just
want to come out and say that not everyone wants to go to
war. This is a lot of people, a lot of voters, and it has
to count for something."

For those looking for symbols often associated with
left-wing demonstrations -- Grateful Dead T-shirts,
dreadlocks, anti-corporate slogans, Socialist newsletters
-- plenty could be found. But it wasn't necessary to comb
through the fringe to find people who didn't fit the mold.
Many said they were first-time protesters who had never
attended a rally. Some said they were against all war, no
matter the circumstances, and others said they were simply
against the possibility of an Iraq invasion.

"I've never in my life done anything like this before,"
said Marie Johnson, 31, of Columbia. "What I wanted to do
was say that even though Bush puts forth that everyone
supports going to war against Iraq, some of us don't. I
just thought it was important for me to do something to
show how I felt."

Peggy McGrath, 59, said she hoped that Bush would look out
of the windows of the White House to see that thousands
disagreed with him. She said she remained optimistic that
he might change his mind, especially if enough people
voiced opposition.

"I think there's actually been a shift already in Bush's
rhetoric in the last two weeks," said McGrath, who was on
one in a caravan of eight buses from Chicago. "The hope is
that maybe he'll see this, and maybe it can be stopped
before it's started."

Bush, however, wasn't at the White House. He and first
lady Laura Bush flew yesterday from their Texas ranch to
Cabo San Lucas, Mexico, where the president was attending
the Asian-Pacific Economic Cooperation forum. Among other
things, Bush was seeking to rally fellow leaders behind
his Iraq stance.

The president had some support at the rally from a group
of about 100 counter-protesters who gathered at 17th
Street and Constitution Avenue. Along with activists from
the national group Free Republic, a group of Iraqi exiles
chanted slogans against Saddam Hussein. In one of the few
points of tension during the day, police stepped into a
scuffle between peace activists and counterprotesters and
led away two of the former.

One who joined the counter-protesters, Imam Husham
Al-Husainy, explained that he came to Washington from the
Detroit area with about 40 Iraqis to present the view of
people who had suffered under Hussein.

"Most of these people across the street, they don't know
the reality in Iraq," Al-Husainy said.

Although the main protest message was focused on opposing
war in Iraq, a few other causes slipped into the mix. Many
of the same people who marched for Palestinian rights in
April joined yesterday's march, waving Palestinian flags.
But like others who had become activists for other causes,
they said opposing the war was what brought them out
yesterday.

"I don't come here to carry signs for fun," said Ribhi
Ramadan, 36, who brought his family of seven from
Paterson, N.J., to the protest. "I support not just
Palestine, but everywhere that's threatened by war."

Luigi Procopio, 45, a social worker from the district,
wore a pink triangle with "$ FOR AIDS NOT WAR" written on
it. He said even though he normally focuses his activism
on issues in the gay community, he and at least a dozen
friends came to protest the war in Iraq.

"It's time, man. . . .it feels imminent," he said.
"Congress has just rolled over."

Some protesters said they had been worried about
attendance before they arrived at the rally. Larina Brown,
22, a student from the University of Minnesota-Morris,
said she had feared that she and the 30 friends she
traveled with would be greeted by scant crowds.

"It's a relief, really," Brown said. "I really wanted this
to be a big statement, to show it's not just radical,
anti-American people who go to these things."

Most of those who arrived in the morning on buses climbed
back aboard shortly after the rally ended. By 5:45 p.m.,
the streets were almost deserted, and protesters had put
downtheir signs and were sitting on park benches snacking.

Mark Zheng, 33, of Amherst, Mass., stopped to take a photo
of two friends in front of a fountain in Lafayette Square.
Zheng, from China, had been at the Tiananmen Square
protests. He said he was impressed by the orderliness of
the march.

"I think maybe people have different thoughts on things,
but one thing is clear," he said. "Peace."

Staff writers David A. Fahrenthold, Ylan Q. Mui and Mary
Beth Sheridan and special correspondent Liz Garone in San
Francisco and wire services contributed to this report.

---
500 in S.A. join protest against war
By Dick J. Reavis San Antonio Express-News Web Posted : 10/27/2002 12:00 AM
About 500 people, young and old, gathered Saturday under a rainy sky in downtown San Antonio for a noon rally and march to protest plans for a possible U.S. invasion of Iraq.
The San Antonio event was part of a global mobilization of peace activists. Similar demonstrations were held in Austin, Houston, San Francisco, Rome, Berlin, Tokyo and Mexico City.
U.S. Rep. Ciro Rodriguez, D-San Antonio, was among those who addressed the San Antonio group at Milam Park, shortly before the protesters marched to Alamo Plaza, where they lined Alamo Street, chanting and waving signs for about an hour.
"For me to vote to go to war, that should be a last resort," said Rodriguez, who voted against authorizing President Bush to attack Iraq.
"A good general will tell you that if you're going in, you need some friends around the area. We've been making nothing but enemies in the area," he said.
The turnout was larger than the demonstration's sponsors, a coalition of San Antonio peace groups, had expected.
"We are seeing people that we've never seen before," Pax Christi activist Tom Keene said.
Two September demonstrations staged by the coalition drew only 30 protesters each, most of them of middle age.
But about half of those present Saturday were high school and college students. Many of them came with church groups.
Among the protesters was Jose Cruz, 17, who was with other students from Harlandale and Burbank high schools.
"I'm turning 18 pretty soon, and I don't want to be drafted," Cruz explained.
Joining the march were more than 60 young people from as far as Tulsa, Okla., and Shreveport, La., who were in San Antonio for a regional meeting of Unitarian-Universalist youths.
"The war will kill innocent people, and that's why I'm here," said Meara Sullivan, 16, of Houston, a member of the Unitarian group.
Among the senior participants in the event were Gary MacEoin, 93, and Ramon Mata, 60, both of San Antonio.
Mata, who walks with the aid of a cane, said he marched to Washington for a United Farmworkers Union protest in 1977.
"Everybody ought to be saying to Congress that what we want are jobs, not war," Mata said.
"I'm very much opposed to our getting involved in a war which, in my opinion, is to get ahold of oil we don't own," MacEoin said.
Father John Mannion, of Our Lady of Grace church in La Coste, also spoke at the park.
Counterdemonstrators were not in evidence as the protesters marched, in groups of 20 and 30, eastward down Commerce Street, on their way to Alamo Plaza.
But as they passed the 100 block of West Commerce, chanting, two patrons of the Esquire Bar stepped outside and raised their fists, assailing the demonstrators.
"You're letting America be attacked by terrorists!" one of the pair hollered.
dreavis@express-news.net
---
In pursuit of peace
Hundreds gather at the Capitol to shout out against potential U.S. military action in Iraq.
AMERICAN-STATESMAN STAFF Austin, Texas
Sunday, October 27, 2002
Chanting and cheering through a steady drizzle, hundreds of people gathered on the south steps of the Capitol to protest the possibility of an American-led war in Iraq. The gathering was one of numerous anti-war demonstrations around the world on Saturday.
Those gathered in Austin sang 1960s-era protest songs and shouted: "Say no to war. Say no to war." Flags emblazoned with peace signs waved above parkas and umbrellas. Rain-blotted placards read: "No more Bush wars," "Peace is patriotic," "Love your enemies, don't kill" and "Let Senator Wellstone's voice be heard." The two-hour event included several references to Sen. Paul Wellstone, D-Minn., the outspoken liberal who died Friday in a plane crash.
"Please think of Senator Paul Wellstone, one of the few politicians who stood up and said no to war," said Nelson Linder, president of the Austin branch of the National Association for the Advancement of Colored People. "We need more politicians to stand up and say no to war."
Some demonstrators also praised Rep. Lloyd Doggett, D-Austin, who voted against the congressional resolution authorizing the American use of force in Iraq. Doggett spoke later in the day at an anti-war forum at Gethsemane Lutheran Church on West Anderson Lane.
In Washington, several thousand demonstrators rallied near the Vietnam Veterans Memorial. Protesters also took to the streets in San Francisco, Rome, Berlin, Tokyo, Mexico City; San Juan, Puerto Rico; and Copenhagen, Denmark.
The Austin rally, sponsored by Austin Against War -- a coalition formed in September 2001 to protest the war in Afghanistan -- was the latest of several demonstrations in Austin against potential U.S. military action in Iraq. More will be planned, organizers said.
"This is people coming out in the rain trying to stop a war before it starts and that says a lot," said Pat Youngblood, who runs the coalition's Web site. He said the turnout was significant "in what is supposed to be a stronghold of support for Bush."
Speakers included Rahul Mahajan, Green Party candidate for governor and peace activist; University of Texas journalism professor Robert Jensen; and Bert Sacks, a retired engineer from Seattle who returned from Iraq this month with a group of Americans delivering medical supplies to children.
A comedy troupe calling themselves Billionaires for Bush mocked the president. Changing the words of the children's song, "If you're happy and you know it," the troupe sang: "If you're greedy and you know it, bomb Iraq . . . If your equities are falling, bomb Iraq."
Austin singer-songwriter Patrice Pike sang and played acoustic guitar at the end of the rally.
"I think it's important for people to know there's dissent," said Gwen Strickland, a UT psychology major..
"I'm concerned. This is terrifying. We don't need another Vietnam," said Fred Wachter, 61, of Fort Worth, who carried a sign that read: "No blood for oil."
bgee@statesman.com; 445-3643
---
---
Oct. 26, 2002, 9:53PM
Antiwar protestors march on City Hall
By MIKE TOLSON
Copyright 2002 Houston Chronicle
A steady drizzle lowered the turnout but not the enthusiasm of Houston's contribution to a worldwide antiwar protest Saturday.
At its largest, the crowd in front of City Hall never got much past 100. Few appeared discouraged by the showing, however. They chanted slogans, sang songs and raised a defiant fist in the direction of President Bush and his campaign against Iraq.
"This is not about terrorism," Lucha Rodriguez of the organizing group ANSWER told the soggy semi-circle of protesters. "This war is about the re-conquest of a country that owns 10 percent of the world's oil supply. Basically, this is about oil and profits."
Holding signs that said "No Blood for Oil" and "America: First Regime Change at Home," the protesters also denounced capitalism, imperialism, American selfishness and the overzealous detention of Muslims since Sept. 11.
"People's rights are being trampled upon," said local attorney Syed Izfar. "Be vary wary of racial profiling, and please stand up for Muslims who are being persecuted."
One group passed out blue paper triangles containing the names of Muslim detainees who it claims have been held for months virtually incommunicado.
Tiffany Gillotti, a 19-year-old member of the Progressive Worker Organizing Committee, a local socialist organization, said Bush has not made a convincing case to act against Iraq.
"We feel this is a war for the capitalist class, and since we don't support the capitalist class, we're against it," Gillotti said.
Some of the protesters were concerned about the effect a war would have on innocent civilians.
"The Iraqi people haven't done anything, and I just don't want to see any more bombs raining down on mothers and children," said Shehnaz Brelvi. "I don't think killing innocent people is going to solve anything."
Organizers around the globe staged dozens of protests Saturday against the anticipated U.S. military strike against Iraq. Several thousand gathered for a rally and march near the Vietnam Memorial in Washington, D.C., to decry Bush's announced intention of removing Saddam Hussein from power. Other demonstrations took place in San Francisco; Rome; Berlin; Copenhagen; Tokyo; Mexico City; and San Juan, Puerto Rico.
---
How can we manifest peace on earth if we do not include everyone (all races, all nations, all religions, both sexes) in our vision of Peace?
---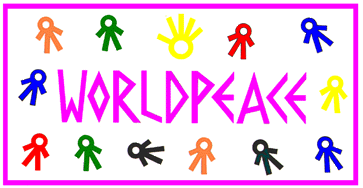 The WorldPeace Banner
To the John WorldPeace Galleries Page

To the WorldPeace Peace Page