Global warming is causing world wide famine. There is little doubt that the continued use of fossil fuels has increased the temperature of the planet and the results have been floods and famine.
The world reserves of food supplies are dwindling due to flooding and drought. The problem is going to get worse as the planet continues to warm. Weather patterns will continue to change and the people of the third world countries are going to starve to death in unbelievable numbers.
Unfortunately, there is going to be an inability of the world to feed itself in the near future if something is not done. Only those with money will be able to buy food which will become more and more scarce.
The wealthier nations of the world are going to have to determine to reduce their use of fossil fuels and thereby reduce their impact on world food production or they are going to have to give a tremendous amount of aid to the starving or they are going to have to sit back and watch millions of people starve to death.
To the cynics of the world, starvation will be viewed as a way to manage the world's growing population problem. But if India begins to starve, the people will begin to migrate into neighboring countries where there will be wars and chaos. They will not simply lay down and die.
The world community is going to have to wake up quickly to avoid disaster. The lack of food will not come down to just a lot of people dying of starvation, it will come down to a world wide crises whose repercussions cannot even be conceived at this time.
28.10.2002
By GEOFFREY LEAN in London

Global warming is helping to cause an unprecedented series of famines that is pushing the world beyond its ability to cope, says the United Nations.

The warning - the starkest yet issued by the UN on how climate change is affecting world food supplies - comes as a second massive famine looms in Africa.

The new head of the UN World Food Programme, James Morris, is to announce in London that drought in Ethiopia and the Horn of Africa is precipitating a food shortage as great as the one now afflicting southern Africa.

Meanwhile, the UN's Food and Agriculture Organisation is predicting that this year's total world harvest will fall for the fifth year in succession, while the global population continues to grow. Food stocks are falling well below critical levels and prices are soaring. The escalating crises will add urgency to a new round of international negotiations on combating global warming under way in New Delhi.

They will concentrate on what new measures should be taken beyond the Kyoto Protocol, which is expected to enter into force over the next few months.

Morris will give details of how famine is returning to Ethiopia and surrounding states. Nearly six million people in the country that became a byword for hunger in the 1980s now need emergency food aid.

Another million people in Eritrea and three million in Sudan are in the same position after rains failed there too.

There are also food shortages in Kenya and Somalia and the WFP reckons that, in all, up to 14 million people face famine in the region - about the same number as are afflicted in Zambia, Malawi, Mozambique, Zimbabwe and other southern African countries.

In some countries - such as Somalia and Zimbabwe - the crisis has been greatly aggravated by conflict and government policies.

But the WFP says that the two famines are "essentially the result of shifting weather patterns that in recent years have been wreaking havoc on a global scale".

A spokesman said that "global warming is a major contributor" to the changing weather.

He added: "There has been a sharp increase in weather-related natural disasters. This is a very, very serious situation."

Scientists have long predicted that droughts and floods will increase as global warming takes hold. According to the World Disasters Report, published by the Red Cross, 2000 and 2001 were the two worst years on record for disasters. Since then, more than 360 natural disasters have occurred in the first nine months of this year. Drought has also struck from Australia to Mongolia, Vietnam to Sri Lanka, West Africa to Thailand. Floods affected more than 100 million people in China and more than 40 million in India, and brought the worst inundations yet to Germany, Austria and the Czech Republic.

The WFP warns the crises are becoming so frequent that the world community is "running out of the ability to cope".

Although emergency food aid almost tripled over the 1990s, it was not enough to meet growing needs. This year the WFP had to suspend help to three million women, children and elderly people in North Korea because it had run out of resources.

"The global emergency relief system is overwhelmed," said the spokesman.

"I cannot recall when things were last as bad. The chickens are coming home to roost."
---
CLIMATE CHANGE: Activists Warn UNFCCC Talks Of Urgency For Action

Environmental activists attending the U.N. climate change conference in New Delhi warned delegates Friday that hundreds of millions of people will be at risk from disease, starvation and water shortages if the world fails to take urgent steps to curb greenhouse gas emissions.

The U.N. Intergovernmental Panel on Climate Change has said the average global surface temperature will increase by up to 5.8 degrees Celsius over 1990 levels by 2100. Greenpeace senior official Steve Sawyer warns that these higher temperatures could make most coastal cities uninhabitable, and that storms, droughts and floods could become more extreme.

Delegates from 185 countries are attending the 10-day annual U.N. climate conference, which is expected to be the last major meeting before the Kyoto Protocol to the U.N. Framework Convention on Climate Change comes into force early next year, despite U.S. objections to its provisions that bind only developed countries to cut greenhouse gas emissions (Sugita Katyal, Reuters, Oct. 27).

Although the developing world produces six times less pollution per resident than the industrialized world, their emissions are increasing 3.5 percent each year, compared with 1 percent in rich countries, the IPCC said, adding that developing countries will likely account for most pollution by 2020.

Representatives from developing countries said today that delegates are not addressing several key issues on global warming, including the rampant burning of the Brazilian rain forests.

"Tropical deforestation is a significant part of climate change and should be addressed more specifically by the international community and by the Kyoto Protocol process," said Paulo Moutinho, coordinator of the Amazon Institute of Environmental Research. "The Amazon region has a tremendous potential for economic development that is based on sustainable uses of standing forests, agricultural intensification and forest restoration on lands already deforested."

Representatives from low-lying Pacific Islands criticized the conference for not including them in the talks. "The whole climate change convention is really about us," said Fiu Mata'ese Ellsara-Laul, executive director of Samoa's O le Slostomaga Society. "At the end of the day, we are the ones that are the most affected."

Vasiti Mautia, legal officer for the Pacific Heritage Foundation, said many of the delegates were cut off from reality and not raising the issues of climate change strongly enough because their countries are not yet directly affected. She said many communities in Papua New Guinea were already facing problems, such as rising sea levels that spoil crop production (Agence France-Presse/Sify News, Oct. 28).

A record 4,900 delegates are participating in the conference. The number of attendees is likely to increase when the high-level ministerial segment begins Wednesday (Economic Times, Oct. 27).
---
Climate Justice Forum Environmentalists plan shadow conference to UN meet
New Delhi

Environmental activists said on October 21 they would hold a shadow conference to a high-powered UN meet in New Delhi on climate change, saying progress at the talks would likely be blocked by powerful industry groups.
Steve Sawyer of Greenpeace said progress on climate change has eluded global leaders despite years of negotiations, because of powerful interest groups.
"Why is it (progress) not happening? What we are up against is the largest vested interest group in the world, which is the fossil fuel industry," he said.
Sawyer accused industry of pouring money into building a case that climate changes were not conclusively linked to emissions.
He said because of this Greenpeace, Friends of the Earth, the Third World Network and other environmental and social groups would hold a "Climate Justice Forum" to highlight the real issues affecting communities.
The activist groups also criticised the conference for not including representatives of poor communities that are most affected by climate change.
"It is unquestionably the poor who will be the most affected, particularly the poor in developing countries. And they are not represented in the conference," said Kate Hampton, coordinator of the climate change campaign for Friends of the Earth International.
The conference in New Delhi, spread over two weeks, has drawn delegates from 185 nations including senior ministers who will hold talks on global warming and ways to check its impact and to cut down emissions.
The focus will be on preparations to be made before the Kyoto Protocol of 1997 comes into effect from next year. The agreement has been rejected by US President George W. Bush.
The activists said the developed world has not done enough to target the world's pollution, although they produce most of it.
"The biggest injustice of climate change is that the hardest hit communities are the least responsible for creating the problem," the Climate Justice Forum said in a statement.
The environmental groups also said the Kyoto Protocol alone would not be enough to check the problems of climate changes.
"The most affected by these climate changes would be people like farmers, fishermen and indigenous people, who could not only stand to lose their livelihood, but also be uprooted from their ancestral lands," said Amit Srivastava, coordinator of the Climate Justice initiative.
Power, polluter
US electricity sector makes twice as much greenhouse gas as Europe: report Paris
The US electricity sector emits nearly twice as much carbon dioxide - the main gas behind global warming - as European energy makers, consulting group PricewaterhouseCoopers said in a study on October 21.
US plants pump out an average of 720 kilograms (1,600 pounds) of carbon dioxide per megawatt/hour of electricity production, compared to 353 kilograms for European companies, said the study published in the French industry newsletter Enerpresse.
The United States only produces 50 per cent more electricity than Europe, however, it noted.
The study drew its data from 23 energy companies in the European Union and one Slovenian and one Norwegian utility that together, create three-quarters of European electricity production.
They were compared with monitoring of the 100 leading companies in the United States, where utility management is spread among a greater number of firms than in Europe.
PricewaterhouseCoopers also compared the 10 biggest electricity producers on each side of the Atlantic and found that European companies together put out a third more electricity than their US counterparts - but a third less carbon dioxide.
Part of the disparity was the result of a greater dependence on nuclear plants to produce electricity in Europe - 33 per cent of such production, compared to 20 percent in the United States.
But it also found that fossil fuel-burning plants in Europe put out 10 to 25 per cent more energy than similar US installations.
The study was released just ahead of a meeting in India on Wednesday of the signatories of the Kyoto Protocol, the UN pact aimed at cutting global warming.
The agreement has been spurned by the United States, which is the world's biggest energy consumer and the biggest source of greenhouse gas emissions.
---
How can we manifest peace on earth if we do not include everyone (all races, all nations, all religions, both sexes) in our vision of Peace?
---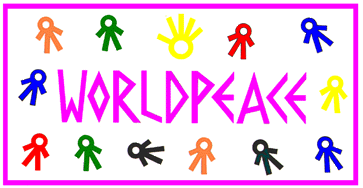 The WorldPeace Banner
To the John WorldPeace Galleries Page

To the WorldPeace Peace Page