Chinese Ambassador to the United Nations Wang Yingfan leaves the Security Council in New York. The U.S. demand for speedy U.N. action on Iraq has run into strong opposition from Russia, France and China, who want Washington to change a draft resolution and eliminate any license for the United States to attack Baghdad on its own. AFP photo...
---
Bush is losing momentum on his attack Iraq resolution
It is encouraging how the U N is slowing down little George's war rhetoric. I think we can safely take a breath and have faith that the world is going to insert some sanity into the Iraq problem.
It is good to know that the world is throttling back little George and showing him that there is a limit to his power.
It is good to know that the U N is being deliberate in considering how to deal with Saddam. When the world is considering the destabilization of a significant region of the world, it is good to be deliberate and understand that there are precedents that will be set with whatever action the U N eventually takes.
The entire world is focused on the Iraq problem and when the U N acts there should be an overall feeling that whatever is to be done will be done after serious deliberation. The world will issue its eventual resolution with the assurance that it has acted only after thoroughly considering all the possible scenarios.
For a time, I thought that little George was actually going to single handedly begin a world war. Now, with time, the nations of the world have inserted some clear thinking into resolving the Iraq problem. How can it ever be a bad thing when the whole world gathers and discusses a common problem?
We have to acknowledge that whatever happens in Iraq, the nations of the world will increase the peace as they begin to define and refine how the process of all inclusive debate will lead to intelligently and deliberately dealing with rogue nations who would create chaos and death in the world society.
John WorldPeace
October 31, 2002
---
UN Members Oppose Speedy Iraq Action
The Associated Press, Thu 31 Oct 2002
UNITED NATIONS (AP) — The U.S. demand for speedy U.N. action on Iraq has run into strong opposition from Russia, France and China, who want Washington to change a draft resolution and eliminate any license for the United States to attack Baghdad on its own.

The three veto-holding Security Council members want to ensure that Iraq is given a chance to cooperate with U.N. weapons inspectors before any military action is authorized — and they're now waiting to see what the United States and Britain are going to do to address their concerns.

After a third meeting council session Wednesday on the U.S. proposal, Russia's deputy U.N. ambassador Gennady Gatilov said Moscow still has ``quite a number of problems'' with the U.S. draft, centered on the automatic authorization to use force.

The opposition has stymied the Bush administration's hopes to quickly push a resolution through the world body. In Washington, Secretary of State Colin Powell said debate would likely be concluded toward the end of next week.

The Security Council only got the U.S. draft on Oct. 23 and the three sessions since then gave all 15 members the opportunity to go over it line by line and suggest changes.

U.S. and British diplomats said the views of the council will now be studied carefully, ministers will continue talking, and there will be a response — but when it will come and whether it will meet Russian, French and Chinese demands remains to be seen.

``Don't expect any immediate action,'' said Britain's U.N. Ambassador Jeremy Greenstock. ``There is going to be no precipitate rush to a conclusion.''

China's Ambassador Wang Yingfan said he expected the United States and Britiain to come back with revisions.

``I don't know what kind of progress in the end we'll have,'' he said.

France's U.N. Ambassador Jean-David Levitte said everyone knows Paris' position, but ``frankly we don't know where the U.S. is'' now on the issue of authorizing force.

The U.S. and British consultations on possible changes to the U.S. draft, coupled with Friday's handover of the Security Council presidency from Cameroon to China and next Tuesday's U.S. election, have pushed back the Bush administration's timetable for a U.N. vote.

On Wednesday, Powell stressed that Washington would not accept a resolution that limited U.S. freedom of action on Iraq.

``There is nothing that we would propose in this resolution or we would find acceptable in a resolution that would handcuff the president of the United States in doing what he feels he must do,'' Powell said, reiterating the administration's view that the U.S. Congress has already given its authorization for U.S. action against Iraq.

But the administration also wants the United Nations to support a resolution that strengthens inspections, warns Iraq of ``serious consequences'' if it fails to cooperate, and declares that Iraq is still in ``material breach'' of its obligations to get rid of its nuclear, chemical and biological weapons programs.

In an effort to win support, Washington signaled a readiness this week to make some minor concessions involving a new weapons inspection regime. These were welcomed, but the United States has yet to find a solution to the critical issue of the automatic use of force.

Russia's U.N. ambassador, Sergey Lavrov, said Tuesday it isn't the words ``material breach'' or ``serious consequences'' that's at issue but their context and the meaning it implies.

In the case of the U.S. draft, Gatilov said Wednesday Russia still has concerns that references to ``material breach'' could trigger an attack on Iraq.

He stressed that any assurances from the United States and Britain that this is not the case must be in the draft resolution. Diplomats, who spoke on condition of anonymity, said Washington could be willing to offer such assurances privately.

At Wednesday's council meeting, diplomats said many nations also objected to an introductory paragraph recalling U.N. resolutions adopted after Iraq's 1990 invasion of Kuwait which authorized member states ``to use all necessary means'' to oust Iraqi troops and restore Kuwait's freedom. There were concerns this could trigger new military action if Iraq failed to cooperate.

The search for an Iraq resolution began on Sept. 12 when President Bush challenged world leaders at the U.N. General Assembly to deal with Iraq's failure to comply with resolutions demanding the elimination of its weapons of mass destruction or stand aside as the United States acted.

On Wednesday, Bush hosted chief weapons inspectors Hans Blix of the United Nations, and Mohamed ElBaradei of the International Atomic Energy Agency, at the White House — two days after they told the Security Council that Iraq should be warned it will face consequences if it doesn't cooperate.

Blix told Associated Press Television News that Bush made clear he was categorically committed to ensuring the success of weapons inspections and wanted to make sure that Iraq could not engage in in any ``cat and mouse play'' with inspectors.
---
How can we manifest peace on earth if we do not include everyone (all races, all nations, all religions, both sexes) in our vision of Peace?
---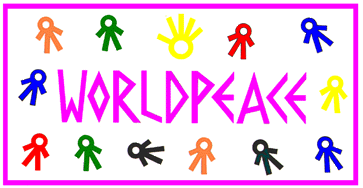 The WorldPeace Banner
To the John WorldPeace Galleries Page

To the WorldPeace Peace Page