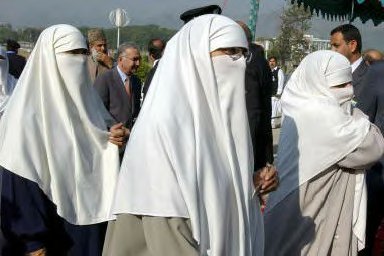 Islamabad - Women parliamentarians have said that their significant presence in the National Assembly is a reality just as is the equally large presence of religious parties. They said their numerical strength would give women greater visibility and a strong voice, compelling other members to focus on women's and children's concerns. (AFP photo)...
---
In Pakistan the women begin to assert themselves in the government
The most oppressed people in the world are women. Women cross all national, religious and racial boundaries and are second class citizens in virtually the entire world.
When the women of the world take an equal seat in government with men, then the world will become a more just and peaceful place. It is not possible to have have women occupy half of the world's political leadership and continue with the male dominated aggressiveness that continues to let blood all over the world.
It is hard to imagine women sending their children to war as quickly as do men. It is hard to imagine that women will promote the killing of other women's children as quickly as men.
When the innate nurturing of women takes an equal role in government with the innate aggressiveness of men, then we will without a doubt move more rapidly down the path to peace and WorldPeace.
John WorldPeace
November 17, 2002
---
Women members say they mean business
By Qudssia Akhlaque Dawn.com

ISLAMABAD, PAKISTAN Nov 16: Women parliamentarians said on Saturday that their significant presence in the National Assembly is a reality just as is the equally large presence of representatives of religious parties.

Talking to this correspondent after taking oath as MNAs, women parliamentarians representing the entire spectrum of political divide made it clear that they meant business. They said they would push for social issues that had largely been put on the back burner by the past parliamentarians.

They said their numerical strength in parliament would give women greater visibility and a strong voice, compelling other members to focus on women's and children's concerns.

Raheel Qazi, who represents the Muttahida Majlis-i-Amal, said she was confident that women members would rise above their party lines to work for women's issues. However, she was quick to point out that women parliamentarians would contribute with equal efficacy to debates on other national issues.

Ms Qazi, who is the daughter of JI Amir Qazi Hussain Ahmed, identified respect and protection of women, education, basic health and free and speedy justice as the key areas that her party would like to work on.

"The assembly has a good composition with representation from all political parties," said Fiza Junejo. She expected parliament to work better in terms of legislation given that all members were educated. "Social issues, such as education and health, will certainly get a more emphatic voice," said Ms Junejo. She referred to the recommendations of the report of inquiry commission on women and the need to take them up to do away with the discriminatory laws.

She said the large presence of leaders of religious parties in the assembly was no cause for concern to her.

Sherry Rehman, People's Party Parliamentarians MNA and a former journalist, took serious exception to the separate enclave for women elected on the reserved seats. "The idea of reserved seats for women is to integrate them in the mainstream and not to make them sit in a ghetto," she protested. "We will raise an objection to it when the session starts," said Ms Rehman. These sentiments were shared by other women parliamentarians as well and they raised the issue with their party men.

Kashmala Tariq of Pakistan Muslim League (Quaid-i-Azam), a lawyer, sounded confident that women MNAs would take a united stand on women's issues and said she had talked to members of the PPP and the MMA. "This is the first step but the fact that we are in such big numbers means that we can do a lot," she said. "We would like to have equal representation of women and laws pertaining to women to be more effective."

PPP MNA Fauzia Habib, who has made it on an open seat, said the representatives of the religious parties would get used to the large presence of women in the assembly.

PPP leader Asif Zardari's sister Dr Azra Fazal, who has come on a reserved seat, predicted fireworks in the assembly. She thought the composition of the assembly was "weird" but said women did feel empowered. "They will be seen in a different light." She feared it had "too many members of the religious parties who would try to put them down."

Ms Raheel appeared to disagree with the notion and said: "The presence of religious leaders in parliament would improve the atmosphere and their role will explode the myth of their insensitivity towards women's rights."

But the articulate PPP MNA Dr Fehmida Mirza took the MMA factor in a stride. "They are a part of life," she said. "We know what our rights are and we know Islam," she added, hinting if religious leaders impinged on their rights they would speak up.

"I feel good coming to the assembly on a general seat from Sindh," said Shamshad Sattar of the PPP.

---
How can we manifest peace on earth if we do not include everyone (all races, all nations, all religions, both sexes) in our vision of Peace?
---
The WorldPeace Banner
To the John WorldPeace Galleries Page

To the WorldPeace Peace Page