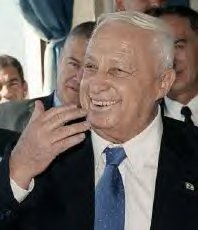 Picture released by the Israeli Government Press Office (GPO) shows Israeli Prime Minister Ariel Sharon visiting the northern Israeli town of Ako 19 November 2002. Israeli Prime Minister Ariel Sharon further stretched his lead over Likud leadership rival Foreign Minister Benjamin Netanyahu, said an opinion poll published Friday by the top-selling daily Yediot Aharonot. AFP Photo...
---
Israeli is again being given a choice of peace or war in the January elections
The liberal Labor Party in Israel has elected Amram Mitzna to head their party. The Labor Party was the party of Yitzhak Rabin before he was assassinated by a right wing Jewish fascist seven years ago.
Two years ago, the Israelis elected Sharon to head their government and turned their back on peace. Since then almost a thousand Israelis have died in an ongoing war of Israeli and Palestinian terrorism.
The Israelis have been shown that they cannot commit genocide against the Palestinians without sacrificing themselves in the process.
The polls show that the Likud party has moved farther to the right in the last two years but they have not moved as far to the right as Ben Netanyahu.
It looks right now as if Israel has not sacrificed enough of her citizens and will return Sharon to power. At least now the whole population will have to share the guilt that goes along with Sharon's genocide. The Israelis have been shown the future of attacking Palestinians. The question is if they are really ready for more of the same.
The question is how many will have to die before the Israelis realize that they cannot win their terroristic war against the Palestinians.
John WorldPeace
November 20, 2002
---
Israeli Labor Party picks new leader

Mitzna says he would withdraw from Gaza Strip, renew negotiations with Palestinians if elected prime minister; Likud primary next week
By Nicole Winfield
The Associated Press
Originally published November 19, 2002, 3:02 PM EST

JERUSALEM -- Israel's Labor Party chose a former general and newcomer to national politics as their leader today, an exit poll showed, hoping he can bring the party back to power in the general elections.

The exit poll gave Amram Mitzna, the liberal mayor of the coastal city of Haifa, 57 percent of the vote, compared to 35 for the current Labor party leader, Binyamin Ben-Eliezer. Legislator Haim Ramon was a distant third with 8 percent, the poll of 1,000 people showed.

Mitzna declared that if elected prime minister, he would reverse Prime Minister Ariel Sharon's course by withdrawing unilaterally from the Gaza Strip and resuming negotiations with the Palestinians.

But while surveys had indicated Mitzna would win the Labor primary, polls also pointed to the Likud party winning the most seats in Jan. 28 elections, benefiting from the Israeli public's shift to the right after two years of Israeli-Palestinian violence.

Mitzna's main challenger in the primary had been Ben-Eliezer, whose reputation among many Labor supporters was tarnished by his stint as defense minister in Sharon's "national unity" government. During his 20-month tenure, Ben-Eliezer oversaw military strikes against Palestinian militants, and when he resigned last month, soldiers were reoccupying many Palestinian towns.

About 120,000 registered Labor members were eligible to vote, and Israeli media said turnout was about 55 percent just before polls closed.

Sharon called an early election at the beginning of November after Labor left the government in a fight over funding for Jewish settlements. Sharon is battling Foreign Minister Benjamin Netanyahu for Likud leadership, which will be decided in a primary next week.

Mitzna, 57, was already looking ahead to January's election and his top priorities in office, saying he would unilaterally withdraw soldiers and settlers from the Gaza Strip, the crowded coastal strip where about 5,000 Jewish settlers live among more than 1 million Palestinians.

"There's no reason in the world for us to be in the Gaza Strip," he said this morning as he toured party branches in the Tel Aviv area. "We will put our forces around Gaza, around the fence, protecting Israel."

Mitzna said a Gaza withdrawal wouldn't depend on negotiations with the Palestinians, but that he also intended to resume talks without conditions. Peace talks collapsed nearly two years ago, and Sharon has refused to resume negotiations without a cessation of violence.

Mitzna said that if he became convinced that no agreement with the Palestinians was possible, he would pull out unilaterally from parts, but not all, of the West Bank. Jewish settlements in areas evacuated by Israel would be uprooted.

Palestinian Planning Minister Nabil Shaath said the Palestinians were looking for a Labor leader -- and an Israeli government -- to follow in the footsteps of the late Prime Minister Yitzhak Rabin. Rabin was assassinated in 1995 by an ultranationalist Israeli Jew who opposed Rabin's peace efforts and negotiations with Palestinian leader Yasser Arafat.

"We would like to see a government that offers the Israeli people an alternative to war and to aggression," Shaath said.

With surveys showing public sentiment shifting to the right, Mitzna acknowledged he might lose in January. Still, he said his election as party leader would give Labor a stronger showing in parliament, allowing it to be a "fighting opposition" if it didn't win office.

Mitzna said he would not join a new unity government under the same formula that joined Labor with Likud in the past, but said he would consider a coalition if Likud accepts his positions on disengaging from the West Bank and Gaza and dismantling settlements.

"If we can make unity around separation from the Palestinians, OK," he said. "But to go back to the Likud government of 2001-2002, no way in the world."
Copyright © 2002, The Associated Press
---
How can we manifest peace on earth if we do not include everyone (all races, all nations, all religions, both sexes) in our vision of Peace?
---
The WorldPeace Banner
To the John WorldPeace Galleries Page

To the WorldPeace Peace Page