Israeli policemen check a dead body near a wrecked bus following a Palestinian suicide attack in Jerusalem 21 November 2002. At least ten people were killed and 48 injured as a Palestinian suicide bomber blew himself up aboard a rush-hour bus in west Jerusalem. AFP PHOTO/ MENAHEM KAHANA...
---
And the Palestinians continue to send suicide bombers to kill Israelis. If they kill enough Israelis before the January elections, maybe the Israelis will vote for peace. But I doubt it.
It is interesting to me that the Israelis continue to think they are going to solve the Palestinian problem with violence; or by knocking down buildings.
It does not matter how many soldiers that the Israelis send into Palestine, the suicide bombers will continue to blow up Israelis in retaliation.
What an idiot Sharon is to think that he can continue his genocidal policies against the Palestinians without killing his own people. It has not worked. It is never going to work. The Israelis are going to get out of Palestine and give the Palestinians their own state or they are going to pay for their intransigence with a daily visit from Mr. Death.
And George Bush is about to foist the same thing on America when he invades Iraq. bin-Laden and Saddam are going to show America what happens when you try to be king of the world.
The question for Israel now and for America shortly is, how many people are we willing to sacrifice on a daily basis for the sake of controlling 112 billion barrels of Iraqi oil?
Here is how it works. Each day we put a couple of people up for sacrifice. They are blown up, shot, gassed, exposed to viruses or just get stabbed to death all for the sake of American arrogance in Bush's New World Order of Imperialistic Capitalism in the name of democracy.
Oh well it is someone's else's family that will die. Hey, to those other families, it is my family who they think will die.
Ride on Sharon. Ride on little George. Every single death is on your head. But ever American and every Israeli must acknowledge the fact that this blood is on our hands as well. We elected these socio-paths.
John WorldPeace
November 21, 2002
---
Suicide Bomber Kills 10 in Israel

The Associated Press, Thu 21 Nov 2002

JERUSALEM (AP) — A suicide bomber blew himself up on a crowded Jerusalem bus during morning rush hour Thursday, killing 10 passengers and wounding dozens. Many schoolchildren were on the bus, officials said.

There was no immediate claim of responsibility. However, a leader of the Islamic militant group Hamas said attacks on Israelis would continue to force an end to Israel's occupation of the West Bank and Gaza Strip.

The bombing, the first in Jerusalem since July, went off as the campaign for Israel's Jan. 28 election was heating up. It raised doubts about the effectiveness of efforts by Egypt and the Palestinian Authority to persuade militias to stop attacks, at least for the duration of the campaign.

The bomber set off the explosives at about 7:10 a.m. as the bus stood at a stop in Jerusalem's residential Kiryat Menachem neighborhood.

A witness, who identified himself only as Tomer, said he was in a car behind the bus when the blast went off.

``I heard the explosion and then I heard screaming,'' Tomer told Israel Radio. ``I saw people hanging out the windows.''

At least 35 bystanders were wounded, seven of them very seriously.

The blast blew out the windows of the green city bus. A torso had fallen over the side of the bus, and was covered with a white-and-blue checkered cloth. Debris covered the street and body parts lay on the sidewalk.

Children's sandwiches and schoolbooks lay scattered, Yaron Enosh, an Israel Radio reporter said.

``All I saw was flesh, hands, feet — everything you see on TV,'' Tomer said. ``You smell of dust and burning and the flesh burning.''

In the aftermath of the blast, Jerusalem Police Chief Mickey Levy hugged a woman who had her face buried in his chest. Levy said 10 passengers were killed.

David Baker, an official in Prime Minister Ariel Sharon's office, condemned the attack. ``Palestinian terrorists continue to cling to the bloodshed agenda and they are satisfied only when innocent Israeli lives are taken,'' Baker said.

There was no immediate reaction from the Palestinian Authority.

Abdel Aziz Rantisi, a leader of Hamas, said shootings and bombings would not stop. ``The only way to liberate the land and the nation ... is resistance, first and foremost martyrdom operations,'' he told the Arab satellite TV station Al Jazeera.

Palestinian leader Yasser Arafat's Fatah movement, with the help of Egypt, has been trying to persuade Hamas to stop attacks, at least during Israel's election campaign. A first round of talks in Cairo ended inconclusively, but both sides had said negotiations were continuing.

On Nov. 4, a bomber from the Islamic Jihad group, a smaller rival of Hamas, blew himself up in a shopping mall in central Israel.

The Israeli army has reoccupied most Palestinian towns and cities in the West Bank to try to halt bombings that have marked the 26 months of Israeli-Palestinian fighting.
---
Nov. 21, 2002, 12:39AM
Suicide bomber kills nine in Israeli bus bombing
Reuters News Service
JERUSALEM - A suspected Palestinian suicide bomber killed at least nine people when he detonated explosives on a crowded commuter bus during the Thursday morning rush hour in Jerusalem, police and rescue workers said.
"The explosion was so loud I thought the roof had come off," said Ariel Gino, a resident of the Kiryat Menahem neighbourhood where the blast occurred.
"I rushed out and saw people lying on the street. Some were screaming, some were crying. There were about five or six people still in the bus. They weren't moving. Some on the street had blood on their faces, others had burns," he told Reuters.
The attack, in which more than 40 people were wounded, was the first since Prime Minister Ariel Sharon called an early election for January 28 after his broad coalition government with the centre-left Labour Party collapsed.
A charred torso of one of the victims hung out of the bus's window as rescue workers wheeled stretchers to the bus door and scoured the vehicle for more wounded. Most of the bus's windows were blown out from the force of the blast.
Rescue workers said the toll of at least nine dead did not include the suicide bomber who apparently set off his explosives at the front of the bus.
One witness, a 20-year-old man, said he believed a number of children on their way to school were among the casualties because he heard survivors shout "Mamma, Mamma" from the twisted wreckage.
A Reuters reporter at the scene said he saw a child's schoolbag and charred workbooks in the debris next to the bus.
It was the first suicide bombing by Palestinian militants since November 4, when a bomber killed two people in an attack at an shopping centre in the Israeli town of Kfar Saba.
The attack was the first suicide bombing to hit Jerusalem since June. At the time, Israel responded to back-to-back suicide bombings by sending troops to reoccupy Palestinian-ruled cities in the West Bank.
Police said the bus had been crowded when the bomber detonated his explosives at about 7:20 a.m.
"It was a bus travelling from Kiryat Menahem to the centre of the city. Apparently a suicide bomber got on the bus, we don't know when, and exploded himself," Jerusalem police chief Mickey Levy told Israel Radio.
Palestinian militants have waged a campaign of suicide bombings and other attacks on Israeli buses and other targets in a two-year-old uprising against occupation which erupted after negotiations for a final peace treaty deadlocked.
At least 1,674 Palestinians and 640 Israelis have been killed in the uprising that began in September 2000, excluding the latest deaths in the bus bombing.
---
How can we manifest peace on earth if we do not include everyone (all races, all nations, all religions, both sexes) in our vision of Peace?
---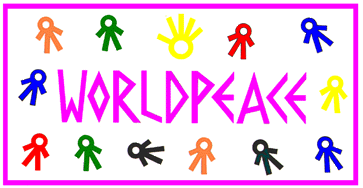 The WorldPeace Banner
To the John WorldPeace Galleries Page

To the WorldPeace Peace Page