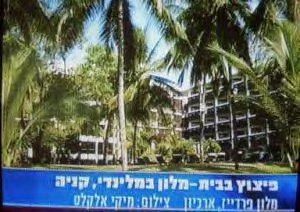 This frame grab from Israelīs Channel-2 shows an archive footage of the Paradise hotel in Mombassa, Kenya. Three Israelis, including two children, were killed when a suicide car bomb exploded in front of the Israeli-owned hotel near the Kenyan city of Mombasa, a foreign ministry source told Israeli TV. At about the same time, two missiles were fired toward an Israeli aircraft that had just taken off from Mombassa airport, said Ron Prosor, an Israeli Foreign Ministry spokesman. The aircraft was not hit and continued toward Israel. AFP photo...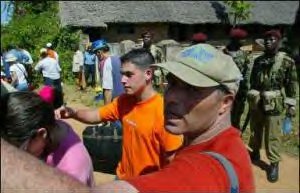 Fifteen people were killed yesterday when suicide bombers drove a jeep packed with explosives into a Kenyan hotel, leading terrorism experts to warn that the al-Qaida network had struck again. The bombing came as a failed attempt was made, using ground-to-air missiles, to bring down a passenger jet taking off from nearby Mombasa. (AFP photo)...
---
Terrorism just raised the stakes and woke up an arrogant nation when it shot two missiles at an Israeli airliner. The skies are not friendly anymore.
Well the reality of the Bush war on Iraq and the Israeli genocide in Palestine just became more vivid.
There is no question but that the terrorist are well financed and there is no question but there are enough missiles available on the black market to make the possibility of shooting down an airliner a real threat. It is just a matter of time before passenger jets begin to drop from the sky like rain.
If you think about it, the Israeli airline industry is going to go into a tailspin. Who is going to want to take a ride on an Israeli airliner? This attempt by the terrorist at shooting down a passenger jet just pushed the already hurting Israeli economy down another notch. I am sure that it will take few more weeks for the reality of lost revenues to set in but have no doubt that flying in an Israeli jet just became real unattractive.
We all know that terrorist are suicidal. Now you arm a few of there people with a more sophisticated missile and airline passengers become just charred spam in a can.
Obviously the missiles that were fired were not equipped with heat seeking technology and they were obviously not the TOW missiles where all you do is keep the cross hairs on the target until impact. These were some generic missiles that fortunately missed their target. Or was the miss on purpose?
The reality is that powerful nations can impose their will on lesser nations but there are always going to be those dedicated nationalist, religionist who are going to continue to terrorize those they consider evil and oppressive.
Bin-laden could bring the world to its knees if he wanted. He could start a holy war against Christianity. George Bush is about to start a holy war against Muslims.
Money is the god of George Bush. And money is the god of war. With money you can by weapons of significant if not mass destruction. Take down a passenger jet every week for a couple of months and see what happens to the airline industry of the targeted country.
Yes, the United States has more money and more guns and more of everything. But in the terrorism business you do not have to kill everyone. All you have to do is to kill about 250 people a week indiscriminately and blow up a building once a year to make your point.
If you noticed, there is not a lot of press on the attacks on the Israeli airliner. You can bet that those in power understand what can happen to a transportation industry that can't protect its passengers. And since all the various industries are economically connected, consider how many peripheral jobs are going to be effected when the airlines have to cut back.
Score a great big one for terrorism.
John WorldPeace
November 28, 2002
---
Hotel bombed

From correspondents in Nairobi, Kenya and AP
November 28, 2002 news.com.au

A car bomb killed at least 11 people today at a Kenyan hotel used by Israelis and missiles were fired at an Israeli airliner nearby, in attacks quickly blamed on the al-Qaeda network.

"I can see eight bodies in the lobby. Most appear to be adult men," one of the witnesses said by telephone from outside the wreckage of the Mombasa Paradise hotel.
Police said 11 were confirmed killed, six of them Kenyans.
Israeli Foreign Minister Benjamin Netanyahu told Israeli Army Radio: "To my regret there are two dead, two children." Israeli television separately reported that there were three Israeli dead, two of them children.
At about the same time, two missiles were fired toward an Israeli aircraft that had just taken off from Mombassa airport, said Ron Prosor, an Israeli Foreign Ministry spokesman. The aircraft was not hit and continued toward Israel.
---
Associated Press by Lubaina Kher
KIKAMBALA, Kenya (Nov. 28) - In simultaneous attacks on Israeli tourists in Kenya, a car bomb exploded at an Israeli-owned hotel on Thursday, killing 11 people, and at least two missiles were fired at - but missed - an Israeli airliner.

A green all-terrain vehicle packed with explosives rammed into the Paradise Hotel in Kikambala, 15 miles north of Mombasa, at about 8 a.m. just as a busload of Israeli tourists was checking in, witnesses said.

The blast ripped through the lobby, killing two tourists, two bombers and seven Kenyans, most of them traditional dancers who were there to greet the tourists, said Abbas Gullet of the Kenyan Red Cross. About 80 other people were wounded, said John Sawe, the Kenyan ambassador to Israel.

At about the same time, two missiles streaked by a jetliner owned by the Arkia charter company as it left the Mombasa airport bound for Tel Aviv. The aircraft landed safely about 5 1/2 hours later in Tel Aviv.

None of the 260 passengers and 10 crew members were hurt, Israeli officials and TV reports said.

Steven Odero, a waiter at the hotel, said the all-terrain vehicle crashed through a barrier outside the hotel, then exploded. Its passengers had been arguing with guards at the hotel before breaking through the barrier, Odero said.

An Associated Press reporter saw seven bodies burned beyond recognition. Rescue workers covered the bodies and searched for more casualties.

Yoav Biran, the Israeli Foreign Ministry's director general, said the death toll from the hotel attack could rise.

''We aren't sure this is the end, and there are quite a number of Israelis injured,'' Biran said.

There was no immediate claim of responsibility, but Sawe said he suspected Osama bin Laden's al-Qaida network.

''I don't have any doubt this is al-Qaida,'' Sawe said.

Israeli Foreign Minister Benjamin Netanyahu called the missile attack ''a very dangerous escalation of terror.''

''It means that terror organizations and the regimes behind them are able to arm themselves with weapons which can cause mass casualties anywhere and everywhere,'' Netanyahu said. ''Today, they're firing the missiles at Israeli planes, tomorrow they'll fire missiles at American planes, British planes, every country's aircraft. Therefore, there can be no compromise with terror.''

Israel Radio said all El Al flights from foreign airports were suspended. The Israeli air force was to evacuate the wounded from Kenya.

The aircraft had just taken off from Mombasa airport when the pilot saw a flash of light to his left, said an Arkia official, Shlomo Hanael.

The pilot initially prepared for an emergency landing in Nairobi, Kenya, to check whether the plane was damaged, but after consultations with Israeli officials, it was decided to fly directly to Israel, Israel TV's Channel Two said. Hanael said there was no damage to the plane.

An Aug. 7, 1998, blast at the U.S. Embassy in Nairobi killed 219 people - including 12 Americans - and wounded 5,000. A nearly simultaneous attack on the U.S. Embassy in neighboring Tanzania killed 12 people and injured more than 80. The terrorists convicted in the attacks have been linked to the al-Qaida terror network.
---
Fri 29 Nov 2002

New front in terror war

Ben Lynfield in Jerusalem and Paul Gallagher

FIFTEEN people were killed yesterday when suicide bombers drove a jeep packed with explosives into a Kenyan hotel, leading terrorism experts to warn that the al-Qaeda network had struck again.

The bombing came as a failed attempt was made, using ground-to-air missiles, to bring down a passenger jet taking off from nearby Mombasa.

The attacks were potentially the first time al-Qaeda has directly targeted Israelis and also tried to shoot down an airliner. They took place close to popular holiday resorts around the Indian Ocean port of Mombasa, prompting a global security alert with western governments closing embassies and warning tourists of the renewed threat to their safety.

Israel immediately put its Mossad spy agency in charge of investigating the attacks, which killed three Israeli tourists, including two young brothers, and came within a whisker of bringing down an aircraft carrying 261 passengers.

The victims died when a suicide squad of three terrorists drove a jeep loaded with explosives into the Mombasa Paradise Resort shortly after a coachload of Israelis arrived to start their holiday yesterday. The blast killed nine Kenyans and three Israeli tourists, as well as the three bombers.

At almost exactly the same time, another group equipped with missile launchers waited outside the perimeter fence of Mombasa airport and fired two heat-seeking missiles at a chartered Arkia Airlines jet as it took off from the runway.

The Boeing 757 was carrying holidaymakers who had just spent a week at the Paradise Resort back to Tel Aviv. No damage was caused to the aircraft and it continued on its journey to Israel, where it was escorted home by military F-16 jets.

Security experts said the attacks at a resort popular with British tourists were almost certainly executed by the al-Qaeda network. Professor Paul Wilkinson of St Andrews Universityís Centre for the Study of Terrorism and Political Violence said: "We are dealing with international terrorism on an ambitious scale and the kind of attack here which - co-ordinated, suicide, no warning, the use of missiles - indicates a network with considerable logistic resources and expertise.

"I am convinced this is not a local indigenous group. The resources required for this are beyond the scope of a local African group. I think al-Qaeda provides that."

Prof Wilkinson said it was possible that the attacks had been a joint enterprise with Islamic militants such as Lebanese-based Hezbollah.

The attacks came a few hours before two Palestinian gunmen opened fire outside an office of Israelís governing Likud Party, shooting passengers in a nearby bus terminal.

Six Israelis were killed and dozens wounded in the shooting. The gunmen were killed in the ensuing firefight.

In Washington, President George Bush denounced the violence and offered American help in the investigation into the attacks. The EU said the attacks underlined the need "for international co-operation against terrorism."

In Beirut, a fax sent to news organisations by the previously unknown group "The Government of Universal Palestine in Exile, The Army of Palestine" said its units carried out the two attacks in Kenya to mark the anniversary of the decision, made on 29 November, 1947, by the United Nations, to partition Palestine and allow creation of a Jewish state.

However, most analysts believed the attacks bear all the hallmarks of al-Qaeda, which is known to have a network of support and resources in east Africa.

Four years ago al-Qaeda carried out almost simultaneous attacks on two US embassies in Kenya and Tanzania which killed 231 people and injured nearly 5,000 others.

Kenyaís vice-president, Musalia Mudavadi, pointed the finger at bin Ladenís network, saying: "We canít rule out the group that struck at us in 1998." If al-Qaeda is responsible it would be the first time Israeli interests had been targeted by the group."

Israelís defence minister, Shaul Mofaz, said: "Today we have seen that the murderous terrorism has no moral or geographic boundaries. Shooting at planes represents an escalation, and orders have been given to check the steps necessary to combat this threat, which the whole world must view as an additional channel of terrorism."

The Foreign Secretary, Jack Straw, said the Prime Minister had written to Israelís leader, Ariel Sharon, and president Daniel arap Moi of Kenya, to emphasise the governmentís "condemnation and our condolences". He added: "There is no justification whatever in any circumstances for this kind of terrorism and of course we will be working with our colleagues in the law enforcement agencies concerned to do everything we can to offer assistance to them.

"So far as travel advice to Kenya is concerned, it already warns of possible dangers and we will be reviewing that straight away."
---
Al-Quida Link probed in Kenya attack
by Dina Kraft AP
MOMBASA, Kenya (Nov. 29) - An Israeli army team on Friday began evacuating tourists injured in the deadly suicide bombing of an Israeli-owned hotel. Kenyan police said they picked up 12 people for questioning in connection with the blast and a simultaneous attempted attack on an Israeli airliner.

At least one of those being questioned had an American passport and gave a Florida address, said Ben Wafula, the manager of the hotel where the woman and her husband were staying when detained.

The death toll in the bombing rose to 16 as rescue workers recovered the body of another Kenyan on Friday, a health official said. The blast at the Paradise Hotel killed 10 Kenyans, three Israelis and the three suicide bombers.

Gilad Millo, a spokesman for the Israeli Foreign Ministry, said 235 tourists, including 15 injured in the blast and the bodies of the three Israelis, were flown home Friday. Prime Minister Ariel Sharon sent his official plane to carry some of the Israelis.

Also Friday, Israel temporarily closed its embassies in the Philippines and South Africa and may shut down additional diplomatic missions following the attacks, a Foreign Ministry spokesman said.

Police said 12 people were picked up for questioning in the Mombasa area, but gave no details. The American woman, whom a police source identified as Alice Kalhammer, and an unidentified man were detained as they checked out of the Le Soleil Beach Club about 90 minutes after the attacks, Wafula said.

The Le Soleil Beach Club is about three miles south of the Paradise.

U.S. Embassy spokesman Peter Claussen confirmed that the woman - whom he declined to name - was an American citizen. He said the man, believed to be her husband, was a Spanish national with resident status in the United States.

However, sources said police did not believe the two were involved in the attacks and they were expected to be released soon. The pair was detained after police told the hotel after the attacks to alert them if anyone tried to check out.

About five minutes before the hotel blast, two missiles streaked past a Boeing 757 Israeli charter aircraft owned by Arkia Airlines as it left Mombasa airport bound for Tel Aviv, Israel.

Police said witnesses told them the missiles were fired from a four-wheel drive vehicle one mile from the airport. The witnesses said they saw three or four Arab-looking men in the vehicle. Investigators found two missile casings near the airport.

The plane with 261 passengers and 10 crew members landed safely in Tel Aviv with no casualties.

The Israeli army sent a team of 150 doctors, psychologists and soldiers to Kenya's Indian Ocean coast - a popular tourist destination - after the attacks.

''The situation is a disaster. An Israeli does not know where to go,'' said Yossi Msika, a tourist, as he walked toward the plane for the flight home to Israel.

Two seriously injured Kenyans were also being taken to Israel for treatment at the request of the Kenyan government, Israeli officials said.

In a statement in Beirut, Lebanon, the previously unknown Army of Palestine claimed responsibility for the attacks, saying they were timed ''to strike at Israeli interests'' on the eve of the anniversary of the 1947 decision by the United Nations to partition Palestine and allow creation of a Jewish state.

However, Israeli government adviser Zalman Shoval said al-Qaida's past activities in East Africa and the nature of the attacks pointed to that group.

Al-Qaida carried out almost simultaneous bombings of the U.S. embassies in Kenya and Tanzania in August 1998. The bombings killed 231 people - including 12 Americans - and injured about 5,000.

Israel Army Radio, citing unspecified Arab media, identified one of the suspects in the Kenya attacks as Abdullah Ahmed Abdullah. A man by that name has been indicted in the United States for the 1998 U.S. embassy bombings in Kenya and Tanzania, which were blamed on al-Qaida. However, the radio report could not be confirmed.

If al-Qaida were responsible for the attack, it would be its first on Israeli targets.

''We can't rule out the group that struck at us in 1998,'' Kenyan Vice President Musalia Mudavadi said, alluding to al-Qaida. He said that during the last six months, Kenyan intelligence had been picking up signals that the country could be targeted by terrorists.

Sheik Omar Bakri Mohammed, head of Al-Muhajiroun, a militant Islamic group in London that recruits on university campuses and encourages members to join armed struggles abroad, said Friday he had been aware for several days of a threat to East Africa. Australia's foreign ministry said it also had received vague warnings.

Bakri Mohammed, who is closely monitored by British security officials because of his radical views, said unspecified warnings had been posted on Web sites and on Internet chat rooms.

''The warning has been sent to the Muslim community around the world ... that Israel would pay a heavy price in East Africa,'' he told the British Broadcasting Corp.

The hotel attack was a grim reminder of last month's bombing of a disco on the Indonesian resort island of Bali that killed more than 190 people, mostly foreign tourists.

Sharon has put the Mossad spy agency in charge of investigating the twin attacks. By Friday, Israeli and U.S. security officials were combing the hotel area for clues.

The deadly attack on the 160-bed hotel occurred as new guests were checking in and others were eating breakfast.

Witnesses said a four-wheel drive vehicle smashed through the main gate to the hotel compound and stopped in front of the lobby.

Some witnesses said that three men who looked like Arabs were in the car. One ran into the lobby and blew himself up, while the others remained in the vehicle as it exploded.

The blasts shattered windows along the front of the hotel, gutted the building and incinerated vehicles parked nearby. Stone walls were all that remained of the lobby.

President Bush, informed of the attacks during a Thanksgiving Day intelligence briefing at his ranch in Crawford, Texas, denounced the violence and offered U.S. help in the investigation.

The 15-nation European Union also said the attacks underlined the need ''for international cooperation against terrorism in all its forms.''

AP-NY-11-29-02 0909EST
---
How can we manifest peace on earth if we do not include everyone (all races, all nations, all religions, both sexes) in our vision of Peace?
---
The WorldPeace Banner
To the John WorldPeace Galleries Page

To the WorldPeace Peace Page