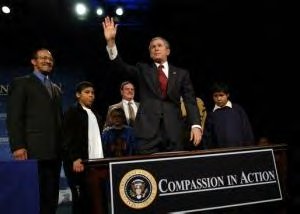 President George W. Bush yesterday delivered a stinging public rebuke to Trent Lott, the Senate Republican leader, for racially tinged comments he made recently, but stopped short of calling for Mr Lott's resignation. Mr Bush's comments, delivered to a faith-based audience in Philadelphia, marked his strongest words yet on the issue, which has mushroomed into an embarrassing spectacle for Republicans. (White House photo/E Draper)..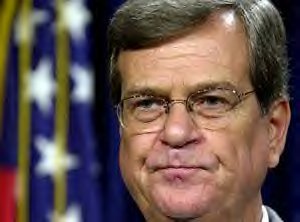 Under Fire: Lott says his comments about Strom Thurmond were wrong

---
Trent Lott: "It is a good thing there are no niggers or mexicans in the United States Senate."
Everyone is down on Trent Lott for his comments about segregation. And yet the reality is that there are no Black or Hispanic governors in the United States and there are no Blacks or Hispanics in the United States Senate.
The undeniable reality is that America is still very much racist and still very much controlled by the White population.
And the Republicans are the biggest hypocrits of all. In Texas, Bush's home state, in the last election, the Republican candidates for Governor, Lt. Governor, Attorney General and the Senate were all White.
In fact the biggest political fiasco of the last 150 years was the Texas Democratic Party's running of a dream team of a Hispanic Governor, Black Senate and White Lt. Governor candidates.
The result was the Whites abandoned the Texas Democratic Party. Texas is White. America is White and ole Trent Lott was just telling the White truth.
What really irritated Bush was that Lott said it out loud.
little George doesn't mind killing people of color. He is about to do that in Iraq. Those people are not only not White but they are not Christians so why should little George worry about killing a few hundred thousand Iraqis for their oil?
John WorldPeace
December 13, 2002
---
Bush rebukes Lott for comments on segregation
By Deborah McGregor in Washington Published: December 13 2002 4:00
President George W. Bush yesterday delivered a stinging public rebuke to Trent Lott, the Senate Republican leader, for racially tinged comments he made recently, but stopped short of calling for Mr Lott's resignation.
Mr Bush's comments, delivered to a faith-based audience in Philadelphia, marked his strongest words yet on the issue, which has mushroomed into an embarrassing spectacle for Republicans. The controversy began with remarks by Mr Lott last week at the 100th birthday party for retiring senator Strom Thurmond that implied support for segregation in the south.
"Recent comments by Senator Lott do not reflect the spirit of our country," said Mr Bush. "Any suggestion that the segregated past was acceptable or positive is offensive and it is wrong."
Before Mr Bush spoke, Ari Fleischer, presidential spokesman, said: "The president does not think that Trent Lott should resign." Those comments were widely seen as a signal that, despite the displeasure with
Mr Lott, the White House hopes the political firestorm will pass without claiming a high-profile casualty.
Criticism of Mr Lott has come from across the political spectrum. Many Democrats, including several potential presidential contenders, have called for Mr Lott to resign as Senate
Republican leader. Democrats Al Gore and John Kerry have demanded he step down, with Mr Gore repeating that yesterday.
Conservatives have also voiced outrage, saying Mr Lott's remarks served to reinforce stereotypes of racial intolerance that have plagued the Republican party for years.
Even Rush Limbaugh, the conservative talk-show host, was sharply critical of Mr Lott: "What Lott said is utterly indefensible and stupid. I don't even want to attempt to explain or defend it."
Mr Lott has apologised several times for his remarks. The latest apology came on Wednesday when he labelled his own words "terrible" and said he had not intended them to be interpreted as endorsing segregationist practices.
However, critics pointed to his record, which included helping Bob Jones University retain its tax-exempt status despite its prohibition on interracial dating. "Racial discrimination does not always violate public policy," Mr Lott, then a congressman, said in 1981.
---
Posted on Thu, Dec. 12, 2002

Lott No Stranger to Racial Controversy

JOHN SOLOMON
Associated Press

WASHINGTON - Trent Lott led the fight to restore Jefferson Davis' U.S. citizenship and once suggested the Confederate leader would support the Republican Party if alive today. He voted against expanding the Civil Rights Act, and opposed the Martin Luther King Jr. holiday, saying there were other heroes "more deserving."

And he supported segregation - which he now repudiates - when as a college student he watched armed U.S. marshals escort the first black student to the University of Mississippi. He also advocated keeping blacks and whites separate at his fraternity.

In 30 years of public service, the Senate's top Republican has mixed a fierce devotion to Southern history, including the Confederacy, with a political ideology that federal legislation should not try to rectify past discriminations or wrongs.

Along the way he has been forced to make apologies - for his most recent comments at Sen. Strong Thurmond's 100th birthday party and for addressing in the 1990s a group that advocated the preservation of the white race.

But those who know him best say Lott doesn't advocate racism in any form. They note Lott has consistently won in a state with a large black population, mostly recently capturing 11 percent of the black vote in 2000.

"I also know that he is committed to the belief that all people are equal, not only under our Constitution but also in the eyes of God," said Sen. Rick Santorum, R-Pa., a member of the GOP's Senate leadership.

One critic said Wednesday that Lott's apology is a step in the right direction, but he still fears his subtle comments and actions over the years have lent credibility to more extreme views.

"Most people who make comments like this try to ignore it away or try to double speak-it away, but he hasn't. He's apologized clearly," said Joseph Roy, who oversees the Southern Poverty Law Center's efforts to track racist and hate groups. "But when people in power say and do things that seem to give a stamp of approval to such views it risks moving people toward the harder core positions."

A review of Lott's speeches, writings and interviews over the years shows the Mississippi lawmaker has talked to groups in the South who hail the causes of the Confederacy or white supremacy.

Lott gave a keynote address in 1992 to the Council of Conservative Citizens, which advocates the preservation of the white race. He was quoted as saying "the people in this room stand for the right principles and the right philosophy."

Several of Lott's columns on Republican policy issues were also published in the group's publication, and the senator hosted some group members at his Washington office.

After an outcry over his connection to the group erupted in 1999, Lott said he didn't know about the group's view on white supremacy, condemned it and cut his ties.

Years earlier, Lott gave an interview to Southern Partisan magazine, which published articles defending Confederate figures and sold a T-shirt commemorating Abraham Lincoln with the phrase his assassin uttered, "Thus always to tyrants."

In it, the then-House Republican whip explained why he opposed expanding the Voting Rights Act and the creation of the King holiday. Lott was one of 90 lawmakers to vote against the holiday in 1983.

"Look at the cost involved in the Martin Luther King holiday and the fact that we have not done it for a lot of other people that were more deserving. I just think it was basically wrong," Lott said in the 1984 magazine article. He added he opposed any more national holidays, even one for Thomas Jefferson.

As for the Voting Rights Act - which created penalties for Southern states that didn't assure open polls to black voters - Lott was one of 24 House members to vote against 1981 legislation extending the law. "They are still trying to exact Reconstruction legislation that is just not fair," he said at the time.

Lott is hardly the first Republican tied to Southern Partisan. John McCain was criticized during his 2000 presidential bid because one of his advisers worked occasionally for the periodical. And John Ashcroft, now the attorney general, gave an interview in the magazine in which he hailed Confederate figures as "patriots."

Back at home and inside the Congressional Record, Lott has championed several black causes.

He introduced the Senate resolution condemning a rash of black church arsons in the 1990s, helped win a space research center that now bears his name at the traditionally black Jackson State University and led the effort to overcome a filibuster and get the Africa Free Trade bill passed.

Also, he worked with the Clinton administration in the 1990s to help create the Delta Regional Authority to help spur economic development in the mostly poor, minority areas of the Mississippi Delta. The region recently got 6,000 jobs with the arrival of an automaker.

While Lott served on the Republican Party platform committee in 1984, he attended a meeting of the Sons of Confederate Veterans in Biloxi, Miss., in which he was quoted as saying "the spirit of Jefferson Davis lives in the 1984 Republican Platform."

He expounded on that idea in his Southern Partisan interview, saying that after the Civil War "a lot of Southerners identified with the Democrat Party because of the radical Republicans we had at the time." But he said the GOP was now attracting Southern votes by embracing many of Davis' ideas on foreign policy, neighborhood security and taxes. He did not mention slavery.

The Confederate president has been a key historical figure for Lott.

As a Mississippi congressman in 1978, Lott led an effort to get Davis' U.S. citizenship restored. A fellow Southerner, then-President Jimmy Carter, signed the bill into law and Lott was later awarded the Jefferson Davis Medal by a Confederacy group.

In apologies since the latest uproar, Lott has made clear he rejects segregation. "He repudiates segregation because it is immoral," Lott spokesman Ron Bonjean said Thursday.

But that wasn't always the case, Lott acknowledged in a 1997 interview with Time magazine. He said he supported segregation when armed U.S. marshals bring the first black student to the University of Mississippi where he was a student.

"Yes, you could say that I favored segregation then. I don't now," Lott was quoted as saying. "The main thing was, I felt the federal government had no business sending in troops to tell the state what to do."

As head of the Sigma Nu fraternity at Ole Miss, Lott also advocated segregation for frat members.

"This was years ago in a different time, in a different era," Bonjean said. "He repudiates segregation and supports integration of his old fraternity."
---
Trent Lott's Segregationist College Days
At Ole Miss, the Senator helped lead a fight to keep blacks out of his national fraternity
By KAREN TUMULTY

KENNETH LAMBERT/AP Under Fire: Lott says his comments about Strom Thurmond were wrong

Thursday, Dec. 12, 2002
Senate Majority Leader Trent Lott helped lead a successful battle to prevent his college fraternity from admitting blacks to any of its chapters, in a little-known incident now four decades old. At a time when racial issues were roiling campuses across the South, some chapters of Sigma Nu fraternity in the Northeast were considering admitting African-American members, a move that would have sent a powerful statement through the tradition-bound world of sororities and fraternities. At the time, Lott was president of the intra-fraternity council at the University of Mississippi. When the issue came to a head at Sigma Nu's national convention — known as a "Grand Chapter" — in the early 1960s, "Trent was one of the strongest leaders in resisting the integration of the national fraternity in any of the chapters," recalls former CNN President Tom Johnson, then a Sigma Nu member at the University of Georgia.
The bitter debate over the issue took place at the convention in a New Orleans hotel, as Johnson recalls. Sigma Nu's executive secretary Richard Fletcher, a legendary figure in the fraternity, pleaded with the Sigma Nus to find some common ground between those who wanted to integrate and those who didn't, Johnson says. But the southerners were unbending about permitting no exceptions to the all-white policy. With their chapters threatening a walkout, the fraternity voted overwhelmingly to remain all-white.
Johnson, who voted on Lott's side, now calls that vote "one of the biggest mistakes of my life." Over the years, as Johnson became a media executive, word would get back to him from time to time that Lott was repeating the tale to mutual acquaintances — to embarrass him, Johnson believes.
Asked about the fraternity vote, Lott responded through a spokesman, who said: "Those were different times in a different era. Senator Lott believes that segregation is immoral and repudiates it." The spokesman also notes that Sigma Nu integrated in the late 1960s, and that its Ole Miss chapter now accepts African-Americans.
It was Lott himself who first told me this story, back in the mid 1980s. He was a Republican Congressman and I was a reporter freshly assigned to cover Capitol Hill for the Los Angeles Times, where Johnson was then the publisher. "In later life, it seemed that Trent felt he 'had something on me,' when he would share the fact that he and I had been on the same side in the national fraternity debate," says Johnson, who later went to work as an aide in Lyndon Johnson's White House and more recently helped lead the battle to have the confederate battle flag removed in Georgia. Johnson recalls of Lott back then: "He was against integration. I was against splitting the fraternity. Yet my vote had the same impact and is subject to the same interpretation — that I also opposed integration. I am very disappointed in myself. I hope my record for the past 40 years speaks louder than that."
Lott has been under fire since last week, when he declared that his state was proud to have voted for Strom Thurmond's segregationist ticket in 1948. "And if the rest of the country had followed our lead," Lott added in remarks at Thurmond's 100th birthday party, "we wouldn't have had all these problems over the years either." Lott has since apologized, and on Thursday, President Bush said the apology was deserved. "Any suggestion that the segregated past was acceptable or positive is offensive and it is wrong," Bush declared.
Lott was a witness to one of the pivotal episodes in that past. During his senior year at Ole Miss, violence erupted there when U.S. marshals moved to install Air Force veteran James Meredith as its first African-American student. Lott was not among the students advocating integration, but did succeed in persuading his fraternity brothers not to join in the rioting. In 1997, Lott told TIME: "Yes, you could say I favored segregation then. I don't now. … The main thing was, I felt the federal government had no business sending in troops to tell the state what to do."
---
How can we manifest peace on earth if we do not include everyone (all races, all nations, all religions, both sexes) in our vision of Peace?
---
The WorldPeace Banner
To the John WorldPeace Galleries Page

To the WorldPeace Peace Page