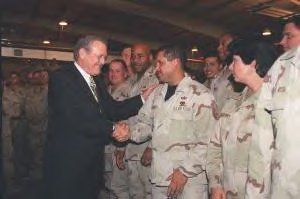 US Secretary of Defense Donald H. Rumsfeld meets American troops at As Sayliyah Military Camp, Qatar, last month. UN weapons inspectors in Iraq fear their work - which has failed to turn up any evidence thus far of weapons of mass destruction - will still be used as an excuse to trigger a US-led invasion of Iraq. (US DoD file photo)...
---
Not a shred of evidence that Saddam has any weapons of mass destruction. All the unannounced raids by the U N inspectors have come up empty 230 times. Yet there is a feeling that the lack of evidence will not deter the Bushman and his war on Iraq. He can always point to the fact that if he can't find Osama bin-Laden then why should he have to find real evidence of Saddam's weapons of mass destruction.
The Bushman's claim of all those weapons of mass destruction is just not being backed up by the U N Inspectors. And when there are no weapons found, Bush is going to have to go to war anyway or he is going to have to admit that he was in fact wrong or he is going to have to make a statement that Saddam is better at hiding weapons of mass destruction than we are at finding them.
The real problem is that if no weapons are found, then not only should there be no war, the sanctions against Iraq are going to have to be lifted. I think Saddam is smarter than George and all his Nazi henchmen presently residing in the White House. I think that in the end George will have been the cause of raising the respect of Saddam in the Arab world and elsewhere.
I think in the end that George is going to do more to reduce America's stature in the world than any president in our history.
John WorldPeace
January 5, 2003
---
UN inspectors fear Bush will ignore them

Peter Beaumont, and Ed Vulliamy in New York
Sunday January 5, 2003
The Observer

UN weapons inspectors in Iraq fear their work - which has failed to turn up any evidence thus far of weapons of mass destruction - will still be used as an excuse to trigger a US-led invasion of Iraq.

Leaks from the inspections teams - and the two agencies in charge of them, Unmovic and the International Atomic Energy Agency - have fuelled an increasingly frenetic diplomatic effort among opponents of the war.

The weapons inspection teams in Iraq have visited breweries and former nuclear plants, and raided missile factories and pharmaceutical production lines. They have examined former weapons factories and interviewed scientists and university technicians. As of yesterday they had checked 230 sites in all. If one is to believe the few inspectors who have been prepared to be interviewed anonymously, they have found absolutely nothing.

Nuclear weapons sites that the British and the Americans claimed as late as last September had been reactivated have been revealed as rusting, disabled shambles. It may be that Iraq has squirrelled away its most portable weapons and components. But as one inspector complained to the LA Times last week, they had found 'zilch'.

He is not alone in his assessment. Another inspector in Baghdad complained to Newsday : 'If our goal is to catch them with their pants down, we are definitely losing. We haven't found an iota of concealed material yet.'

Other reports have suggested that there have been just two violations uncovered in Iraq - neither of them involving weapons of mass destruction.

And as UN officials in New York prepared to order a final massive blitz to find Iraq's alleged stock of hidden weapons, they told The Observer their conclusion is that either they do not exist or they 'have been outfoxed'.

With barely three weeks to go before the inspectors must produce their report to the UN Security Council on 27 January - and with President George Bush pouring new troops and materiel into the region - America and its closest ally, the UK, appear to be losing the propaganda war to Iraq.

Iraqi officials have taken to announcing on a daily basis, as each round of inspections finishes, what the inspectors know - that they have found nothing.

Neither the vast nuclear and chemical laboratories alleged by the Iraqi opposition and hawks in the US administration, nor the mobile biological laboratories said to be travelling the wastelands of Iraq, have been traced. And as time runs out before the UN deadline, even British Cabinet sources have started to trim their more bellicose statements of last year, admitting in private briefings that the prospect of war was now '60-40 against'.

Although Downing Street has refused to comment on reports that Ministers believe a war on Iraq can be avoided, both Tony Blair and the Foreign Secretary, Jack Straw, are still hopeful that military conflict can be avoided by diplomatic means, putting them at odds with Bush, who told cheering US servicemen that Saddam had chosen the path of 'defiance' and that they could be called on to 'liberate Iraq'.

The new British assessment comes in the face of ever increasing opposition to an invasion of Iraq in the region, as even Turkey - America's strongest ally and main beneficiary of military aid in the area after Israel - has embarked on a round of energetic diplomacy to avoid a war. Turkish Prime Minister Abdullah Gul arrived in Syria yesterday for a brief visit to reinforce Turkey's relations with the Arab world in view of a prospective war.

Turkey says it is opposed to military action in Iraq, its southeastern neighbour. But it also depends on Washington's support for massive IMF loans and has not ruled out allowing American forces to use Turkish bases to launch attacks on Iraq.

The Turkish diplomatic effort has come amid increasing evidence of efforts by Iraq's neighbours to formulate a proposal to persuade America and Britain to allow them to persuade Saddam Hussein to step down and - perhaps - seek exile, thus averting war.

'It has been the private view for some time of a number of Iraq's neighbours that there should be a clean regime change without war against Iraq,' said one European diplomat last week. 'There have been suggestions in the last couple of weeks that this is a serious effort and that they would like the opportunity to persuade Saddam to go.'

Yesterday, as they set up a new base near Mosul in northern Iraq, UN inspectors were more aware than ever that it was their work that would be likely to trigger a war. Some of the inspectors are understood to be convinced that their mission has become a 'set-up job' and America will attack Iraq regardless of what they find.

Hans Blix is due to report to the UN ahead of the deadline, say officials - perhaps as early as a week from now.

In the meantime, the inspectors intend to embark on one final round of spot inspections, using a fleet of US and Russian helicopters to swoop on sites identified by new intelligence material finally submitted to them from Washington.
---
How can we manifest peace on earth if we do not include everyone (all races, all nations, all religions, both sexes) in our vision of Peace?
---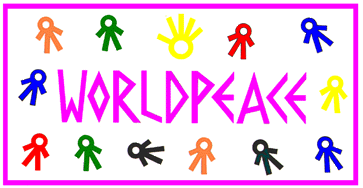 The WorldPeace Banner
To the John WorldPeace Galleries Page

To the WorldPeace Peace Page