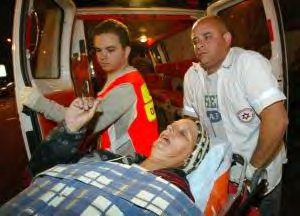 Up to 19 people were killed and more than 100 wounded in a double suicide bombing in Tel Aviv on Sunday night, police said. It was the first bombing inside Israel in more than a month and came on the eve of renewed talks among Palestinian factions in Cairo on suspending such attacks. (Getty Images)...
---
Tel Aviv hit by double suicide bombing
By Harvey Morris in Jerusalem
Published: January 5 2003 18:10 | Last Updated: January 5 2003 18:10
Financial Times
Up to 17 people were killed and more than 40 wounded in a double suicide bombing in Tel Aviv on Sunday night, police said.
It was the first bombing inside Israel in more than a month and came on the eve of renewed talks among Palestinian factions in Cairo on suspending such attacks.
Two bombs exploded within a minute of each other in an area of the Israeli coastal city near the old bus station, a district frequented by low-income foreign immigrant workers.
The whole of southern Tel Aviv was closed off as emergency vehicles were snarled in the narrow streets of the working class neighbourhood. Residents ripped doors from the hinges to use as makeshift stretchers to evacuate the wounded to waiting ambulances.
An initial claim of responsibility came from Islamic Jihad, regarded as the most intransigent group that involved in the military campaign against Israel in the 27-month Palestinian intifada.
Despite daily Israeli military incursions into the West Bank and Gaza strip in the past month in which some 50 Palestinians, including civilians, were killed, there has been no retaliation by militants inside Israel since late November.
Israeli security forces put the relative lull down to the effectiveness of their anti-terror campaign and say a large number of would-be bomb attacks have been thwarted.
Palestinians officials have said, however, that the lull represented an effective ceasefire in advance of this week's talks in Cairo between Yassir Arafat's Fatah movement and Hamas, the militant Islamic organisation.
European officials close to the talks said on Sunday night that they remained on scheduled to begin in the coming days and that Hamas was still "positively engaged". Despite public commitments to continue targeting Israeli civilians, Hamas is under pressure from Arab states and western governments to rein in its militants or face even more severe measures by Israel.
Despite its daily military operations, Israeli has refrained from any attempt to reoccupy the Gaza Strip, the Hamas stronghold, partly because of pressure from the US to avoid an escalation before possible war in Iraq.
David Baker, a spokesman for Ariel Sharon, Israel's prime minister, said on Sunday night that Israel would not yield to Palestinian terrorism and "will fight it with a fury".
The double bombing was the first in an Israeli city since late November when 11 people were killed in an attack on a bus in Jerusalem.
Fatah, whose al-Aqsa Brigades militia claimed responsibility for a wave of bomb attacks last year, has officially called a halt to the targeting of Israeli civilians in side Israel.
The talks in Cairo are an attempt by Fatah to persuade Hamas to sign up to a ceasefire as part of a political strategy that would revive the authority of Mr Arafat's Palestinian Authority. There were hopes that Islamic Jihad could also be brought on board.
---
Suicide Bombers Kill At Least 19
Reuters
TEL AVIV (Jan. 5) - Two Palestinian suicide bombers killed at least 19 people and injured more than 100 in back-to-back explosions in a crowded district of downtown Tel Aviv on Sunday, Israeli emergency services and police said.

The blasts tore through the old bus station and nearby pedestrian mall two minutes apart, leaving bodies strewn about, shops in ruins and people fleeing in panic in an area frequented by foreign workers in Israel's largest city.

It was the first such attack for six weeks in Israel and came in the approach to a January 28 general election at a time when security is paramount to many Israelis more than two years into a Palestinian uprising for statehood.

On November 21 a young militant blew himself up and killed 11 people on a bus in a Jerusalem suburb.

Sunday's carnage followed threats of revenge by Palestinian militant groups for a surge in killings of their comrades in Israeli army raids in the West Bank last week and a spate of punitive demolitions of houses belonging to militant families.

U.S. officials have been calling on both sides in the intractable conflict for restraint to help Washington prepare the ground in the Middle East for a possible war to disarm Iraq.

At least 102 people were wounded -- some seriously but some just in shock -- when one suicide bomber struck the teeming mall area and the second the old bus station 500 feet away, police in the Mediterranean coastal city said.

The ground was coated with pieces of flesh together with nuts, bolts and ball bearings -- the lethal projectiles usually packed into bombs used by suicide militants in the uprising.

"We had a double explosion, two suicide bombers blowing themselves up in tandem. The time difference was very close," national police spokesman Gil Kleiman said on the scene.

"From the extent of the damage on the scene...they were very strong explosive devices. In each case metal fragments were added to the explosives to increase the amount of death."

CLAIM OF RESPONSIBILITY

A Lebanon-based television station said it had received a claim of responsibility from the Palestinian militant group Islamic Jihad.

The Palestinian Authority under Yasser Arafat condemned the attack as "terrorist," rejecting blame again hurled at it by Israel's rightwing-led government.

People were sprawled on the street and in the station, some apparently dead and others nursing wounds to arms and legs.

Panic-stricken crowds fled the scene, trampling some people underfoot in their haste.

Nearby buildings were battered by the blasts and even people inside houses and shops were among the wounded.

Foreign workers -- mainly east European, African, Thai and Chinese -- predominate in the targeted neighborhood and there was no early word on the identity of the dead.

"We are talking about a low-income neighborhood, a shopping mall where people were out doing their final shopping of the day and sitting in bars and restaurants," Kleiman said.

A Chinese restaurant sign streaked with blood lay broken on the ground amid collapsed shop facades and awnings. Boxes were strewn about and trails of blood ran in various directions.

Funeral service workers with rubber gloves and flashlights peered rooted through the detritus in search of body parts while police led bomb-sniffing dogs around the area.

"I heard the explosion, I felt the shock wave. I realized there would be many casualties. We looked for people who were breathing. I called over to them. I counted quite a few seriously wounded," eyewitness Alon Oz told Army radio.

"I have been to a lot of these scenes but this is one of the bloodiest I have come upon," said a burial service worker.

"The people who chose this place wanted to cause the most terrible result. What we have seen today is that Palestinian terrorism is trying to kill as many people as possible," a Foreign Ministry spokesman said at the scene.

The right-wing Israeli government has consistently accused the Palestinian Authority of inciting or failing to stop suicide bombers but it has denied doing so and a senior Palestinian official denounced the Tel Aviv bloodshed.

"The Palestinian Authority reiterates its position of condemning the killing of civilians whether Israelis or Palestinians," said Palestinian cabinet minister Saeb Erekat, a close aide to Arafat.

"We have been urging the international community to help us stop the Israeli escalation against the Palestinian people which led to the killing of more than 20 Palestinians in the past 10 days," he told Reuters in the West Bank.

He accused Israeli Prime Minister Ariel Sharon's government of stepping up military operations against the uprising to sabotage talks in Cairo between Palestinian militant factions on a possible ceasefire.

Sharon accused the Palestinian Authority of responsibility for failures to forge a truce so far. "Only when the terror is stopped will we be able to talk peace," he told a group of young foreign Jews visiting Jerusalem.
---
How can we manifest peace on earth if we do not include everyone (all races, all nations, all religions, both sexes) in our vision of Peace?
---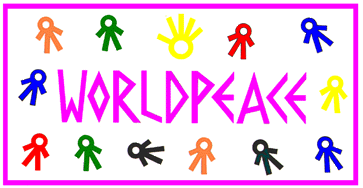 The WorldPeace Banner
To the John WorldPeace Galleries Page

To the WorldPeace Peace Page