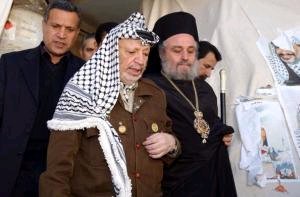 Palestinian leader Yasser Arafat with Orthodox patriarch Erenios in Ramallah on Sunday. Meanwhile, Tony Blair may be forced to cancel a London conference on the stalled Middle East peace process next week after Israel barred Palestinian delegates from attending. (Getty Images)...
---
Palestinians barred from Blair's peace summit
By Andrew Grice and Eric Silver in Jerusalem
07 January 2003
Tony Blair may be forced to cancel a London conference on the stalled Middle East peace process next week after Israel barred Palestinian delegates from attending.
Britain will appeal to Israel to allow the Palestinians to travel to the meeting, aimed at agreeing on reforms to the Palestinian Authority. But there was little sign last night that Israel will drop the ban, imposed in retaliation for Sunday's suicide bombing in Tel Aviv, which killed 22 people.
Downing Street said the conference – to be attended by Palestinians, the European Union, United Nations, Russia, Egypt, Saudi Arabia and Jordan – would be called off unless Israel changed its policy.
The Al-Aqsa Martyrs' Brigade, a militia loyal to Yasser Arafat's Fatah, confirmed on its website yesterday that it sent the bombers.
Of the first 17 victims identified, 12 were Israeli and five foreigners. By last night, 43 of the 100 wounded were still being treated in hospital.
In retaliation, Israel also stopped delegates attending a meeting of the Palestine Liberation Organisation's central council, due to take place in Ramallah on Thursday; closed three West Bank universities, and intensified military operations. A government spokesman promised more assassinations, or "targeted killings", of suspected terrorist leaders. The universities ordered to close yesterday include Bir Zeit, near Ramallah, and Al-Najar in Nablus, the two leading West Bank institutions.
Relations between the British and Israeli governments were further soured by Mr Blair's decision to meet Amram Mitzna, newly elected leader of the opposition Labour party, at Downing Street. Mr Blair's spokesman defended the decision to hold talks with Mr Mitzna, saying the Prime Minister had met several other opposition leaders in the run-up to elections in their country.
Yesterday Jack Straw, the Foreign Secretary, clashed bitterly with Benjamin Netanyahu, his Israeli opposite number, when he telephoned him to urge him to lift the travel ban.
According to an Israeli foreign ministry transcript, Mr Netanyahu told Mr Straw that the attacks ruled out "business as usual" and urged Britain to adopt President George Bush's position "that leaders compromised by terror cannot be partners for peace". He added: "You in Britain are doing the exact opposite." Mr Straw replied: "No, it is Israel that is doing the opposite. Instead of concentrating on dealing with terrorism, it is striking at [Palestinian] delegates."
Speaking about next week's conference, Mr Blair's spokesman said: "Should there be a ban on representatives of the Palestinian Authority attending, then a judgement will have to be taken about the usefulness of such a conference going ahead ... It is our hope that this will be revisited by the Israelis, and the Palestinian representatives will be allowed to attend".
The London summit was announced last month by Mr Blair, who has been anxious to launch an initiative on the Middle East. To be chaired by Mr Straw, it was due to discuss the workings of the Palestinian Authority in public administration, law and security. The aim was to ensure any breakthrough in the peace process could be quickly built upon.
Saeb Erekat, a senior Palestinian negotiator, accused Israel yesterday of "shooting itself in the foot" by barring Mr Arafat's ministers from flying to London. He said: "For Israel to prevent such a meeting from taking place is saying to the world that they will not allow any attempt to revive the peace process or stop the violence. It is short-sighted and will only add to the complexities."
He said: "To prevent us from going to London means to prevent any attempt to revive the peace process and to break this vicious cycle of violence.
Yesterday's steps were the most that an unusually prudent Mr Sharon judged were available to him. Senior colleagues urged him to expel Mr Arafat but, as one Israeli commentator wrote yesterday, "Arafat has an American insurance policy, a presidential policy that no harm will come to him until after the war in Iraq."
Mr Sharon is doubly reluctant to rock the boat while a high-level Israeli team is in Washington to discuss a $12bn (£7.5bn) emergency aid request. "Anyone who asks Uncle Sam for huge sums like that," Shimon Shiffer wrote in Yediot Aharonot, "has to behave the way Bush expects."
Chris Patten, the EU's external affairs commissioner, urged Israel to reconsider its ban. He said: "It's a rather self-defeating decision, whether or not it's a calculated snub."
Meanwhile, Israeli troops arrested 20 suspected militants in the West Bank and Gaza Strip and helicopter gunships fired missiles at a workshop in the Gaza Strip, which Israel claimed was an arms factory. Palestinian witnesses said eight people were wounded.
---
How can we manifest peace on earth if we do not include everyone (all races, all nations, all religions, both sexes) in our vision of Peace?
---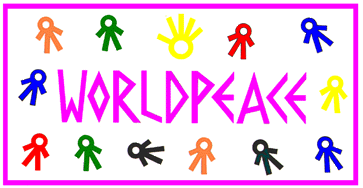 The WorldPeace Banner
To the John WorldPeace Galleries Page

To the WorldPeace Peace Page