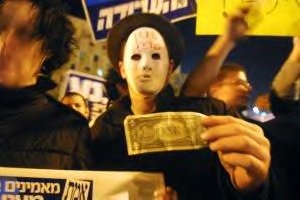 A protester wearing a mask, outside Israelīs Prime Minister Ariel Sharonīs Jerusalem office holds a US one dollar bill, accusing the PM of corruption on Thursday. Sharon, denying charges of corruption, gave his version of the circumstances surrounding a $1.5 million loan. (Getty Images)...
---
Popularity of Likud still sliding amid scandal
By Harvey Morris in Jerusalem
Published: January 10 2003 2:31 | Last Updated: January 10 2003 2:31
Israel's ruling Likud party was on Thursday contemplating the previously unthinkable possibility of election defeat as its opinion poll ratings continued to buckle under the weight of a corruption scandal enveloping Ariel Sharon.
The most pessimistic poll for Likud, published in the daily Ha'aretz, gave the prime minister's party only 27 seats in the 120-member Knesset, just three ahead of the opposition Labour party.
The newspaper, which this week broke the story of a police investigation into the financial affairs of the Sharon family, quoted Likud officials as saying that only a dramatic move could halt the slide.
On Thursday night the head of the elections committee ordered television stations to pull the plug on a live press conference by Mr Sharon, called to give his side of the corruption charges.
Judge Mishael Cheshin said Mr Sharon's forceful opening attack on the opposition Labour party for trying to exploit the scandal amounted to unacceptable election propaganda.
In the section of his address that Israeli viewers were not allowed to see, Mr Sharon said he had not known the details of a $1.5m (Ģ936,000) loan taken out by his sons that is the subject of inquiries by Israeli police.
With less than three weeks to the election on January 28, the campaign remains firmly fixated on alleged Likud corruption rather than on the issue of security that, just a few weeks ago, looked like handing Mr Sharon a landslide second-term victory.
The mass-circulation Yedioth Ahronoth commented: "In less than a month the gap of about 20 seats between Likud and Labour has shrunk to a gap that can be counted on the fingers of one hand. This is no longer a fall. Not even a crash. This is absolute lack of faith in the man and in the party."
On the basis of the latest polls, Likud would still emerge as the largest party in the Knesset, but the majority of a Likud-led, rightwing bloc could be trimmed to as little as one seat.
A weakened Mr Sharon would also face problems shaping a coalition with a number of parties currently snapping at Likud's heels - not only Labour but also the ultra-Orthodox Shas and Shinui, a middle class, secular party headed by a former journalist, Yosef "Tommy" Lapid.
The allegations, which follow weeks of controversy over a vote-buying scandal in Likud, involve a $1.5m loan made to the Sharon family by a South African-based British fashion trade millionaire, Cyril Kern.
Mr Kern, a former volunteer who fought in Mr Sharon's unit in the 1948 Israeli war of independence, has acknowledged transferring the money to a Sharon family account.
The money served as collateral for a bank loan used to repay contributions to Mr Sharon's 1999 primary election campaign that judicial authorities ruled were illegal.
Israeli investigators have asked the South African authorities to interview Mr Kern, former chairman of London-based Reldan.
The inquiry will deal with whether the loan - allegedly made on favourable terms by a foreign national - was legal and whether Mr Sharon lied to police about the affair when he was questioned about it last spring.
The scandal has focused attention on Mr Sharon's sons - Gilad, a businessmen allegedly involved in raising the controversial loan, and Omri, a first-time Likud candidate, who has in the past acted as his father's unofficial go-between with Yassir Arafat, the Palestinian leader.
In the jittery atmosphere of Likud's inner circle - already rattled by the corruption scandals that followed an abrasive leadership battle between Mr Sharon and Benjamin Netanyahu, his rightwing rival - senior members were quoted as saying that Omri Sharon's candidacy might have to be sacrificed as the price for re-establishing the party's fortunes.
In a further setback for the right, the Supreme Court yesterday overturned a ban on Balad, an Israeli Arab party, standing for the Knesset in January.
Azmi Bishara, Balad's leader, and Ahmed Tibi, a fellow Arab parliamentarian, were also reinstated. They had been banned by the rightwing dominated elections committee on grounds of anti-state incitement.
---
How can we manifest peace on earth if we do not include everyone (all races, all nations, all religions, both sexes) in our vision of Peace?
---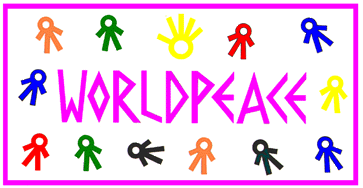 The WorldPeace Banner
To the John WorldPeace Galleries Page

To the WorldPeace Peace Page