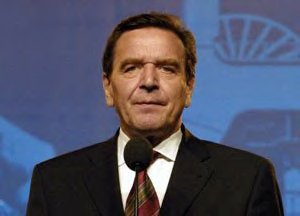 Germany has declared it will not back a United Nations resolution authorising war against Iraq, adding its concerns to the mounting reservations about military action within the Security Council. (WN photo)...
---
Germany rules out Iraq war support

Germany has declared it will not back a United Nations resolution authorising war against Iraq, adding its concerns to the mounting reservations about military action within the Security Council.
Chancellor Gerhard Schroeder made his remarks at a public meeting of his SPD party, shortly after US President George Bush told Iraq that time was running out.
There has been rising resistance to war from France - a permanent member of the UN Security Council - and other allies, many of whom want UN weapons inspectors in Iraq to have more time to do their work.
Germany, which does not wield a veto in the Security Council, has left itself the option of abstaining from a future vote.
But, it still works out as one vote less in favour of war. The US may conclude that it does not have enough support within the Security Council to guarantee the nine votes needed to pass a resolution authorising military action, he says.
Earlier, Turkey - a key Nato partner - expressed its own fresh reservations, and announced that representatives of Syria, Egypt, Saudi Arabia, Iran and Jordan will meet in Istanbul on Thursday to try to find a way to prevent war in the region.
The remarks were made as two more US aircraft carriers were ordered to the Gulf region for a possible attack on Iraq.
Britain, Mr Bush's closest ally on the issue of Iraq, is sending Foreign Secretary Jack Straw to Washington on Wednesday for talks with US Secretary of State Colin Powell.
UK Prime Minister Tony Blair told a parliamentary committee on Tuesday that intelligence about Iraqi weapons of mass destruction had grown, and that it was necessary to keep up the pressure on Baghdad.
Speaking after both the UK and US announced new troop deployments to the Gulf, Mr Blair said he reserved the right to join in military action, even if a UN Security Council member vetoed such a move.
French Foreign Minister Dominique de Villepin - whose country is one of the five veto-wielding members of the Security Council - has already said that nothing so far justified military action and he did not rule out a French veto.
China and Russia, also permanent members, say the inspectors should be given more time.
One of the leaders of the UN inspection teams for Iraq, Mohamad ElBaradei, has said the teams are only half way through their work.
He said both he and chief inspector Hans Blix would make this clear to the Security Council next week.
The announcement that the US is sending another two aircraft carriers - the USS Abraham Lincoln and another thought to be the USS Theodore Roosevelt, each with about 75 aircraft on board - will bring to four the number of US carriers within striking distance of Iraq.
As well as their aircraft, the carriers usually operate with a battle group of escorting ships and submarines that also carry Cruise missiles.
The BBC's Nick Childs, at the Pentagon, says the ships could operate in the Gulf, the Mediterranean, or the Red Sea, and thus be able to attack Iraqi targets from a wide variety of directions.
The US had already announced it was to send nearly 37,000 personnel to the Gulf in addition to the 62,000 troops ordered to mobilise earlier this month.
---
Schroeder Says Germany, France to Push for Peace

Wed January 22, 2003 03:06 AM ET

By Erik Kirschbaum

BERLIN (Reuters) - Chancellor Gerhard Schroeder said Wednesday Germany and France would coordinate all their efforts to prevent a war against Iraq after announcing Germany would not support any U.N. resolution authorizing an attack.

In his strongest anti-war statement to date, Schroeder said in a campaign speech late Tuesday that Germany, which holds a non-veto seat in the U.N. Security Council, would not vote for any resolution seeking authority for a strike against Iraq.

Schroeder also wrote in an article Wednesday for the Berliner Zeitung newspaper that Germany and France, which holds a permanent seat on the U.N. Security Council, would work closely together to secure peace and avoid war.

"I have told our French friends, and the others as well, and I'll say it here, going a bit further in this question than I have in the past: Do not expect that Germany will agree to a resolution that legitimizes war, do not reckon with it," Schroeder told a cheering campaign rally in Goslar.

Schroeder was re-elected chancellor in September thanks to a popular anti-war line that angered President Bush and strained German-U.S. relations. Schroeder softened his stance after the election and sought to repair damage.

Last month he said Germany would not say in advance how it would vote on any U.N. war resolution until it knew what the conditions were. But ahead of a state election next month he has recently been dropping hints Germany would vote no or abstain.

Several cabinet ministers, including Defense Minister Peter Struck, had recently paved the way for Schroeder's remarks, saying they could not imagine Germany, which has a two-year seat on the Security Council, would endorse a military strike.

Struck had said last week a "Yes" vote was no longer conceivable, a popular stance in Germany which has had a strong pacifist streak following the devastation of World War II.

Germany chairs the Security Council in February.

In his contribution to the Berliner Zeitung, Schroeder wrote: "Germany and France are at the center of the urgently needed efforts for a joint European foreign and security policy.

"Our people can count on the German and French governments combining our powers and efforts to keep the peace, prevent war and maintaining the security."

In November, the Security Council passed Resolution 1441, warning Iraq it faced serious consequences if it did not comply with the measure aimed at ridding Baghdad of its alleged weapons of mass destruction. Iraq denies possessing such weapons.

Some countries say a second U.N. resolution would be needed to authorize war if Iraq was found to be in material breach of resolution 1441. The United States disagrees, and Tuesday President Bush said time was running out for Iraqi President Saddam Hussein.
---
How can we manifest peace on earth if we do not include everyone (all races, all nations, all religions, both sexes) in our vision of Peace?
---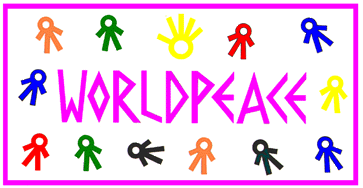 The WorldPeace Banner
To the John WorldPeace Galleries Page

To the WorldPeace Peace Page