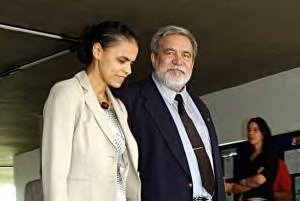 The World Social Forum is an open meeting place where groups and movements of civil society opposed to neo-liberalism and a world dominated by capital or by any form of imperialism, but engaged in building a planetary society centered on the human person, come together to pursue their thinking, to debate ideas democratically, to formulate proposals, share their experiences freely and network for effective action. (Agencia Brasil photo )..
---
President Lula Inaugurates the World Social Forum

By M. Roshanfekr
TEHRAN -- The World Social Forum is an open meeting place where groups and movements of civil society opposed to neo-liberalism and a world dominated by capital or by any form of imperialism, but engaged in building a planetary society centered on the human person, come together to pursue their thinking, to debate ideas democratically, to formulate proposals, share their experiences freely and network for effective action.
The WSF proposed to debate alternative means to building a globalization in solidarity, which respects universal human rights and those of all men and women of all nations and the environment, and is grounded in democratic international systems and institutions at the service of social justice, equality and the sovereignty of peoples.
The first two World Social Forums were held in Porto Alegre, Brazil, on the same dates as the World Economic Forum was meeting in Davos.
By proposing to strengthen an international coalition of the widest range of social movements and organizations, on the principle of respect for differences, autonomy of ideas and forms of endeavor, the WSF ceased to be a single locus of convergence for the struggle against neo-liberal globalization and sought to become a world process.
In pursuit of these aims, in addition to the Annual World Social Forum meeting in Porto Alegre, regional and thematic social forums are organizing.
These events are designed to explore specific issues considered priorities in the present world situation by the WSF International Council -- the WSF policy decision-making body. All the forum must always adhere to the WSF Charter of Principles.
The president of the Federative Republic of Brazil, Luiz Inacio Lula da Silva, inaugurates the forum in Porto Alegre, Brazil today. He is very conscious of the fact that ordinary people from round the world continue to suffer from depravation and hunger. He has thus made it a mandate to fight poverty in his country and elevate the status of Brazil, in the social and economic arena, to what it truly deserves.
What follows are extracts from his inaugural speech as the new president of Brazil on January 1st, 2003.
"Hope finally triumphed over fear as society decided it was time to tread a new path.
In face of the exhaustion of a model that, rather than generating growth, has produced stagnation, unemployment and hunger; in faith of failure of a culture of individualism, selfishness, indifference to one's neighbor, family and of community disintegration; in faith of threats to national sovereignty; the overwhelming precariousness of public safety; disrespect for the elderly and disillusionment of youth. In face of the country's economic, social and moral stalemate, Brazilian society opted for change; and has itself taken the steps to promote such changes.
In a country that has so much fertile land and so many people willing to work, there ought to be no cause to speak of hunger.
Nonetheless, millions of Brazilians in the countryside and in the cities, in underprivileged rural areas and in the outskirts of the cities, at this very moment, have nothing to eat.
This story is an old one. Brazil experienced the wealth of the sugar mills and cane plantations in the early colonial era - but never overcame hunger. It proclaimed its independence and abolished slavery -- but never overcame hunger. It industrialized and established remarkably diversified industrial capacity -- but never overcame hunger.
This cannot continue. So long as one of our Brazilian brothers or sisters is hungry, we can only be overwhelmed by shame.
It is for this reason that I have placed, among the priorities of my government, a food security program to be known as Zero-Hunger (Fome Zero). As I said in my first speech after the election, if, when I conclude my term of office, all Brazilians can have breakfast, lunch and supper, I will have fulfilled my mission in life.
This is a cause and should be embraced by all, regardless of social class, political party or ideological distinctions. In face of the cries of those oppressed by the bane of hunger, the ethical imperative of joining forces, skills and instruments to defend that which is most sacred must prevail: the dignity of human beings.
To this end it is essential that peaceful, organized and well-planed land reform be carried out. We shall ensure access to the land for those who wish to work; not merely as a matter of social justice, but so that the fields of Brazil can produce more and yield more food for all our tables' that they may yield wheat, soybeans, fruits and our daily rice and beans.
On the other hand, it is absolutely essential that the country's growth be restored, in order to generate jobs and distribute income. I wish here to reaffirm my commitment to production and to Brazilian men and women who want to work and live in dignity from the fruit of their labor.
In order to place Brazil back on the path of growth and to generate the jobs that are so sorely needed, what is lacking is a genuine social pact for change; an alliance that bring us all together with a single aim, the productive capital that generates the essential wealth of the nation; in order that Brazil may overcome its current stagnation; in order that the country might resume navigation of the open seas of social and economic development.
Our foreign policy shall also reflect the desire for change manifested at the ballot box. Under my government, Brazil's diplomatic efforts will be guided by a humanistic perspective directed, above all else, at providing instruments for the nation's development. Through our foreign trade, through the obtaining the advanced technologies and through the quest for productive investment, Brazil's foreign relations will aim at improving the living condition of Brazilian men and women, at increasing income levels and generating dignified jobs.
Trade negotiation are today of vital importance.
With respect to the FTAA, through understanding with Mercosur, the European Union and the World Trade Organization, Brazil will combat protectionism, struggle to eliminate trade barriers and attempt to obtain fairer and more appropriate conditions for fostering the nation's development. We shall seek to eliminate the outrageous agricultural subsidies practiced in the developed countries, that harm our farmers by denying them their comparative advantages. With the same ardor, we shall take pains to remover unjustifiable barriers to our exports of industrial goods. In all of these forums, it is essential that we maintain spaces and flexibility for our own development policies in the areas of social and regional development, the environment, agriculture, industry and technology. We shall never overlook the fact that human beings are the final objective of the result of such negotiation.
It would be of little use for us to participate in such diversified efforts on so many fronts if they do not result in direct benefits for our people.
We shall be watching these negotiations closely, since nowadays they extend for beyond mere tariff reductions and encompass a broad spectrum of normative issues. We shall ensure that they do not create unwarranted restrictions to the sovereign rights of the Brazilian people to decide upon the model of development they desire.
The greatest priority of our foreign policy during my government will be the building of a politically stable, prosperous and United South America, founded upon ideals of democracy and social justice. To this end, decisive action is required to revitalize Mercosur that has been so weakened by the crises afflicting each of its member states and by narrow and sometimes self-serving standpoints in relation to integration.
Mercosur and likewise South-American integration as a whole, is primarily a political project.
Nonetheless, this project rest upon economic and commercial foundations that need urgently to be repaired and strengthened.
We shall also deal with social, cultural and scientific-technological aspects of the integration process. We shall stimulate joint ventures and organize reach intellectual and artistic exchanges among the countries of South America. We shall provide support for the necessary institutional arrangements designed to enable a veritable Mercosur and South-American identity to flourish.
Currently, several of our neighbors are facing difficult circumstances. We shall contribute, when called upon and within the scope of our possibilities, to finding peaceful solutions to crises, based upon dialogue, in line with democratic principles and respecting the constitutional provisions of each country. Likewise we shall maintain concrete cooperation efforts and substantive dialogue with all countries of Latin America."
---
How can we manifest peace on earth if we do not include everyone (all races, all nations, all religions, both sexes) in our vision of Peace?
---
The WorldPeace Banner
To the John WorldPeace Galleries Page

To the WorldPeace Peace Page