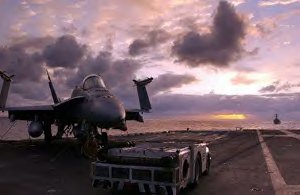 The United States said on Sunday it was ready to attack Iraq alone if allies peeled away, and Britain declared that the UN inspectors should have time, but not months, to decide if Baghdad was cooperating with them. (US Navy photo)...
---
US ready for solo war on Iraq: Powell

SUNDAY, JANUARY 26, 2003 07:32:17 PM

DAVOS/BAGHDAD: The United States said on Sunday it was ready to attack Iraq alone if allies peeled away, and Britain declared that the UN inspectors should have time, but not months, to decide if Baghdad was cooperating with them.

Kicking off a week that could hasten or delay a US-led war to disarm Iraq, US Secretary of State Colin Powell sought to win over a cagey Europe for a possible assault on Baghdad.

He mixed reassurances that the Bush administration would be patient and consult its allies with warnings that time was short and the United States would not wait for ever.

"Multilateralism cannot become an excuse for inaction," Powell told the World Economic Forum in the Swiss town of Davos.

"We are in no great rush to judgement today or tomorrow, but it is clear that time is running out."

The UN inspectors report to the Security Council on Monday on their two-month-old hunt for any banned Iraqi nuclear, chemical and biological weapons. Baghdad denies having any.

The head of the UN nuclear watchdog agency Mohamed ElBaradei will tell the Council his teams have found no proof yet that Iraq is trying secretly to develop atomic weapons.

"It (ElBaradei's report) won't reveal any prohibited nuclear arms programme," said Melissa Fleming, spokeswoman for the Vienna-based International Atomic Energy Agency (IAEA).

"If we were to find a smoking gun, we wouldn't wait for an update report. We'd go straight to the Security Council."

Iraq's most influential newspaper, Babel, warned the United States that any invading troops would go home in body bags.

"If the Americans try to occupy any land of Iraq, our brave forces would turn them to dead bodies, wrap them in plastic bags and send them home," said Babel, owned by President Saddam Hussein's eldest son Uday.

UN chief arms inspector Hans Blix says Iraq has not filled holes in its arms declaration, is blocking confidential access to scientists and is balking at U-2 surveillance flights.

Teams from the UN Monitoring, Verification and Inspection Commission and the IAEA searched more sites in Iraq on Sunday.

Inspectors "don't need months"

British Prime Minister Tony Blair said Iraqi non-cooperation would breach Resolution 1441 that gave Saddam a last chance to scrap his alleged doomsday arsenal or face serious consequences.

"I don't believe it will take them months to find out whether he is co-operating or not, but they should have whatever time they need," Blair said on BBC television.

Britain has sent thousands of troops to join a US military buildup in the Gulf, but many of its European partners and other nations around the world want more time for UN inspections.

Powell promised to work "patiently and deliberately" with US friends and allies, but added: "Let the Iraqi regime have no doubt, however. If it does not disarm peacefully at this juncture, it will be disarmed at the end of the road."

"We will not shrink from war if that is the only way to rid Iraq of its weapons of mass destruction. We continue to reserve our sovereign right to take military action against Iraq alone or in a coalition of the willing," Powell added.

He said Iraq had "clear ties to terrorist groups including al-Qaeda" and had made no strategic decision to obey last November's UN disarmament resolution.

The United States has provided no evidence for its assertion that Iraq has links to Osama Bin Laden's al-Qaeda network, which it blames for the September 11, 2001 attacks on US cities.

French Prime Minister Jean-Pierre Raffarin said conflict with Iraq was not inevitable, but Saddam must cooperate with UN inspectors or face "a war of incalculable consequences".

"In our eyes, a confrontation can still be avoided," he said in a speech to France's main Jewish groups late on Saturday.

"The international community will only go to war as a last resort, once all other options have been exhausted."

US officials said the inspectors' report to the Security Council would start a final phase of consultations towards a decision on whether to depose Saddam. Blair is due to hold talks with US President George W Bush in Camp David on Friday.

Rhetorical campaign

Powell's speech in Davos, venue for an annual gathering of politicians and business people, was part of a rhetorical offensive by Washington in parallel with its military buildup.

Many nations oppose any invasion of Iraq, at least without a further Security Council resolution authorising it.

Blair said Britain would only attack Iraq without the UN backing if inspectors declared that Saddam was not cooperating and a Security Council member vetoed a second resolution.

On Saturday, Powell discussed the use of Turkish bases in a meeting with Prime Minister Abdullah Gul and ruling AKP party leader Tayyip Erdogan on the sidelines of the Davos gathering.

"They understand our needs," Powell said afterwards.

US sources in Washington said the United States wanted to put at least 15,000 troops in Turkey for a possible "northern front" against Iraq. In return, Washington had offered economic and military aid worth nearly $14 billion over three years.

Bush discussed Iraq with the leaders of Italy and Japan on Saturday. Presidents Jiang Zemin of China and Jacques Chirac of France consulted by telephone on Sunday.

China, France and Russia, all veto-holders on the Security Council, oppose any rush to war with Iraq by the council's other two permanent members, the United States and Britain.

Greece, which holds the rotating European Union presidency, said there was an emerging consensus in the 15-nation bloc that the inspectors should be given more time if they ask for it.

Foreign Minister George Papandreou said EU foreign ministers meeting in Brussels on Monday were likely to back UN efforts to tackle Iraq's banned weapons and urge a diplomatic solution.
---
How can we manifest peace on earth if we do not include everyone (all races, all nations, all religions, both sexes) in our vision of Peace?
---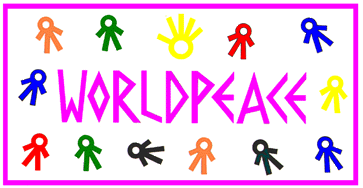 The WorldPeace Banner
To the John WorldPeace Galleries Page

To the WorldPeace Peace Page