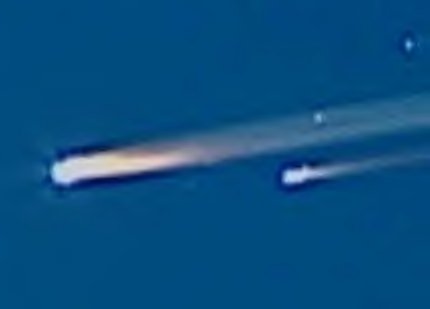 In this image from television, contrails from what appears to be the space shuttle Columbia can be seen streaking across the sky over Texas, Saturday, Feb. 1, 2003. Columbia apparently disintegrated in flames minutes before it was to land in Florida. (AP Photo/WFAA-TV via APTN)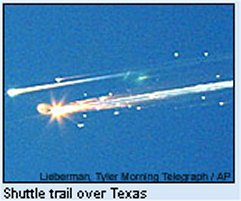 ---
World mourns Columbia astronauts

02/02/2003 14:10 - (SA)
Beijing - World leaders offered condolences on Sunday for the loss of the space shuttle Columbia and its seven crew members, as thousands in India and Israel mourned the deaths of two of the astronauts who had become national heroes.
The Columbia disintegrated over the US state of Texas on Saturday minutes before it was to land, killing all seven crew members, including Israel's first astronaut and the first Indian-born woman in space.
"For us in India, the fact that one of them is an India-born woman adds a special poignancy to the tragedy," Prime Minister Atal Bihari Vajpayee said in his condolences to US President George W Bush.
In the Indian town of Karnal, the birthplace of crew member Kalpana Chawla, jubilation turned to sorrow. She emigrated to the United States in the 1980s and became an astronaut in 1994.
Teenagers and the elderly gathered around a shrine with a photograph of Chawla draped in marigold garlands. In the picture, she was wearing a NASA uniform.
"Yesterday evening we came here to celebrate her arrival. But, when we heard this news we were really shocked," said 18-year-old Vivek Nagpal.
"It was a very great loss to our country," he said. "She proved that nothing is impossible."
Like Chawla, Israeli Ilan Ramon's role in the mission held special significance for his troubled country, where spirits were lifted when he blasted off last month on Columbia. Ramon, 48, was an air force colonel and the son of a Holocaust survivor.
Israeli teenagers who designed an experiment taken into space by Ramon gathered in stunned disbelief on Saturday night to mourn their hero.
"It's like going on a trip and getting to the door of your house and falling just as you go in," said Adar Moritz, 17, who travelled to the US state of Florida to watch the Columbia launch on January 16. "It's very sad."
Chinese President Jiang Zemin sent Bush his condolences, the official Xinhua News Agency reported. He also sent a message to Israeli President Moshe Katsav.
Jiang said he believed that mankind would continue to make further progress in space exploration despite the setback, Xinhua reported, a reflection of China's hopes to send its first astronauts into space this year.
Japanese Prime Minister Junichiro Koizumi delivered his prayers to US Secretary of State Colin Powell. "On behalf of the government and people of Japan, I pray for the crew members who accomplished their mission courageously for the progress of all mankind," he said.
The accident will immediately affect Japanese astronaut Soichi Noguchi, who was to fly on NASA's next shuttle mission, planned for March 1. US officials have suspended all shuttle flights during the investigation of the Columbia accident.
Hong Kong Chief Executive Tung Chee-hwa said he was "deeply shocked and saddened to learn of the tragic loss", while Pakistan's Foreign Office said it sympathised "with the American president and people for the loss of the precious lives".
South Korean President Kim Dae-jung sent a letter to Bush saying, "I pray for the souls of the victims and convey words of heartfelt consolation to you and the bereaved families."
Russian President Vladimir Putin telephoned Bush, saying US-Russian cooperation in space exploration made the accident even more tragic for Russians.
French President Jacques Chirac expressed "the profound emotion and feeling of solidarity ... that all my compatriots are feeling". German Chancellor Gerhard Schroeder paid tribute to the "courageous men and women" of Columbia's crew.
In letters to Bush and Sharon, British Prime Minister Tony Blair said he wished to "express the government's sadness and offer his condolences after the death of the courageous astronauts", his office said.
Canadian Prime Minister Jean Chretien also praised the astronauts' bravery. "Each one was a hero. Their contribution to science and space exploration will never be forgotten," he said.
UN Secretary-General Kofi Annan said the accident was a loss to all humankind "because the exploration of space knows no national boundaries".
Pope John Paul II received the news with great sadness and prayed for the astronauts during services, a Vatican official said.
But in China, some tempered grief with hope.
"Mankind will not give up the dream of space exploration," Chen Maozhang, a professor at China's University of Aeronautic and Astronautic Science and Technology, was quoted as saying by Xinhua.
"Facing the setbacks, mankind needs to find out the cause of the accident and make improvements," Chen said.
China is pushing its bid to become the third nation, after Russia and the United States, that is able to send its own astronauts into orbit.
Communist leaders have invested heavily in the programme, but ordinary Chinese are ambivalent. Some criticise the programme as a waste of money for a poor country where the average income per person is about $700 a year. - Sapa-AP
---
Answers Sought in Shuttle Disaster
by Marcia Dunn and Pam Easton AP
(Feb. 2) -- Remnants of the space shuttle Columbia remained strewn across east Texas and Louisiana Sunday, as authorities probed possible causes for the tragedy that pierced a crystal blue sky and stung deeper into an already shaken sense of security.

A white streak flashed across the sky high over Texas as the shuttle appeared to break off into separate balls of light Saturday, killing all seven astronauts aboard and spraying wreckage over hundreds of miles of countryside.

The catastrophe occurred 39 miles above the Earth, in the last 16 minutes of the 16-day mission as the spaceship re-entered the atmosphere and glided in for a landing in Florida. It was almost exactly 17 years after the Challenger exploded.

``The Columbia is lost,'' said President Bush, after he telephoned the families of the astronauts to console them.

``The same creator who names the stars also knows the names of the seven souls we mourn today,'' Bush said, his eyes glistening. ``The crew of the shuttle Columbia did not return safely to Earth but we can pray they are safely home.''

A focus of the immediate probe was possible damage to Columbia's protective thermal tiles on the left wing from a flying piece of debris during liftoff on Jan. 16. NASA appointed an independent commission to investigate. The agency said the first indication of trouble Saturday was the loss of temperature sensors in the left wing's hydraulic system.

The loss of shuttle commander Rick Husband, Michael Anderson, David Brown, Kalpana Chawla, Laurel Clark, William McCool and Ilan Ramon brought a new round of grief to a nation still in mourning after the terrorist attacks of Sept. 11, 2001.

Authorities said there was no indication of terrorism; at 207,135 feet, the shuttle was out of range of any surface-to-air missile, one senior government official said. Security was extraordinarily tight on this mission because Ramon, Israel's first astronaut, was among the crew members.

The spacecraft had just re-entered the atmosphere and had reached the point at which it was subjected to the highest temperatures.

NASA officials said they suspected the wing was damaged on liftoff, but felt there was no reason for concern. They cautioned that it may have had nothing to do with the accident.

Television footage showed a bright light followed by white smoke plumes streaking diagonally across the brilliant sky.

Pieces of the spacecraft were found in several east Texas counties and in Louisiana. An astronaut's charred patch and a flight helmet were among the items found. A piece of debris the size of a compact car fell into Toledo Bend Reservoir on the Texas-Louisiana line, said Sabine County Sheriff Tom Maddox.

There were at least two reports of human remains recovered in east Texas near the Louisiana line. In Hemphill, Texas, a hospital employee on his way to work reported finding what appeared to be a charred torso, thigh bone and skull on a rural road.

Nearby, also in Sabine County, two young boys found a charred human leg on their farm, The Dallas Morning News reported Sunday. ``From the hip to the foot,'' their father, Bob White said, ``it's all there, scorched from the fire.''

The FAA issued a notice to airmen because the National Weather Service radar picked up a debris cloud about 95 miles long and 13 to 22 miles wide over Lake Charles, La.

The flight was the 113th in the shuttle program's 22 years and the 28th flight for Columbia, NASA's oldest shuttle. It was built in 1981 at a cost of about $1 billion.

The infernal end of shuttle mission STS-107 was a devastating blow to the nation's space program; the Challenger explosion led to a 2 1/2-year moratorium on launches, and Saturday's accident could bring construction of the international space station to a standstill.

The shuttle delivers components of the space station to be installed; it also carries crews to and from the station. The three astronauts now on board the station could return to Earth at a moment's notice via a Russian vehicle attached to the space station.

Six shuttle flights had been planned for 2003 - five of them to the space station. The next was scheduled for March 1.

Columbia had been scheduled to land at Kennedy Space Center at 9:16 a.m.

Shuttle program manager Ron Dittemore said ``there was no indication of any impending threats to the vehicle.'' Then there was a loss of data from temperature sensors on the left wing, followed by a loss of data from tire pressure indicators on the left main landing gear.

The final radio transmission between Mission Control and the shuttle, at 9 a.m., gave little indication of any trouble.

Mission Control radios: ``Columbia, Houston, we see your tire pressure messages and we did not copy your last.''

Columbia's commander, Rick Husband, calmly responds: ``Roger, uh, buh."

For several seconds, the transmission goes silent.

Then, there is static.

Texas Sen. Kay Bailey Hutchison, in her Dallas neighborhood, said she heard a ``boom, which I thought was the breaking of the sound barrier'' - and it may have been just that, because the shuttle was traveling at 12,500 mph, 18 times the speed of sound.

In 42 years of U.S. human spaceflight, there had never been an accident during the descent to Earth or landing.

Two hours after the shuttle had been expected to land, the giant screen at the front of Mission Control showed a map of the southwest United States and what should have been Columbia's flight path. The American flag next to the center's countdown clock was lowered to half-staff.

``We trust the prayers of the nation will be with them and with their families,'' NASA Administrator Sean O'Keefe said Saturday. ``A more courageous group of people you could not have hoped to know.''

O'Keefe met with the astronauts' families, who had been waiting at the landing site for the shuttle's return. Six of the astronauts were married, and five had children.

Clark's brother, Daniel Salton, monitored Columbia's return from his Milwaukee home. It was his sister's first shuttle flight.

``I'm just so glad she got to get up to space and got to see it because that had been a dream for a long time,'' he said.

The shuttle is essentially a glider during the hourlong decent from orbit toward the landing strip. It is covered by about 20,000 thermal tiles to protect against temperatures as high as 3,000 degrees Fahrenheit.

Shortly after Columbia lifted off, a piece of insulating foam on its external fuel tank came off and was believed to have hit the left wing of the shuttle. Leroy Cain, the lead flight director in Mission Control, had assured reporters Friday that engineers had concluded any damage to the wing was considered minor and posed no safety hazard.

``As we look at that now in hindsight ... we can't discount that there might be a connection,'' Dittemore said. ``But we have to caution you and ourselves that we can't rush to judgment on it because there are a lot of things in this business that look like the smoking gun but turn out not even to be close.''

Columbia's crew had completed 80-plus scientific research experiments during their time in orbit. It was a relatively inexperienced crew; only three - Husband, Anderson and Chawla - had ever flown before.

The others were rookies, including Ramon, the 48-year-old Israeli Air Force colonel who carried a tiny Torah scroll given to him by a Holocaust survivor at a Nazi concentration camp and a small pencil drawing titled ``Moon Landscape'' by a boy killed at the Auschwitz camp.

``The state of Israel and its citizens are as one at this difficult time,'' Prime Minister Ariel Sharon's office said in a statement.

Just in the past week, NASA observed the anniversary of its only two other space tragedies: the Challenger disaster that claimed seven lives on Jan. 28, 1986 - it was set aflame by a leak in the seals of one of its right booster rockets - and the Apollo spacecraft fire that killed three on Jan. 27, 1967.

02/02/03 08:11 EST
---
How can we manifest peace on earth if we do not include everyone (all races, all nations, all religions, both sexes) in our vision of Peace?
---
The WorldPeace Banner
To the John WorldPeace Galleries Page

To the WorldPeace Peace Page