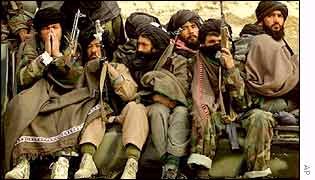 ---
Saturday, 8 February, 2003, 16:19 GMT

Taleban call for holy war

By Rahimullah Yusufzai
BBC, Peshawar

The former Taleban regime of Afghanistan has issued a rare statement urging Afghans to take part in a jihad (holy war) against US-led coalition forces based in the country.

It said the Taleban considered the possible US attack on Iraq as a continuation of the crusades against Muslims and an onslaught on Islam.

The message was faxed from an unknown location in Pakistan and signed by Mohammad Mukhtar Mujahid, styling himself as a spokesman of the Islamic Emirate of Afghanistan, the name used by the Taleban while they were in power.

A senior Taleban leader, requesting anonymity, later confirmed that the communique was drafted on the directive of their supreme leader, Mullah Mohammed Omar.

Karzai 'puppet'

Addressed to the "Muslim and Mujahid nation of Afghanistan," the communique accused the US of committing aggression against their homeland and turning it into a colony.

It maintained that Afghanistan was insecure and unstable even after 13 months of foreign occupation.

Arguing that Afghan religious scholars had endorsed jihad against the US and the "puppet" government of Hamid Karzai, the Taleban communique said all the Afghans should wage the holy war under Mullah Omar's leadership.

It said Omar had appointed two Taleban leaders - Mullah Biradar and Mullah Obaidullah (a former defence minister) - as commanders of the new jihad.

Warning

Mullah Omar, who is wanted by the US, went into hiding after the Taleban were ousted in December, 2001.

According to the communique, the Islamic Emirate of Afghanistan warned all Afghans loyal to the US and the Karzai Government to dissociate themselves from their work or face consequences.

It gave a similar warning to political and media organisations and non-governmental organisations.

The countries that had sent their troops to Afghanistan in support of the US were also threatened with reprisals and reminded of the fate of the British and Soviet forces in Afghanistan.

The statement appealed to the Islamic countries to forge unity in their ranks to rid Muslims from the "yoke of the Western imperialism" and to win the rights of the peoples of Palestine, Kashmir, Chechnya and Afghanistan..
---
How can we manifest peace on earth if we do not include everyone (all races, all nations, all religions, both sexes) in our vision of Peace?
---
The WorldPeace Banner
To the John WorldPeace Galleries Page

To the WorldPeace Peace Page