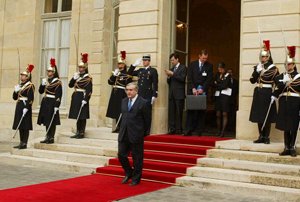 French Prime Minister Jean-Pierre Raffar (C) waits for the arrival of Russian President Vladimir Putin in the court yard of the Hotel Matignon February 11, 2003 in Paris. Russia, France and Germany called for reinforced UN weapons inspectors to disarm Iraq peacefully in a move to stop the U.S.-led build-up in a possible war with Iraq. (Getty Images)...
---
Now the Russians join moves to put brakes on invasion
By Peter Fray and Marian Wilkinson in London and Washington
February 12 2003

American hopes of securing United Nations approval for war against Iraq suffered a setback after Russia backed French-German plans to boost weapons inspections.
In a dramatic joint declaration in Paris, France's President, Jacques Chirac, flanked by Russia's President, Vladimir Putin, described war as unjustified and called for greater efforts to disarm Iraq peacefully.
But France and Russia, both permanent UN Security Council members, stopped short of saying whether they would veto the expected United States-British resolution authorising war on Iraq.
The United States President, George Bush, and other senior White House figures immediately rejected the plan.
Tensions between the Franco-German axis and the US over Iraq have plunged the 19-member NATO military alliance into crisis after the two European countries, with Belgium, blocked plans to defend Turkey in the event of a war.

They argued that supporting Turkey would be tantamount to support for an attack on Iraq.
Alliance leaders were in urgent meetings last night after Turkey formally invoked its right to military solidarity under the NATO charter, an unprecedented move in the alliance's 54-year history.
Although the US has promised to provide Turkey with the missile shield and early warning radar it has requested, the NATO crisis threatens to undermine the foundation of post-World War II trans-Atlantic relations.
The US Secretary of State, Donald Rumsfeld, labelled their actions "a disgrace" and Mr Bush said he was "disappointed" with France, in particular.
In Paris, Mr Chirac, reading from the joint declaration, said: "Russia, Germany and France are determined to ensure that everything possible is done to disarm Iraq peacefully." The statement was backed by Germany's Chancellor, Gerhard Schroeder, who met Mr Putin on Sunday.
Mr Schroeder intends to make a statement in Berlin this week before Friday's report by UN weapons inspectors.
The European Union has called a special leaders' summit for Monday to discuss the crisis in trans-Atlantic relations.
Mr Bush rejected the Franco-German proposals and said: "The issue is not only peace, the issue is freedom and liberty."
While Mr Bush was meeting the Prime Minister, John Howard, in Washington on Monday, the UN chief weapons inspector, Dr Hans Blix, flew back into New York.
Having won Iraq's agreement for U2 surveillance flights and a commitment to further co-operation, Dr Blix and his colleague, Dr Mohamed ElBaradei, are preparing their crucial reports on Iraq's compliance.
These are the reports, say UN diplomatic sources, which will determine whether the US can win enough backing on the Security Council for a new resolution giving it the green light to launch an attack against Iraq.
---
How can we manifest peace on earth if we do not include everyone (all races, all nations, all religions, both sexes) in our vision of Peace?
---
The WorldPeace Banner
To the John WorldPeace Galleries Page

To the WorldPeace Peace Page