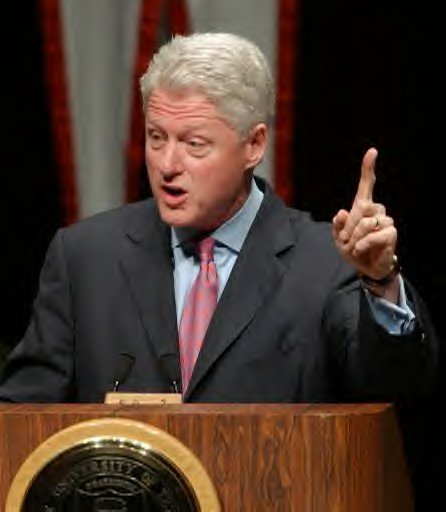 At the University of Texas on Wednesday, former President Clinton said that the United States could "easily defeat Saddam Hussein on our own," but could be accused of launching a preemptive strike.
---
Feb. 13, 2003, 12:09AM
Clinton warns of Iraq risks
Bush's predecessor criticizes tax cuts
By JANET ELLIOTT
Copyright 2003 Houston Chronicle Austin Bureau
AUSTIN -- Former President Bill Clinton said Wednesday that the United States could "quickly and easily defeat Saddam Hussein on our own," but risks being accused of launching a preemptive strike.
"Critics will say it's a pre-emptive attack, not a police action to enforce the U.N. resolution," Clinton said in a speech at the University of Texas.
Clinton said President Bush "deserves a lot of credit for saying we can't just ignore (Saddam's defiance of United Nations resolutions) forever." But he said the United States should give inspectors "a little more time" to look for weapons of mass destruction if that might persuade France, Germany and Russia to support military action to disarm Iraq.
"We need to get the chemical and biological weapons out, and do it in a way that brings the world together rather than driving it apart," Clinton said.
Clinton's speech, titled "Making Sense by Keeping Peace," was part of the Liz Carpenter Lecture Series. An enthusiastic crowd of about 5,000 attended the lecture at the Frank Erwin Center.
Clinton waived his usual $100,000 speaking fee as a favor to Carpenter, former press secretary for Lady Bird Johnson.
On the topic of North Korea, Clinton said the United States and nations such as Japan and China should engage the renegade country by offering economic aid in exchange for its abandonment of nuclear weapons programs.
"They just want us to say they're important. They don't want to go the way of East Germany," Clinton said. "We've got to break this crazy psychology."
Saying he would get political on only one issue, Clinton said the 2001 tax cuts were a bad mistake. He said the latest tax cuts proposed by Bush would compromise America's goals of making this country and the world better.
"We cannot meet these commitments and keep giving tax cuts to people of my income bracket," he said.
Outside the arena, a few protesters organized by the Young Conservatives held anti-Clinton signs but they did little to deter the festive mood of the mostly student crowd.
Before Clinton took the stage, the event at times resembled a concert or sporting event. The audience performed the wave and screamed when the lights dimmed to the strains of Clinton's campaign theme song, Don't Stop (Thinking About Tomorrow).
Carpenter drew a big laugh when she introduced Clinton.
"It's great to have a former president with us, and one that didn't need duct tape to hold us together," Carpenter said.
Clinton noted that he had spoken as part of the lecture series in 1995, when he addressed race relations before an audience that included the late Barbara Jordan, a former U.S. congresswoman.
"I felt like a preacher trying to give a sermon with God in the congregation," Clinton said.
Earlier Wednesday, about 5,000 people marched from the UT's East Mall to the Main Tower to protest a possible war with Iraq.
They were led by a banner that said, "Speak Out -- Stop the War." Some carried signs that said, "War Orphans make great terrorists." They chanted slogans like, "No blood for oil."
A similar number of students lined the parade route and watched. Most were just spectators, but some held up signs that said "Bomb Iraq," and one yelled, "Go to Class!"
After the protest reached the Tower, about half the crowd dissipated after the speeches began. But those who stayed shouted with passion and cheered the speakers.
"People don't want to be involved with murder and carnage no matter what their political system is," said state Rep. Lon Burnam, D-Fort Worth.
Chronicle reporter R.G. Ratcliffe contributed to this story.
---
How can we manifest peace on earth if we do not include everyone (all races, all nations, all religions, both sexes) in our vision of Peace?
---
The WorldPeace Banner
To the John WorldPeace Galleries Page

To the WorldPeace Peace Page