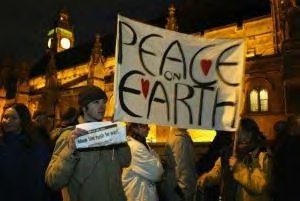 An anti-war march through downtown Seattle tomorrow, expected to draw thousands, is likely to disrupt traffic flow, but organizers have necessary city permits and will have a police escort(Ian Walton/Getty Images)...
---
February 14, 2003 2:47am (UK)


Millions Set to March in War Protest
By Phil Hazlewood, PA News
Millions of people are expected to take to the streets this weekend in opposition to military action against Iraq.

Marches are being held in more than 300 cities across the globe, uniting ordinary people, politicians, trade unionists, actors and comedians in a common purpose.

The demonstration in London alone could attract between 500,000 and one million people from across the country, making it Britain's largest-ever protest.

Meanwhile, tens of thousands of people are thought to be planning to attend simultaneous demonstrations in Dublin, Belfast and Glasgow.

The Scottish march plans to converge on the SECC in time for Prime Minister Tony Blair's speech to the Labour Party's spring conference.

The demonstrations have been organised by the Stop the War Coalition, the Campaign for Nuclear Disarmament and the Muslim Association of Britain.

They are part of a weekend of events, including the Valentine's Day Make Love Not War series of talks, rallies and discussions.

In London, high-profile supporters of the march include the capital's mayor Ken Livingstone, human rights campaigner Bianca Jagger, former MP Tony Benn and the ex-president of Algeria, Ahmed Ben Bella.

Former US presidential candidate the Reverend Jesse Jackson is also expected to be at Hyde Park, as are Labour backbenchers George Galloway and Jeremy Corbyn and the Liberal Democrat leader Charles Kennedy.

Also present on the main stage near Speakers' Corner will be former Blur frontman Damon Albarn and the singer Ms Dynamite.

The 3.5 mile march follows two routes and is scheduled to start at noon.

Route A starts from Embankment, following the River Thames to Westminster along Victoria Embankment, before turning towards Parliament Square, then up Whitehall.

From Trafalgar Square, the marchers will head up Cockspur Road and the Haymarket to Piccadilly Circus.

Demonstrators on Route B – mostly people from north of London – are set to start near the British Museum and will head down Gower Street and Shaftesbury Avenue before meeting those on Route A at Piccadilly Circus.

Both sets of protesters will then head along Piccadilly to Hyde Park, where the head of the march is expected between 1pm and 2pm.

Speeches will start as soon as possible, finishing at about 5.30pm.

The demonstration has been an organisational feat: local Stop the War Coalition groups in the capital have been urged to organise accommodation for marchers from other parts of the country in everything from mosques to church halls.

Transport arrangements have also been made, including car sharing facilities and organised coach transfers.

In Glasgow, the march starts at Glasgow Green at 11am while speakers at the SECC include MSPs John Swinney and Tommy Sheridan as well as the Glasgow Lord Provost, Alex Mosson.

---
How can we manifest peace on earth if we do not include everyone (all races, all nations, all religions, both sexes) in our vision of Peace?
---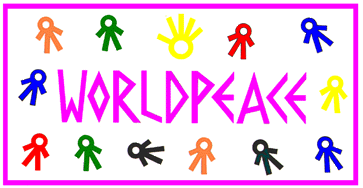 The WorldPeace Banner
To the John WorldPeace Galleries Page

To the WorldPeace Peace Page