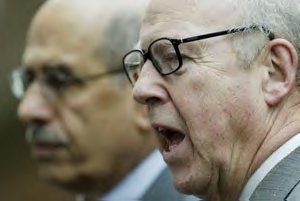 Hans Blix
Chief U N Weapons Inspector
---
Blix: No Weapons of Mass Destruction Seen
The Associated Press, Fri 14 Feb 2003
UNITED NATIONS (AP) — Chief U.N. weapons inspector Hans Blix said Friday that inspectors hadn't found any weapons of mass destruction, interviews with scientists have been useful and he cast doubt on evidence provided by Secretary of State Colin Powell indicating Iraq may have cleaned-up sites before inspectors arrived.

``In no case have we seen convincing evidence that the Iraqi side knew in advance that the inspectors were coming,'' Blix said.

Pointing to one case Powell highlighted using satellite photos of a munitions depot, Blix said: ``The reported movement of munitions at the site could just as easily have been a routine activity as a movement of proscribed munitions in anticipation of an imminent inspection. Our reservation on this point does not detract from our appreciation for the briefing.''

Regarding weapons of mass destruction, Blix said inspectors ``has not found any such weapons, only a small number of empty chemical munitions, which should have been declared and destroyed,'' he said.

``Another matter and one of great significance is that many proscribed weapons and items are not accounted for. One must not jump to the conclusion that they exist. However, that possibility is also not excluded. If they exist, they should be presented for destruction. If they do not exist, credible evidence to that effect should be presented.''

Blix also reported findings by a panel of experts that one of Iraq's new missile systems exceeds the range limit set by Security Council resolutions.

``The experts concluded that, based on the data provided by Iraq, the two declared variants of the Al Samoud 2 missile were capable of exceeding 150 kilometers in range. This missile system is therefore proscribed for Iraq,'' Blix said.

On the Al Fatah missile, Blix said: ``the experts found that clarification of the missile data supplied by Iraq was required before the capability of the missile system could be fully assessed.''

Blix said private interviews with three Iraqi scientists ``proved informative,'' but since the interviews conducted in Baghdad on Feb. 8-9, ``no further interviews have since been accepted on our terms.''

``I hope this will change,'' he said. ``We feel that interviews conducted without any third party present and without tape recording would provide the greatest credibility.''

Under intense pressure, Iraq agreed to press scientists to agree to private interviews earlier this month. Previously, all scientists insisted on being accompanied by an Iraqi official or having their interview tape recorded.

Also at the session, chief nuclear inspector Mohamed ElBaradei said his teams don't need Iraq's full cooperation to complete their work. He also said he would expand the number of inspectors working in Iraq and at offices in Vienna in order to determine whether Iraq has revived its nuclear capabilities.

``It is possible, particularly with an intrusive verification system, to assess the presence or absence of a nuclear weapons program in a State even without the full co-operation of the inspected state,'' ElBaradei said. However, prompt, full and active co-operation by Iraq ... will speed up the process.''

ElBaradei told the Security Council that he would add more staff — an apparent nod to a French proposal to beef up and continue inspections in order to avert war.

``To strengthen and accelerate our ability to investigate matters of concern, and to reinstate and reinforce our ongoing monitoring and verification system that came to a halt in 1998, we intend to increase the number of inspectors and support staff.''

``We will also be adding more analysts and translators to support analysis of documents and other inspection findings.''

ElBaradei's speech, shorter than one delivered shortly before by his counterpart Hans Blix, wasn't harshly critical of Iraq's cooperation this far.

He welcomed four private interviews the nuclear inspectors have conducted with Iraqi scientists. But he noted that the scientists had ``tape recorded the interviews.''

ElBaradei also reiterated his findings from two weeks ago that his inspectors haven't found any evidence to date that Iarq is restarting its nuclear program.

But several important questions remain unanswered and his investigation is ongoing, he said.

ElBaradei said the matter of high-strength aluminum tubes which Iraq tried to import hasn't been closed. He has said previously that the IAEA believes Iraq intended to use the tubing for conventional rockets. On Friday he said Iraq provided new documentation on the tubes, a reported attempt to import uranium, the procurement of magnets and magnet production capabilities and the use of the explosive HMX.

``The IAEA has verified that Iraq had indeed been manufacturing such rockets. However, we are still exploring whether the tubes were intended rather for the manufacture of centrifuges for uranium enrichment,'' he said.

ElBaradei also used the opportunity to welcome a move by Iraq Friday to pass legislation banning weapons of mass destruction.

``The resolution of this long-standing legal matter was a step in the right direction for Iraq to demonstrate its commitment to fulfilling its obligations under the Security Council's resolutions.''

He noted that Iraq had also accepted U-2 reconnaisance flights and said inspectors planned to make use of the capabiltiires to monitor Iraq's activities from the air.
---
How can we manifest peace on earth if we do not include everyone (all races, all nations, all religions, both sexes) in our vision of Peace?
---
The WorldPeace Banner
To the John WorldPeace Galleries Page

To the WorldPeace Peace Page