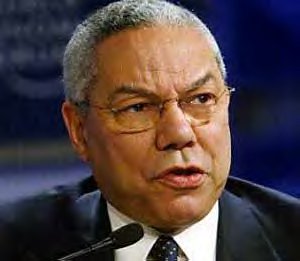 By Jonathan Wright UNITED NATIONS (Reuters) - The United States has given Iraq weeks before it decides whether Baghdad has shown sufficient compliance with UN disarmament demands(US gov)...
---
15 Feb 2003 03:34 GMT

Powell gives Iraq "weeks" to comply

By Jonathan Wright

UNITED NATIONS (Reuters) - The United States has given Iraq weeks before it decides whether Baghdad has shown sufficient compliance with U.N. disarmament demands. U.S. Secretary of State Colin Powell, after hearing reports from U.N. weapons inspectors on Friday, said it was essential to keep up the pressure on Baghdad by making clear that Iraq risks attack if it does not cooperate. Asked in an interview with CNN if the United States was still thinking of weeks, he said: "We're talking weeks." "There is still a chance for peace but we will not realize that peace if we ever back off on the pressure, if we ever make it look like we do not have the will to take this to conflict if necessary to disarm Iraq," he added. The United States has moved tens of thousands of troops to the region around Iraq in preparation for an invasion if President George W. Bush gives the green light. U.S. officials have repeatedly said a decision was only weeks away but earlier on Friday Powell appeared to have stepped back from Washington's usual hawkish position. In his speech to the U.N. Security Council, the strongest language on military action was that: "Force should always be a last resort ... but it should be a resort." Chief arms inspector Hans Blix gave the Security Council a mixed report, with material to support both the hard-line U.S. position and that of the anti-war governments. The United States appeared to be in a small minority as foreign ministers lined up to say the United Nations should give the inspectors more time, despite Iraq's failure to comply with every aspect of a November 8 resolution. PROPOSAL FOR MARCH 14 MEETING France threw up an obstacle to U.S. plans by proposing another ministerial meeting of the council on March 14, after the best time for an invasion from the military point of view. Powell did not reject that proposal but said the ministers would have to go home to consult their governments. "Now we will retire back to our capitals, talk to our heads of state and government and decide what next steps are appropriate," Powell told reporters. He refused to be drawn into a dispute with France and Germany, the European countries leading a campaign for more weapons inspectors and more time for them to do their work. "We often have strong disagreements. You do it with respect and with the understanding that we will find a way forward. None of this is personal. We are trying to get to the right answer and often this produces fireworks," he said. Iraq helped tip the balance against the U.S. position by some belated gestures of cooperation. On Friday Saddam decreed a ban on importing or making weapons of mass destruction. But Powell told the Council that Iraq was trying to trick the United Nations and the council could not allow the weapons inspection process to be "endlessly strung out." In Washington, Bush said Iraqi President Saddam Hussein "will be disarmed one way or the other". He did not rule out a second U.N. resolution, which could authorise a U.S. attack. But the White House said Bush remained optimistic that Iraq would heed international calls to disarm, averting the need for the United States to lead an invasion. Powell said the United Nations had not seen the level of Iraqi cooperation it demanded on November 8, when it passed a first resolution demanding disarmament and sending arms inspectors back to the country after a four-year absence. "We must continue to demand it. We must continue to put pressure on Iraq, put force upon Iraq to make sure that the threat of force is not removed," he said. "We cannot allow this process to be endlessly strung out," he said, mocking Baghdad's claim that it was cooperating with inspectors and disputing the anti-war argument that inspections should continue even without full Iraqi compliance. Blix disputed the significance of some of the evidence against Iraq that Powell presented to the council on February 5, but Powell said later he had other evidence to back his case that the Iraqis cleaned out some sites before U.N. visits.
---
How can we manifest peace on earth if we do not include everyone (all races, all nations, all religions, both sexes) in our vision of Peace?
---
The WorldPeace Banner
To the John WorldPeace Galleries Page

To the WorldPeace Peace Page