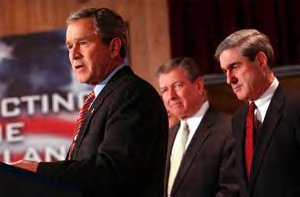 United Nations Security Council members meet after UN Chief weapons inspector Hans Blix delivered a speech on Iraq weapons inspections at UN headquarters in New York City. The United States suffered an embarrassing blow when its campaign to galvanize support for a war against Iraq failed to win any new converts in the UN Security Council and instead faced massive opposition from nations demanding more time for UN weapons inspections. (Getty Images)...
---
U.S. Fails to Rally More Support on Iraq
U.S. Fails to Galvanize More Support at U.N. Security Council for Possible War Against Iraq
The Associated Press
The United States suffered an embarrassing blow when its campaign to galvanize support for a war against Iraq failed to win any new converts in the U.N. Security Council and instead faced massive opposition from nations demanding more time for U.N. weapons inspections.
The Bush administration had hoped to capitalize on negative reports from top weapons inspectors to press its case for quick military action. But the inspectors avoided harsh criticism, and the overwhelming majority of council nations pounced on their reports of improved Iraqi cooperation to call for fresh efforts to peacefully disarm Saddam Hussein.
Only Spain and Britain spoke up for the U.S. position in the 15-member council, and even Britain's Foreign Secretary Jack Straw held out hope for a peaceful solution if Iraq dramatically accelerates its cooperation.
In a dramatic moment reflecting the strong anti-war sentiment, French Foreign Minister Dominique de Villepin was loudly applauded by delegates and visitors after an impassioned speech urging that war be considered only as "a last resort" and declaring that inspections were producing results.
The rare outburst in the normally somber chamber was repeated with somewhat less applause when Russian Foreign Minister Igor Ivanov called for more inspections and said there was no need to use force against Iraq now.
A visibly exasperated U.S. Secretary of State Colin Powell, setting aside his prepared remarks, warned the council that the world should not be taken in by "tricks that are being played on us." He said Saddam was not cooperating with weapons inspectors, and put council members on notice that in "the very near future" they would have to decide whether or not to consider the "serious consequences" against Iraq called for in the last U.N. resolution.
When Powell finished speaking, there was silence in the council chamber.
The United States and Britain had hoped to push through a new resolution quickly, and there had even been talk of a Saturday council meeting to introduce it. But without tough reports from the weapons inspectors, those plans were put on hold Friday, and British diplomats privately conceded they no longer knew when and how they would be able to circulate a draft.
Considering the strong anti-war response in the council, it appeared highly unlikely that the United States could muster the nine votes needed to authorize war now.
De Villepin told The Associated Press that France which has veto power in the council wouldn't support a U.N. resolution authorizing war. China and Russia, also with the power to veto resolutions, backed French calls to triple the number of inspectors and make their searches more intrusive to spur Iraq's peaceful disarmament.
The United States and Britain say they are willing to go to war without U.N. backing but would prefer to have it. U.N. backing is particularly important for the British government, which faces strong public opposition to a war.
Powell said he would return to Washington, consult with President Bush and make a decision "in the not too distant future" about a new resolution. Later, in an interview with CNN, he said the Iraq issue would be decided within "weeks."
What happens next will likely depend on what Washington and London decide, and that decision will almost certainly be a determining factor in whether there will be war or peace in Iraq in the coming months.
Diplomats said there are many options: The United States and Britain could force a vote on a resolution to authorize war. They could offer a milder resolution without an explicit authorization. They could try to negotiate a resolution with France, Russia and China, or they could do nothing and let the inspectors continue their work.
De Villepin proposed another ministerial meeting on March 14 to keep up the pressure on Iraq, and the idea was backed by Russia's Ivanov. But Powell said no decision was taken by the council. He noted that chief U.N. inspector Hans Blix is due to report to the council again on March 1.
In a move that surprised many diplomats, Blix cast doubt on some evidence presented by Powell last week to build the U.S. case against Iraq. He said U.S. satellite photos purportedly showing the movement of munitions at a depot "could just as easily have been a routine activity," rather than one designed to hide banned materials before inspections.
Powell said later the United States has more evidence to support the claims.
Blix's report also cited improved cooperation by Saddam's government and reported that the hunt for banned arms had thus far failed to find weapons of mass destruction. On a positive note, he announced that Iraq had accepted a South African offer to send experts who destroyed the country's nuclear, chemical and biological weapons to share their experience.
But Blix said many of Iraq's "proscribed weapons and items are not accounted for," and he again demanded answers to questions about its biological, chemical and long-range missile programs. He also reported that a new Iraqi missile system had a range exceeding the permitted limits.
Mohamed ElBaradei, head of the International Atomic Energy Agency, told the council his inspectors found no evidence Iraq had resumed its nuclear weapons program and said inspectors could do their job without Iraq's full cooperation. He later told CNN that he needs six more months of inspections, which resumed in November after a four-year break.
---
Saturday, 15 February, 2003, 13:04 GMT

The UK Prime Minister, Tony Blair, has said he still believes the United Nations should deal with Iraqi disarmament, but toppling Saddam Hussein would be "an act of humanity".

Mr Blair was speaking a day after chief weapons inspector Hans Blix told the UN Security Council that after almost three months of work, his team had found no weapons of mass destruction in Iraq.

He told a conference of his Labour party in Glasgow that "there will be more time given to inspections" - but he also stressed "the moral case for removing Saddam".

The BBC's political correspondent, Jon Devitt, says Mr Blair seemed to suggest that an aim of action against Iraq was now regime change - in line with the US administration's view.

"I continue to want to solve the issue of Iraq and weapons of mass destruction through the United Nations," Mr Blair said.

Anti-war demonstrators should remember the hundreds of thousands of people whose deaths the Iraqi leader was responsible for, Mr Blair said.

He warned that if the issue of Iraqi disarmament was not dealt with then the authority of the UN would be compromised and a far bloodier conflict would eventually come.

"If we do not confront these twin menaces of rogue states with weapons of mass destruction and terrorism, they will not disappear. They will just feed and grow on our weakness," he said.

Divisions

The UN Security Council remains deeply divided over the Iraq crisis.

France, China and Russia - which all have the power of veto - say inspectors should be given the time they need to complete their task.

But the US, backed by Britain, says Iraq must not be allowed to string out the inspections process.

The US and Britain would prefer the UN Security Council to pass a second resolution authorising the use of force against Iraq - which would provide international backing.

But Friday's session demonstrated the level of opposition within the Security Council to any moves to cut the inspections short, the BBC's Susannah Price reports.

US Secretary of State Colin Powell refused to give a deadline for action against Iraq, but he said "we are talking weeks".

Mixed results

Mr Blix said that while serious questions did still remain - notably the disappearance of large quantities of chemical and biological material - definite progress had been made.

In his report, Mr Blix said that while disarmament could be still be achieved, "the issues of anthrax, the nerve agent VX and long-range missiles [are]... perhaps the most important problem we are facing.

"Iraq itself must squarely tackle this task and avoid belittling the questions," he said.

The chief inspector said 1,000 tons of banned chemicals and other proscribed weapons remained unaccounted for.

Mr Blix, however, cast doubt on American intelligence material presented to the Security Council last week by Colin Powell.

He said he had no evidence that Iraq had had advance warning of inspections - as has been claimed by the US - and said images said to show suspicious movement at an Iraqi weapons site could have been pictures of "routine activity".

He said private interviews with Iraqi scientists - a key sticking point - had "proved informative", but no interviews had taken place on the UN's terms since 9 February.

The head of the International Atomic Energy Agency (IAEA), Dr Mohamed ElBaradei, repeated his finding that his inspectors had discovered no evidence that Iraq was restarting its nuclear programme.
---
How can we manifest peace on earth if we do not include everyone (all races, all nations, all religions, both sexes) in our vision of Peace?
---
The WorldPeace Banner
To the John WorldPeace Galleries Page

To the WorldPeace Peace Page