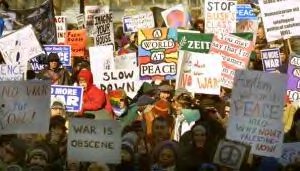 ---
Anti-war demonstration: Millions give dramatic rebuff to US war plans
asiantribune.com February 16, 2003
Weekend protests worldwide by millions of anti-war activists delivered a stinging rebuke to Washington and its allies on their hard-line advance towards war.

The unprecedented wave of demonstrations, involving eight million to 11.5 million people, according to various estimates, further clouded US war plans a day after they suffered a diplomatic setback at the United Nations.

Significantly, some of the biggest rallies were held in countries which have strongly supported the pledge by US President George W. Bush to use force if necessary to strip Iraq of suspected weapons of mass destruction.

In Sydney Sunday, Prime Minister John Howard was greeted upon his return from a nine-day trip that took him to the United States and Britain by the largest anti-war demonstration ever seen in Australia.

An estimated 250,000 people filled the streets of the antipodean nation's largest city, following on from demonstrations that began Friday in Melbourne and cropped up from Brisbane to Canberra.

A crowd estimated by organizers to be three million-strong marched through Rome to condemn Prime Minister Silvio Berlusconi's backing of Washington. More than five million people turned out in separate demonstrations in Spain, protest leaders said.

Even Britain, the staunchest US ally, saw at least 750,000 people tramp through London in the country's biggest protest ever to give their government's stance the thumbs down. Organizers put the figure at more than two million.

"If we don't stand up and say no to Bush, he thinks he can do what he likes because he's got the most powerful military and economy in the world," said Nick Lobnitz, a 24-year-old Briton.

Demonstrators turned out in droves Saturday in New York, where organizers expected more than 100,000 people as the focal point of the largest display so far of US public opposition to an attack on Iraq.

The White House, which appears to have been rattled by the surge in resistance to its calls for quick military action, was low key in its response to Saturday's massive display of pacifist feeling.

"The president is a strong advocate of freedom and democracy, and one of the democratic values that we hold dear is the right of the people to peaceably assemble to express their views," said Jeanie Mamo, a spokeswoman.

Mamo also stressed that Bush views the military option in Iraq "as a last resort. He still hopes for a peaceful resolution, and that is up to (Iraqi President) Saddam Hussein."

There were other signs the US march toward war was losing steam, at least for the moment, after most members of the UN Security Council urged Friday that UN weapons inspectors be given more time to do their work in Iraq.

British Prime Minister Tony Blair sounded a conciliatory note Saturday after a relatively upbeat report issued by chief UN arms inspector Hans Blix on Iraqi cooperation in his search for chemical and biological arms.

"There will be more time given to inspections," and Blix will report back to the Security Council on February 28, Blair told a Labour Party conference in Scotland. But he added the crisis cannot be allowed to drag on forever.

A senior diplomat at the United Nations in New York said an early Security Council vote on a resolution to authorize the use of force against Iraq looked unlikely after Friday's show of support for more inspections.

The diplomat, who asked not to be named, acknowledged the anti-war camp was likely to gain more support at an open council meeting scheduled for Tuesday, when non-members will be allowed to take the floor.

Russian President Vladimir Putin and the president of the European Commission, Romano Prodi, also voiced their support for UN weapons inspectors to continue their work in Iraq.

Pakistani President Pervez Musharraf, who backed Bush in the war in Afghanistan, told him by telephone Friday that a strike against Iraq is "not a good option," officials in Islamabad said Saturday.

From Baghdad, papal envoy Cardinal Roger Etchegaray told Italian television after a two-hour meeting with Saddam that the Iraqi leader felt "more relieved" after Friday's report by the UN disarmament inspectors.

"He is doing everything to avoid war," said Etchegaray, who brought Saddam a personal message from Pope John Paul II. "He is the first to be concerned. He is the first to be mobilising all his energies to avoid war."

Saddam's deputy prime minister Tareq Aziz, a Christian, spent Saturday morning in Assisi praying at the tomb of St Francis as part of a peace ceremony organized by an Italian Catholic Foundation outside the anti-war march.

Arab foreign ministers met in Cairo to discuss the crisis. Egypt said an extraordinary Arab summit on Iraq and the Palestinian question would be held at the Red Sea resort of Sharm El-Sheikh in the week beginning February 22.

The United States has already deployed some 150,000 troops in the Gulf region in anticipation of a move against Iraq but is still trying to win the approval of Turkey to use its soil to mount a northern front.

Turkey is seeking NATO's assistance to prepare for possible reprisals by Iraq. But France, Belgium and Germany sparked a crisis within the alliance by blocking such help until the issue of a war against Baghdad was decided.

Diplomats in Brussels said NATO ambassadors should reach a compromise in the dispute by Tuesday.

---
Feb. 16, 2003. 01:00 AM

`Make tea, not war,' British say

Thousands march to send message to U.S. ally Blair London peace rally called the biggest in nation's history


OLIVIA WARD
STAFF REPORTER

LONDON—Famous for the wars it has fought, Britain made history yesterday with the largest peace demonstration ever held on its windswept shores.

It was one of more than 600 worldwide protests against an American-led war on Iraq, bringing out millions of people who demanded that U.S. President George W. Bush abandon his plan to attack Baghdad and depose Saddam Hussein by force.

"I welcome you to the city of London, and the biggest peace demonstration in 2,000 years of British history," said Mayor Ken Livingstone, as hundreds of thousands of people from all over the country braved bone-chilling winds to converge on Hyde Park for a two-hour rally.

Police estimated the crowd at 750,000. But Livingstone told the protesters the number was likely closer to 2 million.

Glasgow, Belfast and other British cities were also the scenes of anti-war protests, delivering a message to Prime Minister Tony Blair — Bush's chief pro-war ally — that the country was solidly opposed to joining an assault on Iraq.

"There is no just and moral case for war against Iraq," Liberal Democrat leader Charles Kennedy told crowds waving signs that read "Not In My Name" and "Make Tea, Not War."

As Blair's political opponents scored points at his expense and influential media took up the anti-war cudgel, the prime minister conceded United Nations inspectors should be given more time to track down Baghdad's deadly weapons before an assault is launched.

But, Blair told a conference in Glasgow, Saddam must be disarmed soon, or the U.N.'s credibility would be at risk.

"If we show weakness now, if we allow the plea for more time to become just an excuse for prevarication until the moment for action passes ... the menace, and not just from Saddam, will grow," he said, looking tired and uneasy.

"The authority of the U.N. will be lost and the conflict, when it comes, will be more bloody."

Although Blair received a standing ovation for his speech, the audience was smaller than the number of anti-war protesters outside the exhibition hall where he appeared yesterday morning. Tens of thousands of people mobbed the building, blowing horns and shouting anti-war slogans.

In London Friday night, busloads of demonstrators rolled into the city centre and some staked out positions at the head of parades in the early hours yesterday.

The marchers were a cross-section of multicultural Britain, from elderly Middle Englanders in Wellington boots to Muslims in traditional robes, young black professionals and ravers with dyed green hair.

Some were members of organized groups, such as the moderate Muslim Council of Britain and the radical Socialist Workers Party. Others included pro-Palestinian demonstrators, trade unionists and anti-globalization protesters.

But many were ordinary Britons galvanized by the threat of what they called an unjustified war in the Middle East. And many of those admitted they had never turned out to a street protest before.

"At my age, I have lots of time to put my feet up and watch the telly," smiled Madeleine McCaul, a retired teacher shivering with cold. "But if I see one day they're bombing Iraq, I'd blame myself for not even getting out of my chair to try and stop it."

Elaine Jacobson, another London pensioner, said her Jewish faith persuaded her to attend.

"I believe in Israel," she said, "and I am very frightened about what will happen to Jewish people inside and outside the country if a war breaks out.

"There must be a better way of getting rid of Saddam Hussein."

Speakers at the rally included celebrity activist Bianca Jagger, pop star Ms Dynamite and popular Labour MP Mo Mowlam, all delivering a single-minded message of opposition.

But an American, Jesse Jackson, riveted the protesters with a message of peace and reconciliation.

Chanting "give peace a chance" and "keep hope alive," Jackson told the crowd war could still be averted, and Blair could lead the movement away from the threatened conflict.

"We appeal to the world to choose life over death," he said.



---
From VoteNoWar.org
Dear VoteNoWar Member:
People around the world defied their borders, defied false divisions, and defied the Bush administration's demands for obedience, to join together in city after city as millions marched around the world today to say "No War Against Iraq." As the day began in the earliest time zones, hundreds of thousands took to the streets in a wave of protest that spanned the entire world throughout the day.
It is one of the great ironies of recent history that the Bush administration's efforts to seize the world by force, its arrogant, bullying and dangerous efforts to wage a catastrophic war of aggression against Iraq, are now the catalyst to a global anti-war movement unlike anything that has existed for three decades -- that is, since the close of the Vietnam War. The extremist policies of Bush, in service of his corporate backers, are now engendering a global resistance movement that is stepping forward to demand an end to militarist domination and asserting the right of people to live in peace with justice and self-determination. And the sheer mass of people deciding that this was their time to speak out is a message of hope that is embraced by all.
Large anti-war demonstrations took place in most of the major cities of the world. All told, more than 600 cities and towns were the scene of vibrant protests. In the United States, most of the major anti-war coalitions fully mobilized for the February 15 actions.
In New York City, the people defied police refusal to grant a march permit by turning the upper east side broad boulevards into a sea of humanity. Hundreds of thousands filled First Avenue, Second Avenue and Third Avenue. On First Avenue the rally stretched from 52nd St. past 80th St. Second and Third Avenues, and even over to Lexington Avenue, were clogged with demonstrators who were prevented by police barricades and checkpoints from reaching the main assembly site. The police also used horses, clubs and pepper spray to carry out assaults against peaceful protesters. The National Lawyers Guild Mass Defense Committee reports that over 320 people have been arrested, and that many are being held in tight handcuffs without access to water, food or bathroom facilities.
Demonstrations took place in scores of cities throughout the United States. In Los Angeles, 100,000 demonstrated in the largest anti-war protest in many years. 5,000 marched in Houston, 7,000 in Chicago, more than 7,000 in Sacramento, thousands marched in San Jose and Detroit. In San Francisco, the demonstration is taking place on Sunday, February 16.
Internationally, the demonstrations included some of the biggest ever. The original call for the February 15 demonstrations came from the European anti-war movement. In London, the demonstration was nearly two million according to march organizers. Africa, Asia, South America, the Middle East, and Australia all protested. Millions more marched throughout Europe -- in Madrid, Barcelona, Paris, Berlin, Rome, Amsterdam and throughout the continent. In Damascus, 200,000 marched. Tens of thousands marched in Buenos Aires. In Toronto, 80,000 took to the streets.
Please send us reports and photos (to VoteNoWar@InternationalAnswer.org) about the actions in your town or city so that we can tell all the VoteNoWar members about each others' efforts.
Congratulations to all the VoteNoWar members who did their part to make the February 15th international day of actions such an historic event.
---
How can we manifest peace on earth if we do not include everyone (all races, all nations, all religions, both sexes) in our vision of Peace?
---
The WorldPeace Banner
To the John WorldPeace Galleries Page

To the WorldPeace Peace Page