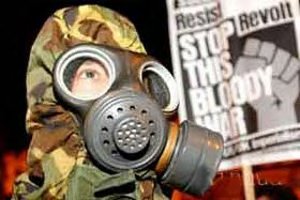 TIMES NEWS NETWORKBAGHDAD/WASHINGTON: The United States and Britain considered giving diplomacy more time on Sunday in the face ofresistance at the United Nations to their plans for war to disarm Iraq and after vast weekend peaceprotests(Xinhua Photo)...
---
Anti-war push brings more time for Iraq diplomacy
TIMES NEWS NETWORK
MONDAY, FEBRUARY 17, 2003 06:55:31 AM
BAGHDAD/WASHINGTON: The United States and Britain considered giving diplomacy more time on Sunday in the face of resistance at the United Nations to their plans for war to disarm Iraq and after vast weekend peace protests.
Among more than six million people who marched in a wave of global protest not seen since the Vietnam War, some of the largest crowds were in countries whose leaders have backed the hawkish stand of US President George W. Bush.
There was little sign the demonstrations, capped by a rally in Sydney on Sunday, had put off pro-war leaders, who say Baghdad is hiding illegal weapons that pose a global threat.
NATO, its credibility rocked by a bitter internal row over Iraq, wrangled for hours on Sunday evening over the wording of a compromise to let it prepare measures to protect Turkey in the event of a war.
Diplomatic splits persisted elsewhere, complicating efforts by Washington and London to win UN backing for military action to disarm Iraq and oust President Saddam Hussein, who denies hiding banned weapons from UN inspectors.
And Turkey, which would be in the front line in any conflict, warned Washington not to expect immediate permission to deploy tens of thousands of troops on its territory.
France, which won applause on Friday at the UN Security Council by insisting inspectors needed more time in Iraq, repeated its call on Sunday, drawing criticism from Washington which said Paris was easing the pressure on Saddam.
Babel, newspaper of Saddam's eldest son Uday, said the protests and Friday's relatively positive report by UN weapons inspectors meant Washington had suffered a decisive defeat.
Bush's national security adviser Condoleezza Rice said, however, Washington was still working on a possible new United Nations resolution on Iraq.
"We don't want a Security Council resolution that somehow is a delaying tactic," she told Fox News, adding that a new resolution had not yet been drafted. "We're working it with different parties, with our friends," she said.
A senior British diplomatic source said the United States was prepared to spend longer trying to bring key UN Security Council members round after the showdown on Friday at which there appeared to be no majority for military action.
"If that takes another couple of weeks, that time will have to be found," the source said, stressing that there would have to be a defined deadline for the UN inspection process to produce results. "It's got to be clearly time-limited."
Many of the protesters who marched in 600 towns and cities worldwide on Saturday said they feared war with Baghdad would bring retaliation by followers of bin Laden, blamed for attacks on the United States that killed about 3,000 people in 2001.
French President Jacques Chirac told Time magazine the UN weapons inspectors should be given more time and resources to ensure the peaceful disarmament of Iraq, warning that a conflict could "create a large number of little (Osama) bin Ladens".
But he left the door open to UN backing for military action. "If Iraq doesn't cooperate and the inspectors say this isn't working, it could be war," he said in a lengthy interview.
The British diplomatic source said a French request for another ministerial meeting of the Security Council on March 14 might be acceptable if it resulted in a clear-cut decision. "But not if it's just buying another four weeks.
UN arms inspectors on Sunday tagged Baghdad's Al Samoud missiles, found to exceed the range allowed under UN resolutions, to show they were accounted for and could be tracked. They also investigated 12 suspect sites across Iraq.
Iraqi Vice President Taha Yassin Ramadan said the United States was determined to attack Iraq even though UN weapons inspectors had not found any weapons of mass destruction.
"The US administration of evil is still beating the drums of war," Ramadan said at the opening of a memorial at the al-Amiriyah shelter, where about 400 people died when it was bombed by US planes during the 1991 Gulf War over Kuwait.
Iraq's military said US and British jets patrolling a "no-fly" zone set up after that war hit civilian targets on Sunday. The number of such strikes has grown during the US military build-up in the Gulf region.
The Pentagon said aircraft had targeted sites that could be used for communications in targeting the patrol warplanes.
At talks in Cairo, Arab foreign ministers said in a final communique it was necessary for Arab states to deny any kind of support for military action against fellow Arab state, Iraq.
Diplomats and analysts say Arab leaders are anxious to limit popular backlash over a war they may not be able to stop.
Deep divisions remained at NATO, where France, Belgium and Germany have refused to back measures to protect Turkey in the event of war with Iraq for fear such a decision would imply war was inevitable. Belgium said talks on Sunday were "tough".
Circumventing the alliance row, the Netherlands said it had sent three Patriot anti-missile batteries to Turkey to protect NATO's only Muslim member state in the event of war.
(Additional reporting by Miral Fahmy in Dubai, John Chalmers and Paul Taylor in Brussels, Alastair Macdonald in Paris, Robert Evans in Geneva, Mark Bentley in Ankara)
---
How can we manifest peace on earth if we do not include everyone (all races, all nations, all religions, both sexes) in our vision of Peace?
---
The WorldPeace Banner
To the John WorldPeace Galleries Page

To the WorldPeace Peace Page