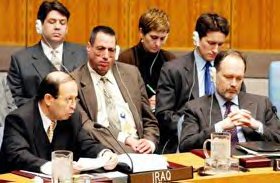 Support for a peaceful solution to the Iraqi issue continued to build up at the United Nations on Wednesday when more members called for further inspections against a rush to war(Xinhua photo)...
---
More UN members favor peaceful solution to Iraqi crisis
Xinhuanet 2003-02-20 07:33:22
UNITED NATIONS, Feb. 19 (Xinhuanet) -- Support for a peaceful solution to the Iraqi issue continued to build up at the United Nations on Wednesday when more members called for further inspections against a rush to war.
Wednesday's Security Council open debate showed a similar scenario to the first-day debate Tuesday -- a vast majority of the 32 countries taking the floor voiced deep concerns over a possible US-led war on Iraq and threw their backing behind France's proposal for more inspections.
"Resolution 1441 had been implemented satisfactorily. In turn, two briefings by the chief inspectors had described success in a very short period of time, and further success was promised in the upcoming period," Egyptian Ambassador to the United Nations Ahmed Aboul Gheit said at the meeting.
"The inspection process must be supported and continue, without interruption or rigid deadlines, as long as it was achieving a positive outcome," he stressed.
"The repercussions of armed conflict for the Middle East and the whole world made it imperative to work with diligence, patience and determination towards a peaceful settlement."
Egypt's opinion was echoed by Switzerland, Malaysia, Canada and many other nations.
Swiss UN Ambassador Pierre Helg said he did not think the moment for the use of force had come and his government dreaded the consequences for the civilian population of a military operation.
"The resort to force could only be envisaged after all peaceful means to find a solution to the crisis had been exhausted," he emphasized. "In any case, the use of force must be authorized by a Council resolution."
Malaysian UN Ambassador Zainuddin Yahya said his country favored the continuation of inspections, as advocated by most Council members and other speakers in the debate.
He supported the proposal by France on the need to increase the human and technical capacities of the inspection teams in accordance with resolution 1441, as well as their intention to request another meeting at the ministerial level on March 14 to appraise the situation and progress made.
The United States and Britain, both feverishly advocating for prompt military action in Iraq, could only find partial support from a small number of countries including Macedonia and Nicaragua.
Macedonian UN Ambassador Srgjan Kerim accused Iraq of being in "material breach" of relevant (UN) resolutions, and called on the Security Council to take the necessary and appropriate action in response to Iraq's continuing threat to international peace and security.
"The inspections had produced valuable results and might need to continue, strengthen and expand their activities in order to carry out resolution 1441," he said.
"However," he argued, "the seriousness of the situation required immediate and unconditional responses from the Iraqi regime, and time was running out."
The debate was called at the request of South Africa, current chair of the 115-nation Non-Aligned Movement, to allow non-councilmember states to air their views on the Iragi issue.
It started Tuesday afternoon and extended into Wednesday due toa vast number of countries signed up to speak.
Among the 27 nations speaking at Tuesday's debate, Australia and Japan threw strong backing for the tough US position, with Peru and Argentina expressing vague support.
Diplomats here believe growing opposition at the United Nations, compounded with global protests for peace, could complicate Washington's diplomatic maneuvers to push for a second resolution backing war with Iraq, adding that the US and Britain may postpone distributing the draft resolution among council members until next week.
---
How can we manifest peace on earth if we do not include everyone (all races, all nations, all religions, both sexes) in our vision of Peace?
---
The WorldPeace Banner
To the John WorldPeace Galleries Page

To the WorldPeace Peace Page