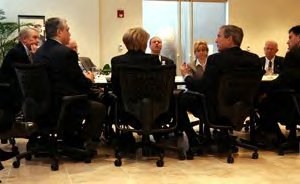 Apparantly due to the US'Iraq policy and economic slowdown, President George Bush's job approval ratingshave dipped to 52 per cent, a sharp decline from 64 per cent two months ago, asurvey has said. The Harris poll, a nationwide telephonic survey conducted by Rochester-based Harris Interactive, and released on Wednesday, said all members of Bush's cabinet, barring Secretary of State Colin Powell, have seen massive decline in their ratings.(White House)
---
George Bush's ratings fall sharply in US
THURSDAY, FEBRUARY 20, 2003 07:26:15 AM
SILICON VALLEY: Apparantly due to the US' Iraq policy and economic slowdown, President George Bush's job approval ratings have dipped to 52 per cent, a sharp decline from 64 per cent two months ago, a survey has said.
The Harris poll, a nationwide telephonic survey conducted by Rochester-based Harris Interactive, and released on Wednesday, said all members of Bush's cabinet, barring Secretary of State Colin Powell, have seen massive decline in their ratings.
Bush's ratings had soared to 90 per cent soon after the September 11, 2001 terrorist attacks and had stayed high for an extraordinary period. However, the growing nervousness about the war on Iraq and an unease about the economy appears to have taken a toll on the public interest.
Over the last two months, the number of people giving negative ratings grew to 46 per cent from 35 percent.
According to the poll, Colin Powell was the only cabinet member still enjoying high ratings. He has an extraordinarily high degree of popularity, with 76 per cent giving him positive and only 21 per cent giving him negative. The figures are fractionally better than December 2002, perhaps because of his recent powerful testimony to the UN Security Council.
The telephonic survey was was conducted among a sample of 1,010 adults from February 12 to 16.
---
How can we manifest peace on earth if we do not include everyone (all races, all nations, all religions, both sexes) in our vision of Peace?
---
The WorldPeace Banner
To the John WorldPeace Galleries Page

To the WorldPeace Peace Page