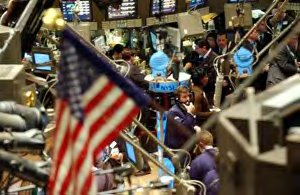 — Investors already edgy about the economy got new reasons to sell stocks Thursday with the release of four disappointing economic reports. Ongoing worries about a potential war with Iraq and what it might do to the economy depressed the market further. The Dow Jones industrial average closed down 85.64, or 1.1 percent, at 7,914.96. The broader market also pulled back(Getty Images)...
---
Dow Closes Down 86, Nasdaq Declines 3
The Associated Press, Fri 21 Feb 2003
NEW YORK (AP) — Investors already edgy about the economy got new reasons to sell stocks Thursday with the release of four disappointing economic reports. Ongoing worries about a potential war with Iraq and what it might do to the economy depressed the market further.

The Dow Jones industrial average closed down 85.64, or 1.1 percent, at 7,914.96. The broader market also pulled back. The Nasdaq composite index declined 3.09, or 0.2 percent, to 1,331.23. The Standard & Poor's 500 index fell 8.03, or 1 percent, to 837.10.

Analysts said investors were particularly unnerved by a jump in energy prices, fearing costs will go up even more if there is a war with Iraq.

``People are unwilling to invest and make commitments until we get clarity on Iraq,'' said Brian Bush, director of equity research at Stephens Inc.

A string of downbeat economic reports pulled the market lower. First, there was news that the United States recorded a $435.2 billion trade deficit for 2002, the largest imbalance in history, as the weak global economy hampered American exports while imports of autos and other consumer goods reached record highs.

And the Labor Department reported that inflation at the producer, or wholesale, level jumped 1.6 percent in January, the biggest increase in 13 years, led by a 4.8 percent spike in energy costs.

The government also said the number of newly laid off workers filing unemployment claims jumped to a seven-week high of 402,000 last week, up by 21,000 from the previous week.

In the fourth report, the Conference Board said a key gauge of future economic activity declined in January, breaking from three straight months of gains. The industry group reported that its Index of Leading Economic Indicators slipped by 0.1 percent in January from a month ago to a revised 111.2, weaker than the flat reading analysts had expected.

``Iraq is essentially a wet blanket over the economy at this point,'' said Kevin Caron, market strategist at Ryan, Beck & Co. LLC. ``When you get a slightly higher-than-expected jobless claims number and a rise in producer prices because of oil, there is some concern about the economy.''

Investors have been fretting that a war with Iraq would prompt consumers and businesses to further clamp down on spending, derailing what's already been a slow economic recovery.

Target fell $1.10 to $26.77 after meeting fourth-quarter earnings expectations but reporting smaller-than-anticipated revenue. The retailer also said same-store sales, those at stores open at least one year, fell 2.2 percent in the last three months of 2002.

Skechers U.S.A. dropped $1.91 to $6.09 after the maker of trendy footwear reported a fourth-quarter loss of 23 cents a share, more than the 21 cents analysts anticipated.

Kellogg fell $1.10 to $30.12 after Credit Suisse First Boston downgraded it to ``neutral'' from ``outperform.''

Gainers included J.C. Penney, which rose $1.34 to $19.77 after releasing fourth-quarter earnings that surpassed Wall Street's forecast.

Declining issues outnumbered advancers nearly 4 to 3 on the New York Stock Exchange. Trading was extremely light as many investors chose to stay on the sidelines. Consolidated volume totaled 1.51 billion shares, just ahead of Wednesday's 1.33 billion.

``No one is going to make a bet in this market until we think we are close to a resolution in Iraq. That is what you are seeing in the weak volume,'' said Stephens' Bush.

The Russell 2000 index, the barometer of smaller company stocks, fell 0.54, or 0.2 percent, to 359.74.

Overseas, Japan's Nikkei stock average finished Thursday down 0.3 percent. In Europe, France's CAC-40 fell 1.9 percent, Britain's FTSE 100 rose 0.8 percent and Germany's DAX index declined 1.3 percent.

---
Snow: War Worries Rattle World Economy

By JEANNINE AVERSA



Associated Press Writer





February 21, 2003, 2:42 AM EST





LONDON -- Entering his first international economic meeting, Treasury Secretary John Snow is focusing on how to energize a sagging global economy that is feeling the added drag of a possible war with Iraq.

Getting the world economy back to full throttle is one of the biggest challenges facing top finance officials from the seven largest industrialized countries as they gather Friday and Saturday in Paris, Snow said.

The task is being made more complicated as war worries shake business confidence and further damp global economic activity, he said.

"I think it is having -- the whole Iraqi situation -- is having a decided negative effect on economic activity," Snow told reporters Thursday before heading to France for the Group of Seven meeting.

Snow said he would be discussing President Bush's proposed new round of tax cuts, telling his colleagues the plan would not only help boost U.S. economic growth, but also aid other parts of the world.

U.S. officials are concerned that the United States, even with its uneven economic recovery, is still the only engine of global growth because Japan is stuck in a decade-long slump and growth in Europe is faltering.

"The strength of the international economy is tied to the performance of the U.S. economy," Snow said. "If it grows, it helps the rest of the world grow."

Federal Reserve Chairman Alan Greenspan also was to participate in talks as part of the winter meeting of the G-7 countries -- the United States, Japan, Germany, France, Britain, Italy and Canada.

Greenspan dealt Bush's tax cut program a blow last week when he told congressional committees that he was not convinced the U.S. economy needed any further stimulus to guarantee stronger growth this year.

"I'd like to see a broad-based consensus come out of the G-7 on the importance of more vigorous growth on a global basis," Snow said. "Now our growth focus will take the form of the president's tax program. That is the first order of business for us."

"In some other countries it may require some other set of initiatives to best promote growth," he added.

Snow said he believed the war issue would be an important backdrop at the meeting. He would not discuss whether he would be lobbying for financial support for any U.S.-led military effort against Iraq or in rebuilding after a war.

Still, he indicated it would be useful to develop a framework for dealing with those issues.

In terms of how to best get rid of the Iraqi uncertainty, Snow stuck to the Bush administration's stance.

"I think the appropriate response there is the one that the United States is pursuing -- to build a coalition that is willing to take the actions that are necessary to end the risks that Saddam Hussein poses for the world, and that by peaceable means, certainly, if possible," Snow said.

Snow used a stop in London on Thursday to bolster ties with financial officials in Britain, a close ally in the U.S. campaign to disarm Iraq.

The treasury chief had a full day of private meetings with British business leaders, economists and top finance officials centering on the delicate state of the global economy.

Snow, a former railroad executive with CSX, replaced Treasury Secretary Paul O'Neill, who was ousted by Bush in December in a shake-up of his economic team.

On Friday, Snow was expected to have one-on-one discussions with finance officials from France, Italy, Germany and Russia. A bilateral meeting with Japanese officials was set for Saturday.

Copyright © 2003, The Associated Press
---
How can we manifest peace on earth if we do not include everyone (all races, all nations, all religions, both sexes) in our vision of Peace?
---
The WorldPeace Banner
To the John WorldPeace Galleries Page

To the WorldPeace Peace Page