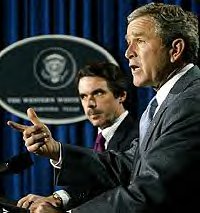 President Bush speaks during a news conference at his Texas ranch with Spanish Prime Minister Jose Maria Aznar today.
---
Feb. 22, 2003, 5:49PM
Bush confident new U.N. resolution to authorize Iraq war
Associated Press
CRAWFORD -- President Bush, declaring that Saddam Hussein has not disarmed and does not intend to, said today the United States will submit a new resolution to the U.N. Security Council early in the week to set the stage for war against Iraq.
The resolution, to be offered jointly with Britain and possibly Spain, will make its case in "clear and simple terms," Bush said.
He predicted its approval, even though disagreements continued among sponsors over its wording and whether it should set a specific deadline. There has been little support thus far in the 15-member council for moving ahead with any new resolution.
"We will not allow the Iraqi dictator ... to continue to possess or to produce weapons of mass destruction," Bush said at a news conference on his ranch with Spanish Prime Minister Jose Maria Aznar at his side.
Asked if this was the Security Council's last chance to show its relevance, Bush answered curtly, "Yes."
The president gave another one-word reply -- "No" -- when asked whether he again was willing to wait two months before U.N. action, the length of time it took to pass the previous Iraq resolution last fall.
"Time is short," Bush added.
Aznar, an ally of Bush's hard line against Iraq who nonetheless faces overwhelming opposition at home to war, said: "Our aim is for Iraq to disarm and for Saddam to comply with his obligations."
Even so, Aznar emphasized that it was important to do this "in unity and in agreement within the framework of the Security Council."
Bush has repeatedly said he would lead a "coalition of the willing" if the Security Council failed to act.
Of the 15 Security council members, only three other nations have joined the United States in pressing for a new resolution: Britain, Spain and Bulgaria. To prevail, the United States needs nine votes, and weeks of intense lobbying by the United States have apparently failed to add to the tally of supporters.
The United States and Britain must also persuade the other three permanent members of the Council -- France, Russia and China -- to at least acquiesce by not exercising their vetoes. All three have argued for giving inspectors more time to their job, and have voiced objections -- France's the loudest -- to military action now.
But Bush brushed aside doubts about whether the resolution could overcome those deep reservations, telling reporters "we are just beginning" to line up allies. Bush noted that last November's resolution sending U.N. weapons inspectors back to Iraq eventually passed unanimously after similar questions about its fate.
The president pointed to provisions of the earlier resolution demanding that Saddam surrender the weapons of mass destruction the Bush administration says he has.
"He hasn't disarmed," Bush said. "So the clarity of vision that took place four months ago I'm confident will be in place after the Security Council takes a good look at the facts."
Saddam's refusal to comply with terms of that resolution, as well as with a string of previous ones, Bush said, prompts the urgency now.
"He'll play like he's going to disarm. He has no intention of disarming," Bush said. "Otherwise, he would have done so."
Bush also dismissed reports that Iraq had agreed to destroy missiles that weapons inspectors declared had longer ranges than permissible. Those missiles amount to a "just the tip of the iceberg" of Iraq's arsenal, Bush asserted.
The new resolution would endorse military action if Iraq fails to comply, possibly by a time certain. U.S. officials said they were continuing to tinker with the wording in hopes of picking up as much support as possible among wavering council members.
Despite the lack of final draft, Bush said the resolution would be submitted in New York "early next week."
Administration officials hoped Aznar could help win over skeptical allies for a possible invasion of Iraq, particularly the other two Spanish-speaking nations on the Security Council -- Chile and Mexico.
But Aznar, who visited Mexico before coming here, apparently failed to sway President Vicente Fox, who wants a peaceful resolution.
Aznar said it was "difficult to ask for agreement on something that doesn't exist yet."
Before meeting with reporters at midday, Bush and Aznar called British Prime Minister Tony Blair and Italian Prime Minister Silvio Berlusconi to engage in a four-way conference call on strategy.
Berlusconi supports Bush on Iraq, but Italy is not a member of the Security Council.
Aznar met with Bush on a day when a new poll showed 85 percent of Spaniards oppose war in Iraq under any circumstances. That was up 10 percentage points in three weeks.
A senior Bush administration official acknowledged widespread opposition to war across Europe but said the sentiment can be overturned when Bush and fellow leaders present the case for military action.
Also Saturday, the head of the U.N. nuclear watchdog agency said in Iran that Iraq was not fully cooperating with inspectors.
Aznar, one of only a handful of world leaders invited to Bush's 1,600-acre central Texas ranch, was taken on a morning tour of the spread by Bush in the president's pickup truck.
Bush also relished a rare opportunity to drive, ferrying the Spanish leader and their wives to the news conference in a helicopter hangar built on the grounds by the government.
---
How can we manifest peace on earth if we do not include everyone (all races, all nations, all religions, both sexes) in our vision of Peace?
---
The WorldPeace Banner
To the John WorldPeace Galleries Page

To the WorldPeace Peace Page