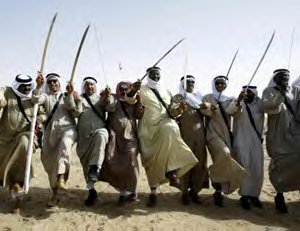 Bedouin dancers perform the Arda, a traditional war dance using swords, in the demilitarized zone near the border with Iraq in Abreq, Kuwait. Leaders of Islamic countries have thrown their support behind an initiative by France and Germany to avert war on Iraq and say they are considering using their oil to exert pressure on those who favour an attack. (Getty Images)...
---
Islamic world backs France on Iraq
By Saif Eldin Hamdan
(Reuters) - February 26 2003 12:31
KUALA LUMPUR (Reuters) - Leaders of Islamic countries have thrown their support behind an initiative by France and Germany to avert war on Iraq and say they are considering using their oil to exert pressure on those who favour an attack.
Officials and analysts say such a tactic is unlikely, however.
The group also demanded that Iraq comply with all United Nations resolutions to get rid of its weapons of mass destruction, including the latest deadline to start destroying its longer-range missiles by March 1.
"We would like to see that Iraq is not invaded by foreign forces," Malaysian Prime Minister Mahathir Mohamad told a news conference after a hastily called meeting of Islamic leaders gathered in Kuala Lumpur for a two-day summit of the Non-Aligned Movement (NAM) earlier in the week.
"Iraq should abide completely by the requests of inspectors," he added. "Iraq should destroy to show its sincerity," he said, when asked about the U.N. deadline for Baghdad to begin dismantling its longer-range missiles.
"Anything that the U.N. asks Iraq to do, Iraq should do."
Participants praised a resolution presented at the United Nations this week by France and Germany to give U.N. weapons inspectors four more months to do their work in Iraq.
"We should make common cause with countries that are against war in Iraq, namely European countries such as France, Germany, Belgium and also Russia," Mahathir said.
"I hope by making common cause with them we will be able to exert some influence on the United States."
A resolution lodged with the United Nations on Monday by the United States, Britain and Spain says Iraq has missed a "final opportunity" to disarm peacefully and avoid war.
With the European resolution supported by two permanent members and signs that several revolving members of the Security Council may not support him, U.S. President George W. Bush has said war might go ahead with or without a U.N. resolution.
At their NAM summit that ended on Tuesday, the mainly developing countries urged Washington to give peace a chance and pledged support for United Nations processes.
OIL AS A WEAPON
Mahathir acknowledged that differences exist among the 49 nations at the Islamic meeting, but all agreed on considering using their oil resources as a weapon to pressure those in favour of war even though this would hurt many poorer countries.
"There has been a suggestion that we look at using our oil wells in order to exert pressure," Mahathir said.
"How this can be done is something else, but there is a consensus as to the need for us to think about these things," he said of a grouping that includes such oil producers as Saudi Arabia, Syria, Kuwait and Qatar.
"Oil is a double-edged sword," Mahathir said. "If oil goes up many of the countries of the South are going to suffer...This double-edged weapon may hurt us more than it may hurt the other parties."
Mahathir's comments will do nothing to calm oil markets already nervous over the chance of losing output from the Middle East, which supplies 40 percent of global oil trade, in the event of a U.S.-led attack on Iraq.
Dealers fear war with Iraq, the world's eighth largest oil exporter, could slash crude oil shipments to Western markets.
U.S. light crude oil was up 20 cents at $36.26 a barrel at 0710 GMT.
But Saudi Arabia, the world's biggest oil exporter, and other major Islamic producers such as Iran have repeatedly ignored calls to use oil as a weapon, mindful of the consequences of the last attempt to link oil supply with politics.
In the early 1970s, Arab oil producers slapped an oil embargo on the West for supporting Israel, bringing a sharp rise in prices that eventually triggered recession.
It also led to a sharp rise in production by non-Arab oil producers, which forced down oil prices and brought a sharp decline in income for the members of the Organisation of Petroleum Exporting Countries (OPEC).
Chief weapons inspector Hans Blix has demanded Iraq start destroying its longer-range missiles by March 1 and he is due to present a report to the Security Council around March 7.
Islamic nations are to meet again for a summit of the Organisation of Islamic Conference in Doha, Qatar, on March 4 and 5. Iraq has voiced opposition because Qatar is serving as one of the major bases for U.S. troops massing in the Middle East.
Iranian President Mohammad Khatami, King Mohammed of Morocco, Lebanese Prime Minister Rafik al-Hariri, Pakistani President Pervez Musharraf and Syrian Vice President Abdel-Halim Khaddam were among Islamic leaders who joined Iraqi Information Minister Mohamed Said al-Sahaf for the Wednesday morning meeting.
---
How can we manifest peace on earth if we do not include everyone (all races, all nations, all religions, both sexes) in our vision of Peace?
---
The WorldPeace Banner
To the John WorldPeace Galleries Page

To the WorldPeace Peace Page