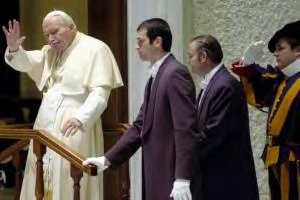 By Shasta Darlington VATICAN CITY (Reuters) - Pope John Paul has stepped up his peace offensive, meeting the Spanish prime minister and a senior Iranian official as a decision on a US-led war against Iraq nears (Franco Origlia/Getty Images)...
---
Pope steps up peace drive
By Shasta Darlington
February 27, 2003

VATICAN CITY (Reuters) - Pope John Paul has stepped up his peace offensive, meeting the Spanish prime
minister and a senior Iranian official as a decision on a U.S.-led war against Iraq nears.

The 82-year-old pontiff first received Spain's Jose Maria Aznar, one of America's staunchest allies on the United Nations Security Council, for a half-hour tete-a-tete on Thursday.

After Aznar left, Iran's deputy parliamentary speaker, Mohammad Reza Khatami, brother and personal envoy of President Mohammad Khatami, arrived for talks.

"The Holy Father hopes that all of the parties involved -- without exceptions -- adopt just decisions and
undertake peaceful and efficient initiatives that comply with justice and are inspired in international law," the
Vatican said in a statement.

Both parties agreed that a united action via the United Nations was needed to confront the crisis, it added.

Aznar and Khatami are just the latest in a line of foreign leaders who have sought the pope's ear on the crisis.

The pope has repeatedly called for a peaceful solution to the standoff, declaring that a war would be a "defeat
for humanity", sparking terrorism and religious divisions.

"I came here to speak to the pope because the position of Iran and the Vatican are very close," Khatami told
Italy's state RAI television.

"PEACE DOESN'T FALL FROM THE SKY"

Aznar, who has supported Washington despite widespread opposition from Spain's largely Roman Catholic
electorate, presented his case for wanting to rid Iraq of President Saddam Hussein to one of the world's leading moral authorities.

"I hold His Holiness in the greatest consideration and I will listen to him with great attention, as always," Aznar
said in an interview with Italy's "La Stampa" on Thursday. "But John Paul knows very well that...peace doesn't fall from the sky."

Still, after a meeting later with Italian Prime Minister Silvio Berlusconi, another ally of Washington, Aznar insisted that war could still be avoided.

"With more pressure and unity from everyone we can arrive at a peaceful solution to this crisis and disarm
Saddam."

On Thursday, the Italian media said U.S. President George W. Bush had shrugged off the pope's pleas for
peace, quoting White House spokesman Ari Fleischer as saying Bush would not be influenced by the pontiff's
opinion.

But other leaders are seeking his counsel. Over the past month the pope has received British Prime Minister
Tony Blair, Iraqi Deputy Prime Minister Tareq Aziz, German Foreign Minister Joschka Fischer and U.N.
Secretary-General Kofi Annan.

The Vatican dispatched a special envoy this month to Baghdad to urge Saddam to cooperate fully with U.N.
weapons inspectors.

The pontiff has called for a day of peace and fasting on March 5, Ash Wednesday, to show that "the future of
humanity will never be secured by terrorism or the logic of war".

Vatican officials concede that the pope alone is not going to prevent a U.S.-led attack, but they say that at the
very least his anti-war stance shows the Muslim world that a strike against Iraq is not some kind of a Christian
Crusade.
---
How can we manifest peace on earth if we do not include everyone (all races, all nations, all religions, both sexes) in our vision of Peace?
---
The WorldPeace Banner
To the John WorldPeace Galleries Page

To the WorldPeace Peace Page