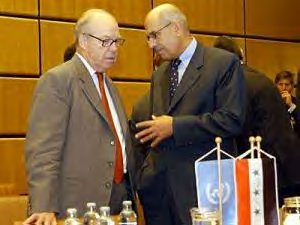 Iraq was today expected to start destroying ballistic missiles, in the largest act of disarmament since UN weapons inspections resumed last November.Prime Minister Tony Blair yesterday dismissed Baghdad's offer to give up the Al-Samoud 2 missiles as an empty gesture, designed to undermine the unity of the international community. But chief weapons inspector Hans Blix (pictured with IAEA Director General Dr. Mohamed ElBaradei) hailed it as "a very significant piece of real disarmament". (IAEA file photo)...
---
3:16am (UK)


Iraq to Start Destroying Ballistic Missiles
By Andrew Woodcock, Political Correspondent, PA News
Iraq was today expected to start destroying ballistic missiles, in the largest act of disarmament since United Nations weapons inspections resumed last November.

Prime Minister Tony Blair yesterday dismissed Baghdad's offer to give up the Al-Samoud 2 missiles as an empty gesture, designed to undermine the unity of the international community.

But chief weapons inspector Hans Blix hailed it as "a very significant piece of real disarmament".

In the light of the development, he said he would amend the critical assessment of his latest report to the UN Security Council.

The 17-page draft report, which had accused Iraq of "very limited" co-operation with his Unmovic team over the last three months, was handed to security council members late last night.

"The Iraqi side at the present time is very active, I'd say," said Dr Blix. "We'll say next week what I'll report in addition to the written report. Of course as reality changes my report changes."

Unmovic spokesman Hiro Ueki said Dr Blix's deputy Demetrius Perricos would meet Iraqi officials this morning for a "technical discussion on the Al-Samoud 2 with a view to commencing the destruction process" later today.

Dr Blix had named today as the deadline for Saddam Hussein to give up the Al-Samoud arsenal, which breaches UN restrictions imposed after the 1991 Gulf War barring Iraq from possessing missiles with a range of more than 150km (93 miles).

He ordered Saddam on February 21 to blow up, crush or dismantle the rockets after tests in which Unmovic inspectors found they could reach up to 180km.

Also to be eliminated under the supervision of UN inspectors were warheads, fuel and oxidiser for the missiles, along with 380 illegally-imported SA2 engines and other components.

In a letter to Dr Blix yesterday accepting his demands, Iraq insisted that the missiles had overshot their intended range only because they were not carrying heavy guidance systems and warheads and protested that the order to destroy them was "unjust".

Baghdad declared 76 Al-Samouds, though some analysts believe that it possesses as many as 100 or 120.

Mr Blair said that he had always expected Saddam to announce his willingness to comply with the destruction of the missiles at the very last minute.

He told Labour activists in Swansea: "Naturally Saddam will play his game, throwing out concessions to divide us, to try to weaken our will. He's done it for 12 long years. He's at it now.

"Does anybody think he would be making any concessions but for the army camped on his doorstep?"

The world risked being plunged into "a living nightmare" if it did not act to halt the proliferation of weapons of mass destruction now, he warned.

And he stressed that a long-drawn-out series of concessions by Baghdad was not enough to satisfy UN resolutions, which required full disarmament of nuclear, chemical and biological weapons and free access to scientists with knowledge of Iraq's WMD programmes.

In an interview with today's Guardian newspaper, Mr Blair warned that anti-war protests in Britain sent a "mixed message" to Baghdad, encouraging Saddam to believe that the West was not serious about dealing with him.

"I am sufficiently well-versed in politics now to realise the strength of the opposition and the difficulties it can put me in," he said. "I am not oblivious to that."

"In the end, people have to vote how they feel. But my job is to say how I feel... why I believe that what we are doing is right and why I believe that to what the opponents of my position want us to do would be very, very dangerous for our country and the world."

Saddam's decommissioning offer was welcomed by security council "doves" including France and Germany, and left agreement on a second resolution looking more unlikely than ever.

French foreign minister Dominique de Villepin said: "There is no reason to discontinue the peaceful disarmament of Iraq. We are opposed to the draft second resolution, as is a majority of the security council, and notably Russia."

Russian foreign minister Igor Ivanov said Russia was ready to veto the resolution, jointly tabled by the US, UK and Spain, to preserve "international stability".

But US president George Bush gave his clearest indication that he was ready to order an assault on Iraq without the backing of the council.

The resolution was no more than "a commitment to our allies and friends", he said.

Whatever the outcome of discussions in the security council this week, the Iraqi leader would be made to give up his suspected weapons of mass destruction.

"My attitude about Saddam Hussein is that if he had any intention of disarming, he would have disarmed," he said. "We will disarm him now."

Britain and America are currently seeking the support of seven non-permanent members of the security council who have yet to state their position on the resolution. As part of the charm offensive, Foreign Office minister Baroness Amos was visiting the capitals of three non-permanent members, Guinea, Cameroon and Angola.

London and Washington are hoping to gain approval for the resolution – which would effectively authorise war – by the middle of March. To win the council's backing, they must secure the votes of nine of the 15 member-nations while avoiding the veto of France, Russia or China.

Meanwhile, Arab leaders were meeting in Sharm El Sheik, Egypt, later today.

Arab foreign leaders last night agreed a statement, expected to be released later, rejecting any attack on Iraq not sanctioned by the United Nations, diplomats said.

Tory leader Iain Duncan Smith was today beginning a visit to Kuwait, where the bulk of British troops in the Gulf are based.

He was due to meet British ambassador Chris Wilton, the Speaker of Kuwait's National Assembly Jassim Al-Kharafi and representatives of the National Committee of Missing Persons and POWs, which is demanding that Saddam explain what has happened to Kuwaitis still missing after the 1991 conflict.

Mr Duncan Smith was tomorrow set to meet RAF aircrew at the Ali Al-Salem air base and tour a Royal Navy vessel stationed in the Gulf.
---
Iraq expected to scrap missiles
by Niko Price AP
BAGHDAD, Iraq (March 1) - A top U.N. weapons inspector met with an Iraqi general Saturday to work out final details of Iraq's destruction of its Al Samoud 2 missile program, expected to begin within hours.

The dismantling of the finned white rockets was seen as a key test of Baghdad's resolve to disarm and avert a U.S.-led war. Chief U.N. weapons inspector Hans Blix, who ordered the missiles' destruction, praised the Iraqi decision as ''a very significant piece of real disarmament.''

Iraqi sources in the capital, speaking on condition of anonymity, said destruction of the missiles would start Saturday. Predictably, the 11th-hour concession was greeted with celebration by governments opposed to war and skepticism by those advocating it.

In Washington, White House spokesman Ari Fleischer dismissed the idea that the Iraqi move reflected progress. ''This is the deception the president predicted,'' he said Friday.

He said President Bush expected Iraq to destroy some of its missiles, but won't settle for anything less than full disarmament. He didn't specify what that would mean.

European governments opposed to war said Iraq's decision on the missiles reinforced their opinion that weapons inspections were weakening Saddam Hussein's military capabilities.

''It is an important step in the process of the peaceful disarmament of Iraq,'' French Foreign Minister Dominique de Villepin said. ''It confirms that inspectors are getting results.''

In New York, a deeply divided U.N. Security Council was considering a U.S.-backed resolution that would authorize war, as well as a French-led proposal to continue with inspections. Russian Foreign Minister Igor Ivanov said Russia would veto the U.S.-backed resolution if needed to preserve ''international stability.''

Blix ordered Iraq to begin destroying the missiles by Saturday after examining data from 40 test flights. In 13 of them, the missile flew farther than the 93-mile limit set by U.N. resolutions after the 1991 Gulf War. In 27 test flights, the missile flew below the limit.

Iraq maintains that some missiles overshot the limit only because they were tested without warheads or guidance systems. It called the decision unjust and appealed for technical discussions with U.N. inspectors.

''We have accepted destruction of those missiles, although they do not constitute a serious violation of the U.N. resolutions, but we want to remove any pretext that there may be to wage aggression against Iraq,'' Iraq's deputy prime minister, Tariq Aziz, told delegates to a conference in Mexico City by telephone.

Blix's chief deputy, Demetrius Perricos, met with Iraqi officials Friday night, Iraqi sources said. He was to have another meeting Saturday morning ''with a view to commencing the destruction process'' on Saturday, inspectors' spokesman Hiro Ueki said Friday.

On Saturday morning, Perricos was seen walking into a one-story building in Baghdad's Jadiriyah neighborhood, a billboard bearing a photograph of Saddam Hussein in front of it. Saddam's scientific adviser, Lt. Gen. Amer al-Saadi, was seen entering minutes earlier.

''It is a very significant piece of real disarmament,'' Blix said Friday. ''They say they accepted in principle, and it is to start tomorrow.''

Iraq is believed to have between 100 and 120 of the missiles, and U.N. inspectors say it has continued to produce and test them in recent days. Although still in development and relatively unreliable, inspectors say some of the missiles have been deployed to military units.

The Feb. 21 order said Iraq must destroy the missiles, their unassembled components, fuel, engines, launchers and software. The program that created the missiles also must go - its scientists dispersed and its records wiped out.

U.S. analysts worry that if Iraq is still hiding chemical and biological weapons, it could load them on the Al Samoud 2 to target U.S. forces deployed in the Persian Gulf region, now 225,000 strong.

The United States and Britain have threatened war, saying Iraq has failed to comply fully with U.N. disarmament resolutions. Iraq says it has destroyed all weapons of mass destruction unilaterally, and has begun taking inspectors to disposal sites to prove it.

Inspectors returned Friday to al-Aziziya, an abandoned helicopter airfield 60 miles southeast of Baghdad where Iraq says it destroyed R-400 bombs filled with biological weapons in 1991.

At the site, bulldozers moved mounds of earth to reveal rusty, dirt-caked warheads and bomb fragments, some as large as cars. Nearby, missiles bearing U.N. identification tags rusted in a parched field.

Overhead, an American U-2 reconnaissance plane flew over Iraq for more than six hours Friday - the fourth such flight in support of the U.N. inspections, Iraq said. The U-2 flights had been another key demand of the inspectors until Iraq agreed to them this month.
---
How can we manifest peace on earth if we do not include everyone (all races, all nations, all religions, both sexes) in our vision of Peace?
---
The WorldPeace Banner
To the John WorldPeace Galleries Page

To the WorldPeace Peace Page