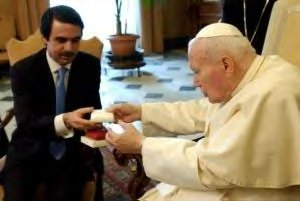 Pope John Paul will send a senior cardinal to Washington on a personal peace mission to try to avert a war in Iraq, the Vatican said Saturday. Cardinal Pio Laghi, for many years the Vatican's ambassador to the United States, will leave in the next few days and will deliver a letter from the Pope to President Bush. "The cardinal..(Arturo Mari-Pool/Getty Images)...
---
Pope to Send Peace Envoy to United States
March 1, 2003
— By Claire Soares
VATICAN CITY (Reuters) - Pope John Paul will send a senior cardinal to Washington with a letter for President Bush in a personal peace mission to try to avert a war in Iraq, the Vatican said on Saturday.
Cardinal Pio Laghi, a former ambassador to the United States and a personal friend of the Bush family, will leave in the next few days.
"The cardinal...will illustrate the position and the initiatives taken by the Holy See to contribute to disarmament and peace in the Middle East," the Vatican said in a statement.
Showing an energy that belies his 82 years, the Pope has become increasingly involved in diplomatic efforts to prevent a second Gulf war, which he has said would be a "defeat for humanity."
In the past month he has received a stream of foreign leaders, including British Prime Minister Tony Blair, Iraqi Deputy Prime Minister Tareq Aziz and U.N. Secretary-General Kofi Annan.
Now the Vatican is knocking on the White House door, just weeks after dispatching a special envoy to Baghdad to try to persuade Iraqi President Saddam Hussein to cooperate with United Nations weapons inspectors.
Cardinal Roger Etchegaray, a Frenchman who has carried out sensitive papal missions in the past, met Saddam in February for 90 minutes and handed him a message from the Holy See.
Laghi's trip to the United States comes as Washington continues to build a large military force in the Gulf region and Bush looks firmly on the track to war.
"My attitude toward Saddam Hussein is that if he had any intentions of disarming, he would have disarmed," Bush told USA Today. "We will disarm him now."
The Vatican does not believe an attack on Iraq could be considered a "just war," opposes U.N. economic sanctions against Iraq and argues that diplomacy is the only way to settle the dispute.
Earlier this week Italian media quoted White House spokesman Ari Fleischer as saying Bush would not be influenced by the Pontiff's opinion.
In the past the Roman Catholic Church has argued that the use of force must meet tough conditions of legitimacy -- all other means must be exhausted and the force used must be proportionate to the wrong it tries to right.
That is the message that 80-year-old Laghi, who had close ties to the Bush senior administration and used to play tennis with the family, is expected to deliver.
It is also the message being hammered home in pulpits around the world --including in Catholic strongholds Mexico and Chile, two of the 15 nations on the Security Council, whose votes will be crucial in an expected final United Nations ballot on Iraq.
Vatican officials concede that the Pope alone is not going to prevent a U.S. attack, but say at the very least his anti-war stance shows the Muslim world that a strike against Iraq is not some sort of crusade.
The Pope has called for a day of peace, fasting and prayer on March 5 to show that "the future of humanity will never be secured by terrorism or the logic of war."
Copyright 2003 Reuters News Service. All rights reserved. This material may not be published, broadcast, rewritten, or redistributed.
---
How can we manifest peace on earth if we do not include everyone (all races, all nations, all religions, both sexes) in our vision of Peace?
---
The WorldPeace Banner
To the John WorldPeace Galleries Page

To the WorldPeace Peace Page