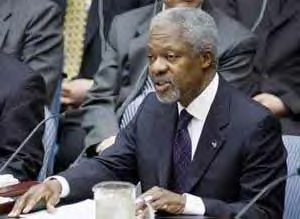 Despite US confidence it would get enough votes for a UN resolution authorising war with Iraq, positions have hardened with UN Secretary General Kofi Annan pleading for a compromise(UN photo)...
---
05 Mar 2003 02:40 GMT

Kofi Annan pleads for Iraq compromise

By Evelyn Leopold and Alan Elsner

UNITED NATIONS (Reuters) - Despite U.S. confidence it would get enough votes for a U.N. resolution authorising war with Iraq, positions have hardened with U.N. Secretary General Kofi Annan pleading for a compromise. "I am increasingly optimistic that if it comes to a vote, we will be able to make a case that will persuade most of the members of the Security Council to vote for the resolution," U.S. Secretary of State Colin Powell told the French television station France 2 in an interview. While the United States is given a good chance to get the minimum nine votes needed for adoption in the 15-member council, diplomats believe that point has not been reached. There is also a strong chance France and Russia would use their veto power to kill the measure. "They haven't done enough horse trading yet to get everyone on board," said Nancy Soderberg, a former senior official at the U.S. mission to the United Nations. No date for a vote is set, but U.S. and British officials have said they want to push for one next week. Russian Foreign Ministers Igor Ivanov said flatly that Moscow would not abstain on the resolution and warned it could use its veto power. "The Iraq question is precisely that sort of question when permanent members of the Security Council should not abstain," Ivanov said. In New York, Moscow's U.N. ambassador, Sergei Lavrov, told a news conference he thought there was still a chance to avoid war, adding: "I do not think the council is going to approve the use of force." VILLEPIN COMING TO UN, STRAW MAY NOT France and Germany, fighting to head off the resolution, told Security Council members their foreign ministers, Dominique de Villepin and Joschka Fischer, would attend a crucial council session on Friday when U.N. weapons inspectors are due to deliver their latest report on Iraqi disarmament. Syrian Foreign Minister Farouq al-Shara will also attend. Sources in London said British Foreign Minister Jack Straw planned to come to New York but British officials at the United Nations said later no decision had been made. Spain also is still undecided as is Secretary of State Colin Powell. Annan, at his monthly lunch with U.N. Security Council members, appealed for unity and compromise among the major powers -- the United States and Britain pushing a resolution to authorise war and France, Russia and China opposing it, diplomats said. He also asked Canadian Ambassador Paul Heinbecker to brief him on a proposal that would set benchmarks or tests for Iraqi disarmament by March 28. If Iraq failed to adhere to them the council would face the possibility of war. "He is supportive of the concept behind it," Heinbecker told the Canadian Broadcasting Corporation. "I don't know if he would endorse every detail of it. but the idea of a compromise between the two positions is what he is talking about." The Canadian suggestions have been reviewed closely by undecided council members but the United States has rejected them for prolonging the inspection process. Russia was said to have looked at the plan carefully but France rejected it for leaving open the possibility of war. Annan told reporters earlier that war was a "human catastrophe" and should be considered only when all possibilities for a peaceful settlement were exhausted. He also called Baghdad's start of missile destruction a "positive development." "The inspectors have to report the facts, and as I've indicated this is a positive development." Annan said, Iraq, since Saturday, destroyed 19 of more than 100 Al Samoud 2 missiles as ordered by chief U.N. inspector Hans Blix because their range exceeded U.N. limits. The United States has four publicly committed votes in the 15-member council. France, Russia and China, which have veto power, are opposed and six other nations are on the fence, being wooed by both sides. But White House spokesman Ari Fleischer has dismissed Iraq's efforts as "the mother of all distractions." U.S. President George W. Bush has said the missiles are the "tip of the iceberg" of Iraq's illegal arsenal.

---
How can we manifest peace on earth if we do not include everyone (all races, all nations, all religions, both sexes) in our vision of Peace?
---
The WorldPeace Banner
To the John WorldPeace Galleries Page

To the WorldPeace Peace Page