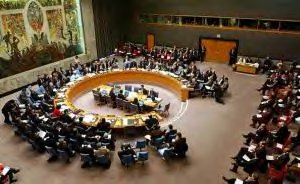 UNITED NATIONS, New York Bitter divisions on the Security Council over the disarmament of Saddam Hussein's regime deepened Friday as UN weapons inspectors gave accounts of progress and hindrance that provided ammunition to both sides in the fractious debate(Getty Images)...
---
Bitter split deepens at UN

Timothy L. O'Brien

NYT Saturday, March 8, 2003

Arms inspectors' report gives ammunition to both sides

UNITED NATIONS, New York Bitter divisions on the Security Council over the disarmament of Saddam Hussein's regime deepened Friday as UN weapons inspectors gave accounts of progress and hindrance that provided ammunition to both sides in the fractious debate.

With the threat of military action hanging over the region, Secretary of State Colin Powell dismissed Baghdad's disarmament efforts as nothing more than "a catalogue" of "noncooperation."

The UN's chief inspector for chemical and biological weapons, Hans Blix, said that Iraq's cooperation has been "proactive" and its destruction of a hotly disputed missile system offered a "substantial measure" of disarmament. "We are not watching the destruction of toothpicks," he said. "Lethal weapons are being destroyed." Blix added, however, that Iraq was still not free of weapons of mass destruction and, in a reference to about 250,000 U.S. and British military forces that have amassed in the region, that Baghdad's heightened cooperation may have resulted from "outside pressure." Blix added that Iraq's cooperation has not been "immediate" and that "it will not take years, nor weeks, but months," for his inspections to be completed. Inspectors briefed a Security Council that is considering a draft resolution submitted by the United States, Britain, and Spain that would declare that Iraq "has failed to take the final opportunity afforded to it" to disarm. If the resolution passes it would set the stage for a possible military confrontation. France, Germany and Russia have circulated a less formal memorandum that calls for continued inspections. The British foreign secretary, Jack Straw, drew applause on the floor of the council when he proposed amending the language of the draft resolution to allow more time for Iraq to comply if and when the resolution passes. Diplomats here said that Washington and London would seek a deadline of March 17 for Iraq to fully disarm after the draft resolution passes. A vote is expected sometime next week, possibly on Thursday. Powell's second visit to the UN during the current Iraqi crisis came as part of what President George W. Bush characterized at a White House press conference Thursday evening as "the last phase of diplomacy." Powell took pointed swipes at the efficacy of some of the weapons inspectors' efforts and said that the credibility of the Security Council was in play. "If Iraq genuinely wanted to disarm, we would not have to be worrying about setting up means of looking for mobile biological units or any units of that they kind," Powell said. "They would be presented to us." "We would not need an extensive program to search for and look for underground facilities that we know exist," he said. "The very fact that we must make these requests seems to me to show that Iraq is still not cooperating." France's foreign minister, Dominique de Villepin, in a now familiar counterpoint to Powell's stance, said that weapons inspections in Iraq had made "substantial progress" and that his country would oppose any UN resolution authorizing the use of force against Baghdad. He also said that France would oppose any deadline imposed on Iraq to comply with inspections, saying that such a deadline would be "a pretext for war." "Why should we now engage in war with Iraq?" de Villepin asked. "Why choose division when our unity and our resolve are leading Iraq to get rid of its weapons of mass destruction?" "War is always an acknowledgment of failure," de Villepin said. The Russian, German and Chinese representatives to the UN voiced similar concerns about military action, with Russia's foreign minister, Igor Ivanov, noting that war would be "fraught with unpredictable consequences." "We are certain that the United Nations Security Council must emerge from the Iraq crisis not weakened and divided but united and strong," Ivanov said. France, China and Russia - three of the Security Council's five permanent members, who have veto power - have objected to the use of force against Iraq, in opposition to the United States and Britain, the other two permanent members. Washington has been fighting an uphill battle to get the necessary votes to insure passage of the resolution. Mexico and Chile, two key swing votes on the council, said Friday that they preferred to seek a peaceful outcome to the crisis rather than a military strike. Nonetheless, the odds against securing UN support appear to be of little concern to the White House. Bush and Prime Minister Tony Blair of Britain have said that they are prepared to go to war with Iraq without the UN's backing and the diplomatic legitimacy that support would confer. "We're days away from resolving this issue in the Security Council," Bush said in his press conference Thursday. "No matter what the whip count is, we're calling for the vote. It's time for people to show their cards, let the world know where they stand when it comes to Saddam." At the UN on Friday, Powell and Straw both relied heavily in their presentations on a 167-page report that Blix has prepared that lists the outstanding disarmament issues facing Iraq. Straw, who nodded repeatedly in agreement with Powell during the U.S. diplomat's speech, said the report was a "chilling read" that demonstrates Iraq is not cooperating. Straw described the report, which was expected to be made public later Friday, as "a shocking indictment of the record of Saddam Hussein's deception and deceit, but above all, of the danger which he poses to the region and to the world." Powell called the report a "damning record of 12 years of lies" by Iraq. In a quiet, almost bland tone of voice, Blix told the Security Council that his team has been able to perform professional, no-notice inspections throughout Iraq and that air reconnaissance efforts have been fruitful. He said Iraq had provided names of key personnel involved in earlier weapons destruction programs, but he has not seen a comparable list of Iraq's past and current stockpiles of weapons of mass destruction. He said more interviews with Iraqi scientists have occurred, but that they rarely proceeded unimpeded or away from Iraqi observers and would be more useful if they took place outside of Iraq. Blix's counterpart, Mohamed ElBaradei, who heads the UN's nuclear weapons inspection team, said that Iraq's industrial capacity had withered so completely that it was unable to produce nuclear weapons. He said that intelligence reports about uranium transfers between Iraq and Niger were inaccurate and, in a thinly veiled criticism of intelligence information cited by Powell in his earlier visit to the UN, said that reports of resumed nuclear activities at sites within Iraq were also inaccurate. ElBaradei also disputed U.S. intelligence reports that claimed that suspect aluminum tubes were part of a nuclear weapons program in Iraq. "Extensive field investigation and document analysis have failed to uncover any evidence that Iraq intended to use these 81-millimeter tubes for any project other than the reverse engineering of rockets," he said. For his part, Powell questioned the credibility of the International Atomic Energy Agency, the UN agency that ElBaradei oversees. "As we all know, in 1991 the IAEA was just days away from determining that Iraq did not have a nuclear program," Powell said. "We soon found out otherwise. IAEA is now reaching a similar conclusion, but we have to be very cautious." And Powell concluded his remarks on an ominous note. "Now is the time for the council to tell Saddam that the clock has not been stopped by his stratagems and his machinations," he said. "The clock continues to tick. And the consequences of Saddam Hussein's continued refusal to disarm will be very, very real."
---
How can we manifest peace on earth if we do not include everyone (all races, all nations, all religions, both sexes) in our vision of Peace?
---
The WorldPeace Banner
To the John WorldPeace Galleries Page

To the WorldPeace Peace Page